One Room Natsu no Koi Monogatari (ワンルーム夏の恋物語; The Story of Summer Love in a One Room Apartment) is Heike Michiyo's seventh single. It was released on May 17, 2000.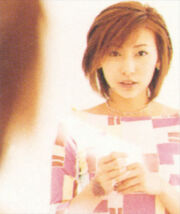 One Room Natsu no Koi Monogatari
Suteki na Koi Suteki na Yoru (ステキな恋 ステキな夜; A Wonderful Love, A Wonderful Night)
One Room Natsu no Koi Monogatari (Instrumental)
One Room Natsu no Koi Monogatari
Suteki na Koi Suteki na Yoru
[2000.05.21] Hello! Morning (Episode #7)
One Room Natsu no Koi Monogatari
| Mon | Tue | Wed | Thu | Fri | Sat | Sun | Week Rank | Sales |
| --- | --- | --- | --- | --- | --- | --- | --- | --- |
| - | - | - | - | - | - | - | 26 | 11,830 |
Total Reported Sales: 18,430
The first press of the single came with 1 of 3 different trading cards.
Heike's first single produced entirely by Tsunku and not Hatake. Doing so re-boosted her single sales.
Heike's first single in the 12cm format.
Interview
Heike Michiyo said in an interview:
"This is my first time being produced by Tsunku. When I heard this song, I could tell something new was about to happen to me. The sound is clearly inspired by the latin theme, and it is entirely a new genre for me. To tell you the truth, my father is full of latin spirits. He loves samba and used to play samba music even early in the morning. He even has his own maracas. Lol. When I listened to this song for the first time, it reminded me of my father and how he used to drag me along to dance with him early in the morning.  When you listen to my new single, "One Room Natsu No Koimonogatari", I bet you can no longer wait for summer to come. Just the intro itself will make you feel really excited for the summer as it reminds you of the exciting scenery from The Rio Carnival. The song will make you feel open-minded and care-free in a warm tropical country, and you'll have the sudden urge to dance for sure! But once you start paying attention to the lyrics, you'll notice the subtle heartbreak in the storyline. The main character cancels her friend's plan in order to wait for her boyfriend to come home. While she waits, she feels very anxious all by herself in her 'oneroom' (bachelor) apartment… It's quite a common experience for a girl who lives on her own, right? I noticed when I'm in love, I don't mind waiting longer, either! For those who just started living on your own and are feeling a little lonely, I recommend listening to this song, for it'll surely cheer you up."[2]
She also mentioned the b-side:
"And the coupling song, "Suteki Na Koi, Suteki Na Yoru" is about a couple who are passionately in love. This song also describes the beginning of relationship. If you don't have a boyfriend, it's a bit hard to relate to this song."[3]
Community content is available under
CC-BY-SA
unless otherwise noted.