Okada Yui (岡田唯) is a former Japanese pop singer and talent. She is one of the Hello Pro Egg Audition 2004 winners and a former member of the group v-u-den. Beyond v-u-den, Okada was also a member of the Hello! Project special unit H.P. All Stars, and the kickbase team Metro Rabbits H.P.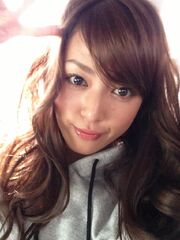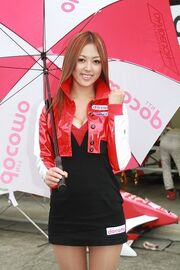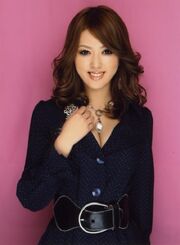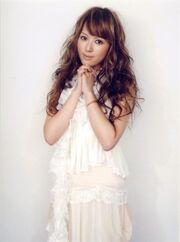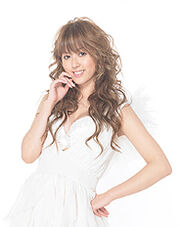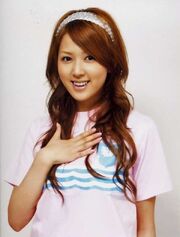 From June 19 through June 20, Okada participated in, and passed the Hello Pro Egg Audition 2004 to become a member of Hello! Project's trainee group Hello Pro Egg.
On August 10, 2004, when the other members of Hello Pro Egg officially began activities, she was immediately promoted to v-u-den instead,[1] and later participated in the special unit H.P. All Stars.
In 2006, she joined the Hello! Project kickbase team Metro Rabbits H.P. as #18, and appeared in the movie Sukeban Deka: Codename = Asamiya Saki along with Matsuura Aya and her fellow v-u-den members.
It was announced in January 2008 that v-u-den would cease activities at the end of their 2008 summer tour. Okada was transferred from UP-FRONT AGENCY to UP-FRONT KANSAI, but remained in Hello! Project until the entire Elder Club graduated from Hello! Project on March 31, 2009. Since then, she had performed on occasion with SI☆NA in their mini concerts, and had appeared in a number of concerts/events in the Kansai area.
Okada had been known to appear on several television shows and radio shows. In March of 2009, she appeared on Elementary School Textbook Quiz, and in July 2009, she appeared on Adrena Garage.
In December 2009, Okada and Miyoshi briefly reunited to perform two live shows; the MIYO-YUI no Kyounen mo Futaribocchi Casual Dinner Show on December 20th and the MIYO-YUI no Kyounen mo Futaribocchi Special Live on December 23. Many v-u-den songs were performed, as well as some cover songs.
On June 30, 2010, Okada announced she would be leaving UP-FRONT KANSAI to study beauty.
In 2011, Okada signed with Grace Agency and started working as a model and race queen.
In April 2013, Okada launched her clothing brand Ivora.[2]
Name: Okada Yui (岡田唯)
Nickname: Okappai, Okayan, Yuiyan
Birthdate: December 28, 1987
Blood Type: A
Height: 158 cm (5 ft 2.2 in)

?

Western Zodiac: Capricorn
Eastern Zodiac: Rabbit
Hello! Project Status:

2004-06-20: Hello Pro Egg member
2004-08-10: v-u-den member
2008-06-29: Soloist
2009-03-31: Graduated

UP-FRONT GROUP Status:
v-u-den Color: Yellow
Hello! Project Groups:
Shuffle Units:
Concert Units:
Hobbies: Shopping, manicures, listening to music, and watching movies
Charm Point: Eyes
[2006.03.01] I DOLL ~Okada Yui First Solo DVD in Okinawa~ (I DOLL ~岡田唯ファーストソロDVDin沖縄~)
[2004-2007] Hello! Morning (ハロー!モーニング。)
[2005] Musume DOKYU! (娘DOKYU!)
[2009-2010] Uta-navi! (うたなび!) (assistant)
[2009-2010] 8ji Desu! Namahousou!! (8時です!生放送!!) (reporter)
[2005-2006] Hello Pro Yanen!! (ハロプロやねん!!)
[2005-2006] B.B.L.
[2005-2006] TBC Fun Field Mouretsu Moudasshu (TBC FUNふぃーるど・モーレツモーダッシュ)
[2006-2007] v-u-den beauty hour 21 (美勇伝 beauty hour 21)
[2007-2008] v-u-den Miyoshi・Okada no Konya wa Futaribocchi (美勇伝 三好・岡田の今夜はふたりぼっち)
Community content is available under
CC-BY-SA
unless otherwise noted.