Okada Robin Shoko (岡田ロビン翔子), birth name Stukas Robin Shoko (ストューカス・ロビン・翔子), is a Japanese radio DJ and former idol. She is the former leader of Ciao Bella Cinquetti (formerly known as THE Possible).
She initially joined Hello! Project in June 2004 as a member of Hello Pro Egg, and later graduated from Hello! Project in 2007 when THE Possible was transferred to NICE GIRL Project!.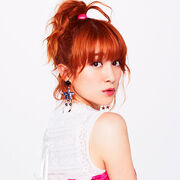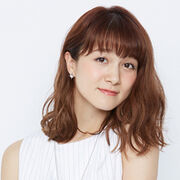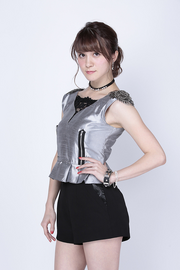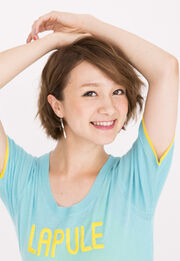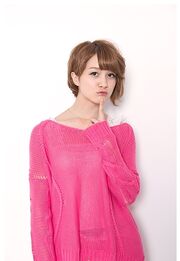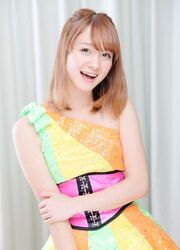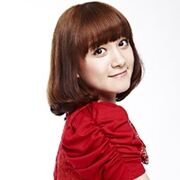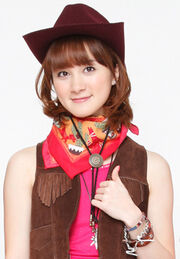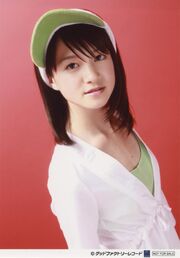 Biography
[
]
Early Life
[
]
Stukas Robin Shoko was born in Boston, Massachusetts to a Japanese mother and American father. When she was one year old she moved to Los Angeles and lived there until 2000 when she moved to Japan. Despite having lived in the United States for seven years, she said that she has since forgotten how to speak English.[1] She has an older sister and an older brother.[2] Her sister, Mikako Stukas, is a model who competed in the 2007 Miss Asia Pageant.
2004
[
]
In 2004, Stukas Robin Shoko became a Hello Pro Egg, dancing at Hello! Project concerts and training to be an idol.
2006
[
]
In 2006, she took part in the Nissen Hikosen Project 2006 with three other Eggs, singing the theme song for the event.
From August 31 to September 10, she participated in the Otona no Muchiga play "Kotobuki Coffee".[3]
On October 1, Stukas Robin Shoko and Goto Yuki were added to THE Possible. On the same month, Okada began to go by her current stage name "Okada Robin Shoko."
2007
[
]
In October, she graduated with the group from Hello Pro Egg, and joined Tsunku's new NICE GIRL Project!.
2012
[
]
In April, Okada opened a Twitter account.
2013
[
]
On April 4, Robin announced that she was named leader of THE Possible.[4]
2015
[
]
On April 1, she was transferred from TNX to UP-FRONT CREATE along with the other members of THE Possible. Shortly after, the group changed their name to Ciao Bella Cinquetti.
2018
[
]
On August 2, Ciao Bella Cinquetti disbanded and Okada graduated along with the other members.
2020
[
]
On March 3, it was announced that Okada's birthday event scheduled for March 15 would be cancelled in consideration of a new policy established by the government to prevent the spread of COVID-19.[5]
2021
[
]
On June 14, she announced her marriage to voice actor Yamadera Koichi.[6] In her announcement on Twitter,[7] she addressed the substantial (31-year) age gap between herself and her husband. "Although we grew up in completely different generations and environments," she said, "we decided to live together in this era."
Personal Life
[
]
Okada has an older brother and an older sister, model Stukas Mikako.
Her family owns a dog named Lucky.
When Okada joined Hello Pro Egg in June 2004, she was a fifth year elementary school student. She graduated from high school in March 2011.
Robin (ロビン): Official nickname, given her since joining Hello Pro Egg. Used by members and fans.
Profile
[
]
Stage Name: Okada Robin Shoko (岡田ロビン翔子)
Birth Name: Stukas Robin Shoko (ストューカス・ロビン・翔子)
Nickname: Robin (ロビン)
Birthdate: March 15, 1993
Birthplace: Boston, Massachusetts, United States
Blood Type: O
Height: 162 cm (5 ft 3.7 in)

?

Western Zodiac: Pisces
Eastern Zodiac: Rooster
Hello! Project Status:
UP-FRONT GROUP Status:
Ciao Bella Cinquetti Color: Pink
Hello! Project Groups:
Concert Units:
Other Groups:
Hobbies: Karaoke, tennis, making candy
Special Skills: Talking fast, massage, tennis, volleyball.
Likes: Accessories, pocket novels
Dislikes: Scary TV shows
Favorite Food: Rice, meat, raspberries, strawberries, hamburgers
Least Favorite Food: Shellfish, sea urchin, greasy food
Favorite Color: Pink
Favorite Animal: Cheetah
Discography
[
]
Main article: Okada Robin Shoko/Discography
Solo Songs
[
]
Featured Singles
[
]
DVDs
[
]
[2010.03.20] Bikini Torechaimashita by Robin ( ビキニとっちゃいましたbyロビン)
[2011.06.15] Bikini Torechaimashita (ビキニとれちゃいました)
Publications
[
]
Solo Photobooks
[
]

[2010] Robin no Shoko (ロビンの証拠)
Works
[
]
TV Programs
[
]
TV Dramas
[
]
Theater
[
]
[2005] 34 Choume no Kiseki (34丁目の奇跡)
[2006] Kotobuki Coffee (コトブキ珈琲)
Radio
[
]
[2014–] TRY 60 Bu (TRY60部) (Tuesday Regular)
Trivia
[
]
Honorary Titles
[
]
References
[
]
External Links
[
]
Hello Pro Kenshuusei
Members
Current Members
Former Members
Concerts & Events
Shinjin Kouen Concerts
Happyoukai Concerts

2011
2012
2013
2014
2015
2016
2017
2018
2019
2020
2021
2022
Test Events

Other
Units & Other Acts
Sub-Units & Groups
Debuted Acts
Associated Acts
Related Acts