Oda Sakura (小田さくら) is a Japanese pop singer under Hello! Project as an 11th generation member of Morning Musume and a former member of the SATOYAMA & SATOUMI movement unit ODATOMO. She was first introduced as a Hello Pro Kenshuusei member at a fanclub event in November 2011.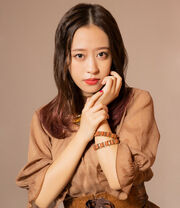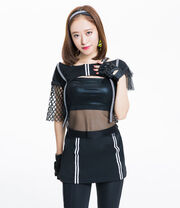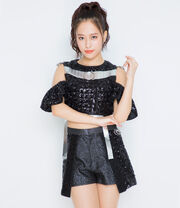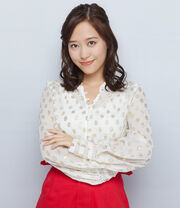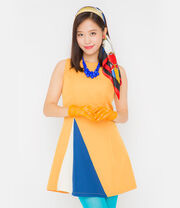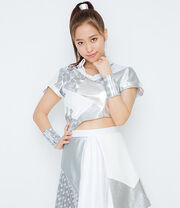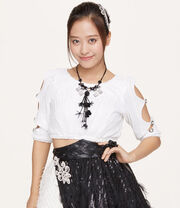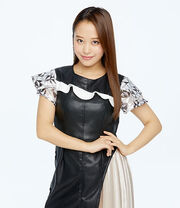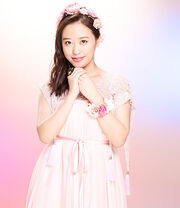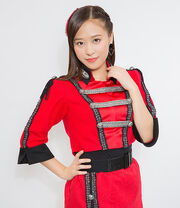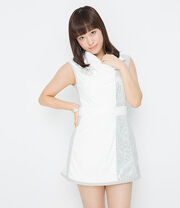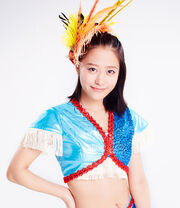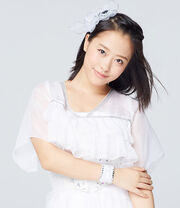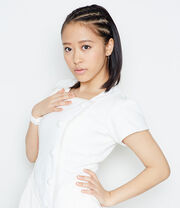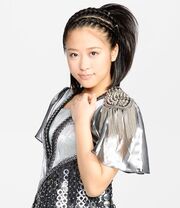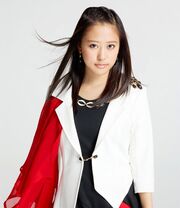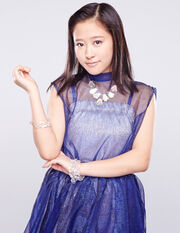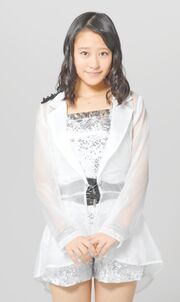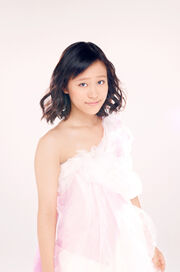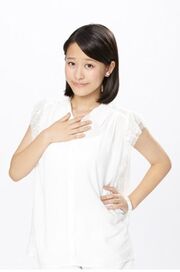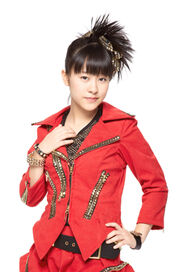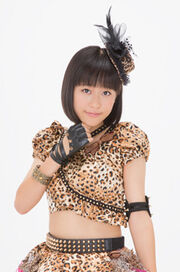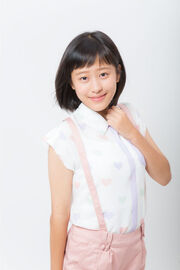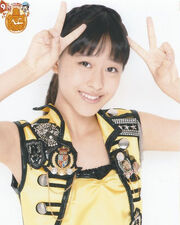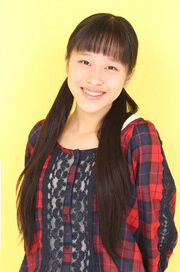 Oda Sakura was born on March 12, 1999 in Zama, Kanagawa, Japan.
On November 12, Oda Sakura was introduced as a new member of Hello Pro Egg at a fanclub event alongside Yamaga Kanae, after failing the S/mileage Shin Member Boshuu! auditions.
In January and February, Oda participated in the Hello! Project 2012 WINTER Hello☆Pro Tengoku concerts as a background dancer.
On September 14, Oda was announced as the winner of Morning Musume 11th Generation ~Suppin Utahime~ Audition.[1] Oda would start her official Morning Musume duties in January 2013 during the Hello! Project Tanjou 15 Shuunen Kinen Live 2013 Fuyu tour.
On December 14, Oda's Morning Musume member color was revealed to be lavender.
On April 11, Oda started posting on the 10th generation members' official blog.
On May 23, Oda began a solo web talk show exclusive to fanclub members, titled Sakura Sakuradio.[2]
On August 22, Oda held a solo fanclub event titled Morning Musume Oda Sakura Solo Event ~Sakura no Shirabe~.
On November 14, she held another solo fanclub event titled Morning Musume Oda Sakura Solo Event ~Sakura no Shirabe 2~.
On March 13, she celebrated her 15th birthday at a fanclub event titled Oda Sakura Birthday Event 2014 ~Sakura no Shirabe 3~, featuring two shows at the TOKYO FM HALL. The same day, it was announced that Oda would be a member of a newly formed SATOYAMA & SATOUMI movement unit with Kanazawa Tomoko called ODATOMO.
In June, Oda participated in her first ever theatrical production LILIUM -Lilium Shoujo Junketsu Kageki- as the character Sylvatica. A solo performance sung by her was the opening musical act for the play.
On July 5, Oda held a fanclub event titled Morning Musume '14 Oda Sakura Solo Event ~Sakura no Shirabe 3.5~. In this event, she challenged herself by singing more difficult songs outside of Hello! Project, including a partial English cover of "Let It Go" from the Disney animation film Frozen.
On February 19, Oda's fanclub-exclusive web talk show Sakura Sakuradio ended with a total of 90 episodes.[3]
In addition to Morning Musume '15 providing the theme song "Ima Koko Kara" for the Pretty Cure All Stars Haru no Carnival♪ movie released in theaters on March 14, three exclusive characters were voiced by Iikubo Haruna, Ishida Ayumi, and Oda. Their appearances were based on illustrations by Iikubo, with Oda's character (also named Sakura) being an owl wearing a cherry blossom.[4]
On March 16, Oda celebrated her 16th birthday at an event titled Morning Musume '15 Oda Sakura Birthday Event ~Sakura no Shirabe 4~. It had two shows at TOKYO FM HALL and part of the setlist featured her singing to live piano arrangements.
On March 22, Oda celebrated her 17th birthday at a fanclub event titled Morning Musume '16 Oda Sakura Birthday Event ~Sakura no Shirabe 5~, which featured two shows at CLUB CITTA' in her home prefecture Kanagawa.
On April 18, Oda announced her first solo photobook, titled Sakura Moyou.[5] It was published on May 27, and a Blu-ray featuring the making of the photobook, titled Behind of Photobook ~Sakura Moyou~, was released on November 29.
On March 29, Oda celebrated her 18th birthday at a fanclub event titled Morning Musume '17 Oda Sakura Birthday Event ~Sakura no Shirabe 6~ at Differ Ariake.
On October 16, Oda announced she would release her second solo photobook on November 17,[6] titled Sakura Breeze.[7]
On December 27, she released her first solo image Blu-ray, Sakura in Guam.[8]
On March 28, Oda celebrated her 19th birthday at a fanclub event titled Morning Musume '18 Oda Sakura Birthday Event ~Sakura no Shirabe 7~, featuring one show at Differ Ariake.
On August 16, the music video for Horiuchi Takao's August 22 single "Minna Shounen Datta" was uploaded on YouTube, featuring Oda and six other Hello! Project members who all sing as chorus.[9]
On March 12, Oda released her third solo photobook, titled Sakura no Kisetsu.[10]
On March 28, Oda celebrated her 20th birthday at a fanclub event titled Morning Musume '19 Oda Sakura Birthday Event ~Sakura no Shirabe 8~, featuring two shows at Shinagawa Stellar Ball.
On July 10, it was announced that Oda was diagnosed with cervical degenerative disc disease by the doctor after experiencing severe pain around her left shoulder blade the day before. Due to it requiring one month of treatment, Oda was absent from the Hello! Project 2019 SUMMER concert tour from July 13 to August 3, as well as a "Jinsei Blues / Seishun Night" release event on July 15.[11][12][13] She resumed activities on August 10, starting with Morning Musume '19's show at rockin'on presents ROCK IN JAPAN FESTIVAL 2019.[14]
On October 5, the Hello Tsu PHOTOBOOK① was released, including Oda's gravure that was originally published in a October 2018 issue of Weekly Famitsu.[15]
On March 23, she was set to celebrate her 21st birthday at a fanclub event titled Morning Musume '20 Oda Sakura Birthday Event ~Sakura no Shirabe 9~ at Mielparque Hall. However on March 11, 2020, it was announced that the event was cancelled in consideration of a new policy established by the government to prevent the spread of the coronavirus. [16] The event was eventually rescheduled for July 28.[17]
On April 20, she released her fourth photobook, SAKURA COLOR.[18][19]
On March 28, Oda celebrated her 22nd birthday at a fanclub event titled Morning Musume '21 Oda Sakura Birthday Event ~Sakura no Shirabe 10~, featuring two shows at Mielparque Hall.
Sakura's mother's name is Tomoko. Oda has an older brother named Daichi and a younger sister. Oda moved to Tokyo with her mother and siblings from her hometown. When she joined Morning Musume in 2013, her family had five cats named Taku, Nana, Kuri, Pooh, and Momo. Oda reported that Taku passed away on March 23 2015[20] and Nana passed away on January 5 2017.[21] As of August 13, 2018, Oda's family has five cats total (including Pooh and Momo) after they adopted two more named Seira and Nobuo,[22] and Kichi a few months later,[23] which also meant that Kuri had presumably passed away sometime after Nana.[24] Since then Oda confirmed in her blog post on September 19th 2020 that Kuri had passed away a few years ago in late August 2017 and that more recently her eldest cat Momo had passed away the previous day aged 19 years old on September 18th 2020.[25]
When she auditioned for Morning Musume, Oda was a 2nd year middle school student. She started high school in April 2014 and graduated in March 2017.[26]
Oda's given name, Sakura, means "cherry blossom" (さくら, 桜). Her father gave it to her wanting her to be like Tora-san's little sister from the film Otoko wa Tsurai yo.[30] Hiragana was chosen instead of the kanji in order to balance with the number of strokes in her last name.[28]
Here is a list of nicknames that was used to refer to Oda Sakura:
Sakura (さくら): Official nickname, given her since Hello Pro Kenshuusei.
Odan (おだん): Given by Tsunku, currently used by Ikuta Erina.[31]
OdaSaku (おださく): Official nickname for Oda Sakura, compounded of Oda (Oda) and Saku (Sakura).[32]
Odachii (おだちい): Unofficial nickname, given her since joining Morning Musume used by fans.
Sakurakkyo (さくらっきょ): Another unpopular Tsunku-originated nickname for Oda Sakura, compounded of sakura (cherry blossom) and rakkyo (Japanese shallot).[33][34]
Kururin (くるりん): Niigaki Risa came up with the nickname "Kururin" for Sakura when asked to by a commenter on her blog.
Name: Oda Sakura (小田さくら)
Nicknames: Sakura (さくら), Odachii (おだちい), OdaSaku (おださく), Dacchi (だっち), Odan (おだん), Odacho (おだちょ), Sakurakkyo (さくらっきょ), Sacchan (さっちゃん), SakuSaku (さくさく)
Birthdate: March 12, 1999
Blood Type: A
Height: 153 cm (5 ft 0.2 in)

?

Western Zodiac: Pisces
Eastern Zodiac: Rabbit
Hello! Project Status:
UP-FRONT GROUP Status:
Years in Morning Musume: 6 Years
Official Kaomoji: 从´'e'リ
Morning Musume Color: Lavender
ODATOMO Color: Pink
Audition Song: "Be Alive" by Morning Musume
Hello! Project Groups:
Concert Units:
Other Groups:
Hobbies: Sewing, cooking, humming on songs
Special Skills: Hula dance
Strong Point: Being able to talk to people without creating a wall between them.
Weak Point: Being too positive sometimes
Looks Up To: Takahashi Ai, Niigaki Risa, Michishige Sayumi, Nakajima Saki, Sugaya Risako
Rival No. 1: Sato Masaki
Favorite Morning Musume Songs: "Namidacchi", "Mikan", "HOW DO YOU LIKE JAPAN? ~Nihon wa Donna Kanji Dekka?~", "I WISH"[28]
Favorite Hello! Project Songs: "Midnight Temptation", "Suna wo Kamu You ni... NAMIDA"[28]
Past Favorite Songs: "Twinkle Snow Powdery Snow" by Perfume, "Smile ~Kimi wa Hitori ja nai~" by Shiori, "Sakuranbo" by Otsuka Ai
Current Favorite Songs: "GLITTER" by Perfume, "All I Want for Christmas is You" by Mariah Carey, "Kaze to Mirai" by Ikimonogakari
Favorite Color: White
Favorite Food: Matsumaezuke, jellyfish, and eggplant
Favorite Manga: Shugo Chara!, Suki-tte Ii na yo.
Favorite Word: "Ichigoichie" (一期一会; Once in a lifetime)
Favorite Phrase: "~or so I think"
Favorite Movie: Charlie and the Chocolate Factory
Favorite Subject: Home economics, music
Disliked Subject: Language, English
Charm point: Facial features
Treasured Item: A stuffed bear she had since birth
See also: List:Oda Sakura Discography Featured In
[2016] Mayoi no Mori (from Zoku 11nin Iru! Higashi no Chihei, Nishi no Towa)
See also: List:Oda Sakura Publications Featured In
[2015] Pretty Cure All Stars Haru no Carnival♪ (映画プリキュアオールスターズ 春のカーニバル♪) (voice of Sakura)
[2013–] Morning Musume no Morning Jogakuin ~Houkago Meeting~ (モーニング娘。のモーニング女学院~放課後ミーティング~)
[2013–2015] Sakura Sakuradio (さくらさくらじお) (fanclub exclusive)
When she was a Kenshuusei, she said that she would like to debut into Berryz Koubou.
She is currently learning how to play the guitar.
She is known for having a confident personality.
Initially she wanted her member color to be a "warm" color like yellow or red. 
She said that if she could be an animal, she would be a rabbit or a dog.
She said her dream as an idol is to become unique within Hello! Project.
She can imitate certain girls' voices very well.
She said her goal within Morning Musume is to sing like Takahashi Ai and Niigaki Risa, and to dance like Nakajima Saki.
Her best sport is swimming.
She has been a fan of Morning Musume and Minimoni since kindergarten.
Her S/mileage audition number was 33, while her Morning Musume audition number was 178.
She is not good at memorizing her positions on stage during performances, like Kusumi Koharu.
She said her favorite member is Kudo Haruka.
She considers Sato Masaki a genius and her greatest rival.
Oda took rhythmic gymnastics in order to improve her flexibility and dancing skills.
She was a vegetarian up until after nursery school.
Oda said that she enjoys electronic music like Perfume, Kyary Pamyu Pamyu, and Daft Punk. 
She has also stated that she enjoys listening to Pentatonix, an American acapella group.
Oda's complex is her eyebags. 
Oda would like to become an idol who heals people.
Her least favorite subject in middle school was English because she was not good at it. 
Oda has said herself in a blog post that she is a bit of a crybaby. 
Oda has mentioned before that she sometimes takes up to 2 hours bathing in the bathtub.  
She wants to sing as good as Berryz Koubou member Sugaya Risako.
"Odaism" is a term created by Iikubo Haruna (as well as fans) to refer to Oda's unique insights and or atmosphere.[35]
Tsunku commented on her: "She's a little bit of everything. Her singing, her movements, her personality... it's all a bit of everything. She can be put on the side and work just fine, but she can also be the center and nail that as well. That she can change like that is a great thing to have. Please work hard at improving!"[36]
She is the only member who has heard the mysterious composition by Sato Masaki titled "Jinsei wa Iroiro Aaru♪" (人生はいろいろあーる♪). She is also the only member who featured in Sato's remix version of "Fantasy ga Hajimaru."[37]
Her favorite costumes are the black non-cat outfits worn in "Sexy Cat no Enzetsu" and her own costumes for "Help me!!" and "One and Only."[38]
Since her debut, Oda has had a solo line in every single A-side except for "Toki wo Koe Sora wo Koe", "Mikaeri Bijin", "One and Only", and Wakain da shi!. However, Mikaeri Bijin and One and Only do not have any solo lines.
If she could be reborn as someone else, she would become Suzuki Airi, who Oda thinks was born with the talent to sing and dance and is very hard-working.[28]
She believes she is the Hello! Project member who has the most objective view.[28]
If she did not join Morning Musume, Oda joked that she would have become a Pretty Cure, which was her dream before Morning Musume, or Sailor Moon.[28]
When she first joined Morning Musume, Tsunku said she was one of the top three vocalists ever in Hello! Project, along with Takahashi Ai and Matsuura Aya (he later named Tanaka Reina a best vocalist).
She is the fourth member of Morning Musume to be from Hello Pro Kenshuusei after Linlin, Fukumura Mizuki, and Kudo Haruka.
She joined the group on its fifteenth aniversary. (September 14th 2012)
Community content is available under
CC-BY-SA
unless otherwise noted.