Nakazawa Yuko (中澤裕子) is a Japanese singer, actress, radio host and TV-personality under UP-FRONT CREATE. She is a former idol under Hello! Project as a founding member of Morning Musume, which she also became the first-ever leader of. She was also a solo act during her time in the group and after her graduation. Later, she was also a part of the reunion groups Dream Morning Musume and Morning Musume 20th. As a soloist her CD sales exceed 350,000 copies in Japan alone. Nakazawa's highest selling single is "Karasu no Nyoubou".
Biography
[
]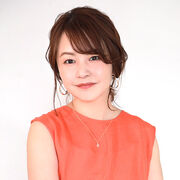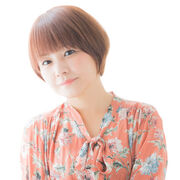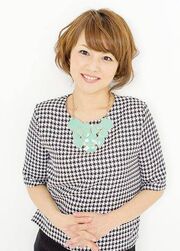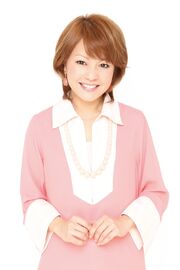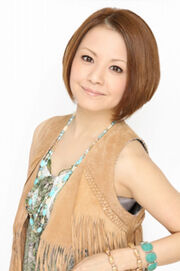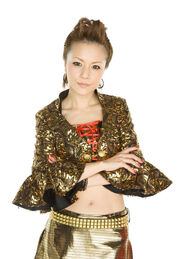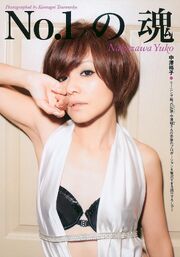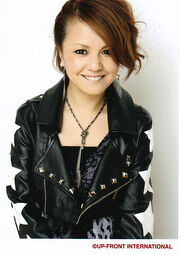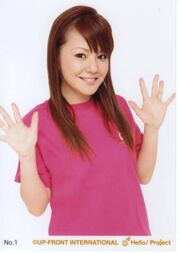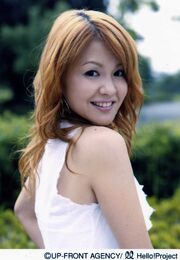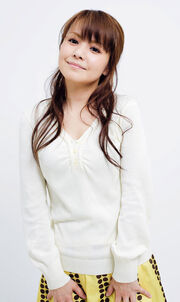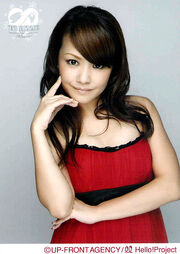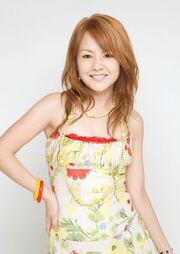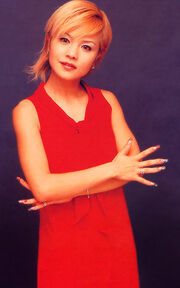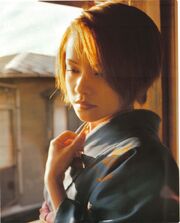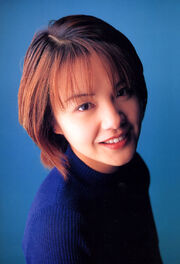 Early Life
[
]
Nakazawa Yuko was born on June 19, 1973 in Kyoto, Japan.
1997
[
]
Nakazawa saw an advertisement for audition screenings being held in Osaka, and had an immediate gut feeling that this was her chance and she needed to go for it[1].
On May 24, 1997, Nakazawa participated in the audition held in Osaka called Sharam Q Josei Rock Vocalist Audition. Nakazawa was working as office lady in Osaka,[2] and auditioned to seek adventure as an escape from her current life.[3]
On July 29, Nakazawa (along with 10 other people) had made it to the second stage of the audition, and was sent to training camp to practice her singing and dancing skills.
On July 31, they performed on stage in front of an audience, dancing as a group doing a choreography they had been practicing.
On August 3, Nakazawa had made it to the final stage and got to sing on stage in the ASAYAN studio. She lost to Heike Michiyo.
Once she failed the audition, she was preparing to go back to her normal life, but then the staff of Asayan asked her to return to Tokyo, with no other details.
On August 20,Nakazawa, along with Ishiguro Aya, Iida Kaori, Abe Natsumi, and Fukuda Asuka, had been invited back to the ASAYAN studio. They had a meeting with Sharam Q and a producer asking them if they wanted to debut as a group on the condition of selling 50.000 copies of a single within five days.They were never explicitly promised that they would be able to formally debut, but they would give them an indies single release and if they sold well, they could debut in the future. Nakazawa realized this might be her last chance to be an entertainer even without knowing what all of this meant, so for her, she only ever thought about going for it, about moving forward. It was less worry or fear and more just that she had to do it.
On September 7, Tsunku named the group Morning Musume, and Nakazawa became the group's first leader as the oldest member at 24 years of age. Nakazawa was shocked when their manager told them that she would be the leader of the group, and didn't know why, but then she realized she was the oldest and figured that made sense. They started voice training, shoot the CD cover for their indies single Ai no Tane, recorded the song, recorded and released the PV before embarking on the task in November.The quintet accomplished that task on November 30, after just 4 days.[4][5]
In December, Morning Musume started recording three songs, where one of them would be released as their debut single in January.
1998
[
]
On January 28, 1998, Morning Musume released their major debut single, Morning Coffee.
In mid-June, Nakazawa is offered a solo career as an enka singer. Nakazawa was initially confused and upset by the president of UP-FRONT AGENCY deciding she should become an enka singer, but after consulting her mother who told her not pass up the opportunity, as well as being told by her manager, "Well, if your mind isn't 100% with this decision, you might as well quit," Nakazawa decided to take on the challenge.[6] [7]
On July 5, it was announced that Tsunku would be Nakazawa's producer, and Horiuchi Takao would stand for the musical composition. The same week Nakazawa is doing the jacket shooting for her debut single, and the relase date is announced to be August 5. The title is also announced; Karasu no Nyoubou. The following week the recordings for the song started. Horiuchi sang the song in studio in front of Nakazawa, so she would know how to sing it.
In mid-July to the end of July, Nakazawa starts promoting the single through a campaign called "Enka Yoru Campaign". She is handing out flyers to the public in the streets, as well as going from bar to bar singing the song. She is followed by two staff members carrying flags with the single logo on them. During daytime, she takes the trains to several different cities, like Fukuoka, Hiroshima, and Nagoya, doing the same kind of promotion but attending offices, restaurants and retirement homes in addition the bars at night time..
Nakazawa performs the song in concert for the first time at Hello! FIRST LIVE AT SHIBUYA KOHKAIDO, a concert held from July 21 to July 27.
On August 5, Nakazawa released her debut single, Karasu no Nyoubou.
On August 9, the PV is shown on TV for the first time.[8]
On November 29, the title of Nakazawa's second single is announced as Odaiba Moonlight Serenade. It will be a collaborative single with fellow UP-FRONT AGENCY enka singer Takayama Gen, set for release on December 2. They will sing the song as a duet. Nakazawa changes her name from Nakazawa Yuko (中澤裕子) to Nakazawa Yuko (中澤ゆうこ) for this and her future releases.
On December 2, Nakazawa released her second single, Odaiba Moonlight Serenade.
On December 6, it is announced on ASAYAN that Nakazawa will release her debut solo album on December 12. The title is Nakazawa Yuko Dai Isshou, and is an album of original songs and cover songs. The song "Sutenaide yo" is used to promote the album.''
On December 12, Nakazawa released her debut album, Nakazawa Yuko Dai Isshou.
1999
[
]
From January 5, Nakazawa started co-hosting the infotainment show Idol wo Sagase alongside Heike Michiyo.
In May, it is announced that Nakazawa will go on an enka campaign, supported by Inaba Atsuko. The campaign is similar to the one she did for her debut single in the summer of 1998. Nakazawa is handing out flyers and signing posters. She is followed by staff members carrying flags, as well as Inaba helping the staff and Nakazawa.
On the ASAYAN episode aired June 6, we see Nakazawa recording the PV for her third single.
On June 9, Nakazawa released her third solo single, "Junjou Koushinkyoku".
When the single was announced she started an enka campaign, where she teamed up with fellow UP-FRONT artist Yanagisawa Junko. They would both record their own versions of the single. A limited edition of the single was also released, where Nakazawa sang the main chorus and Yanagisawa sang a few lines and the chorus. Yanagisawa would also join Nakazawa in the Hello! Project '99 concert that year. Their performance was cut from the VHS release, but Yanagisawa can be seen singing "Zurui Onna" at the end.
On August 10, Nakazawa was an MC at Miyoshi Chinatsu's Debut Event.
On December 28, Nakazawa and Heike handed over their roles as hosts of "Idol wo Sagase" to Iida Kaori and Toda Rinne.
2000
[
]
In February, Nakazawa was placed in Akagumi 4, one of the three Hello! Project shuffle units that Tsunku started as a project. All three units released singles on March 8 as a sales competition.[9] Akagumi 4's single "Akai Nikkichou" sold the most out of the three groups, ranking #2 on the Oricon singles chart with 271,640 copies sold in the first week.[10]
On June 11, Tsunku announced on an episode of ASAYAN that Nakazawa was going to release her fourth single. He also said: "As I was talking with my staff, we agreed not to limit her potential as an enka artist but to expand her horizon as a Nakazawa Yuko, just the way she was. [The single] may fit into the category of "adult contemporary" in J-pop. But I produced this song in hope for creating the best pop song." Nakazawa later said said she was so happy it wasn't enka, because she was uncomfortable seeing herself as an enka singer.[11]
On July 9, Nakazawa performed the song live on TV for the first time.
On July 12, she released her fourth solo single, "Shanghai no Kaze".
2001
[
]
A special fan club release was made in 2001: a special package of solo singles by all the members of Morning Musume (counting 13 girls at this time). Each girl released her own 3" CD single with a brand new original song. The titles of the singles are puns on their names. Nakazawa's single was a slow ballad about unrequited love titled "yuu・wa・ku" because she is sometimes called Yuu (or Yuu-chan).
On February 21, she released her fourth solo single, "Kuyashi Namida Porori".
Fukuda Asuka's graduation had a significant impact on Nakazawa, but it didn't cause her to think about herself graduating at all. However, once Ishiguro Aya graduated, Nakazawa realized that she would need to think about it, especially because she had more things she wanted to do.[12]
On March 7, Nakazawa announced that she would graduate from Morning Musume on April 15 at the end of their spring concert tour. She said in an interview in 2018 that she really didn't discuss her decision to graduate with anyone. She only told the group when she had to, and she sort of told them in a way like, this is what she wants, this is what's happening, and no one really talked about it after. However, after her graduation concert, she still had to finish up the first Morning Musume musical[13]. She then passed her role as the group's leader to Iida Kaori. She has cited her reasons for leaving as being her age (nearly 28 years old at the time of her graduation)  and her desire to pursue other things by the time she was 30.[14]
In April, Iida and Rinne handed over their roles as hosts of "Idol wo Sagase" to Nakazawa and Inaba Atsuko.
On April 15, Nakazawa graduated from Morning Musume in the Live Revolution 21 Haru ~Osaka Jou Hall Saishuu Bi~.
While Nakazawa was in Morning Musume, she had own radio show Nakazawa Yuko ALL NIGHT Nippon SUPER, which was cancelled after her graduation. After that she hosted Young Town Doyoubi for four years, and from 2004 she was the host for Ki Mama ni Classic until 2006. She also hosted a radio show called Majiasa.
On August 1, she released her fifth single, "Futari Gurashi". The B-side "Koi no Kioku" is Nakazawa's first attempt at lyrics, which she co-wrote with Tsunku. This was also the last single credited with her given name Yuko written hiragana as she began using her real name written in kanji for all following releases.
On August 21, she released her first solo photobook, titled Feather.
Nakazawa was a regular featured singer in Hello! Project's "Folk Songs" series alongside Ichii Sayaka. The first release, FOLK SONGS, was released in November. A concert was held at Shibuya AX where they sang songs from this album, folk songs not featured on the album and songs from their solo careers. This concert would later be released on VHS and DVD.
Nakazawa had acted while being in Morning Musume, but her debut in a drama would be her first this year, in Beauty 7. In the years to come she would star in more dramas, with probably Gokusen being the most famous one. She also starred in her first musical, "Footloose".
2002
[
]
In April, Nakazawa participated on Itsuki Hiroshi's album "Itsuki Hiroshi Cover & Self Collection ~Ofukuro no Komoriuta~"[15], on the track "Tabidatsu Kimi ni" with Itsuki and Fujimoto Miki. This track was later featured on the single "Ai no Merry Christmas", released in November.
On May 10, Nakazawa, Matsuura Aya and Fujimoto Miki all participated in the Itsuki Hiroshi Charity Concert in Fukui. The following day they also appeared at Dai 14-kai Mihama Itsuki marathon.[16]
On July 30, she released her first essay book, "Kaishin".
On August 25, she released her sixth single, "Tokyo Bijin". A few months after the release of the single, Nakazawa Yuko Single M Clips ①, a collection of all her music videos was released.
On November 25, Nakazawa released her second solo photobook, titled "Watashi ga Omou, Konna Onna".
On November 27, Nakazawa, as part of the Hello! Project Choir, released the single "Ai no Merry Christmas"; a collaboration single with Itsuki Hiroshi and Horiuchi Takao.
2003
[
]
In January, Nakazawa released her first live and talk tour as a solo artist, Nakazawa Yuko LIVE & TALK TOUR 2002 ~Shinshi wa Mini ga Osuki!~, on VHS and DVD.
On May 21, Nakazawa released her seventh single, "GET ALONG WITH YOU".
On November 23, she released her second essay book, Zutto Ushiro Kara Mite Kita.
2004
[
]
On February 11, she released her eighth single, as well as her first double A-side, titled "Genki no Nai Hi no Komoriuta / Nagaragawa no Hare".
On May 26, she released her ninth single, "DO MY BEST".
On July 22, she released her second album, Dai Nishou ~Tsuyogari~.
In late 2004, Nakazawa joined the special unit H.P. All Stars along with most of Hello! Project.
2005
[
]
For Hello! Project's 2005 summer shuffles units she was placed in Puripuri Pink.
On April 11, she became a performer on Cchu~nen!, a TV music program broadcast on the Mainichi Broadcasting System on Mondays, until the program's end on March 3, 2006.
2006
[
]
On September 27, Nakazawa released her 10th single, and her first in over a year, titled "Urara".
2007
[
]
In June, Nakazawa released Kisetsu no Monogatari -Kikitai Koto- on mail order through her Hello! Project fan club. She also released the concert Type-Y 2007 BIRTHDAY LIVE Mahou no Pressure! Kotoshi mo Yarimasu Special ~Live Ato, Yotei wo Irenaide Kudasai~ on DVD.
On October 10, Nakazawa released her 11th single, "Danna-sama".
In 2007, Nakazawa released the CD "Kirari 10-dai! Meisaku wo Yomou" which also featured Yaguchi Mari and Goto Maki. It features their radio play "Kirari 10-dai" which aired on NHK Radio.
2008
[
]
It was announced on October 19 that the Elder Club, including Nakazawa, would graduate from Hello! Project on March 31, 2009.[17][18]
2009
[
]
On February 1, Nakazawa passed her role as Hello! Project's leader to Takahashi Ai during the Elder Club's mass graduation concert, the Hello! Project 2009 Winter Kettei! Hello☆Pro Award '09 ~Elder Club Sotsugyou Kinen Special~, which was held at Yokohama Arena.[19]
After her graduation, she remained with UP-FRONT AGENCY. M-line club, a special fan club for Hello! Project graduates, including Nakazawa, was created in the beginning of April.
Since her graduation she continues to appear in commercials and hold small concerts or live events.
2010
[
]
On July 2, Nakazawa appeared as a special guest during Morning Musume's first performance in Paris, France at the Japan Expo 2010.[20]
In September, Nakazawa formed the unit Afternoon Musume with other Morning Musume OG members (Iida Kaori, Abe Natsumi, Yasuda Kei, Yaguchi Mari, Ogawa Makoto, Fujimoto Miki) to promote Georgia Coffee drinks.[21]
2011
[
]
On January 28, it was announced that Nakazawa would join the OG member group Dream Morning Musume, and that they would be releasing their first album titled Dorimusu ① on April 20.[22]
In August, it was announced that Nakazawa would star in the film TWILIGHT FILE VIII: Fighting Okan, which premiered in theaters in November.[23]
Nakazawa started fronting a diet drink called DHC Protein Diet. She also starred in HAPPY BIRTHDAY's music video for their song "SHIT!".[24]
On December 6, it was reported that Nakazawa would move to Fukuoka to be with her husband after getting married. Although Nakazawa would continue her career, her activities would be reduced since she would be traveling back and forth between Tokyo and Fukuoka. However, she would continue to participate in special concerts and events as much as she could.[25]
2013
[
]
In May, it was announced that Nakazawa would release an essay book titled "Musume Kara Haha e" on June 19.[26]
On October 1, Nakazawa, along with many other UP-FRONT PROMOTION members were transferred to UP-FRONT CREATE.
On December 31, Nakazawa participated as an MC in the Hello! Project COUNTDOWN PARTY 2013 ~GOOD BYE & HELLO!~ and also performed with other OG members.[27]
2012
[
]
In the early summer, Nakazawa announced on her blog that she was expecting her first child in the winter, and on November 25th she gave birth to a baby girl.
2014
[
]
On April 3, Nakazawa made her first appearance as a regular Thursday commentator on Fukuoka Broadcasting Corporation's Mentai Wide and announced that she moved to Fukuoka that spring because it was convenient for her husband's job and caring for her daughter.[28]
2015
[
]
On May 7, Nakazawa gave birth to her second child, a boy.[29]
2017
[
]
On November 1, it was announced that the first generation members of Morning Musume and the current members of Morning Musume '17 would form a collaborative unit named Morning Musume 20th.[30]
On December 13, Nakazawa and the four other original members of Morning Musume performed on a live stage together for the first time in 18 years on the second night of Fuji TV's 2017 FNS Kayousai.[31]
2018
[
]
On March 31, Nakazawa performed with several other Morning Musume OG members in the Hello! Project 20th Anniversary!! and Morning Musume 20th Anniversary!! Premiums of the Hello! Project 20th Anniversary!! Hello! Project Hina Fes 2018 at Pacifico Yokohama.[32]
On July 28 and 29, Nakazawa performed as an OG guest in the Hello! Project 20th Anniversary!! Hello! Project 2018 SUMMER concerts in Fukuoka.[33][34][35]
On December 1, Nakazawa performed at the COTTON CLUB to commemorate the 20th anniversary since her solo debut. It was later released on DVD in 2019 with the title Nakazawa Yuko LIVE at COTTON CLUB ~Shinshi wa Ima Demo Mini ga Osuki!~.
2019
[
]
On June 9, Nakazawa held a birthday live in Fukuoka, titled Nakazawa Yuko Birthday Live 2019 ~Yookinshatte ne!~, to commemorate her 47th birthday.[36][37] Later that year she held a christmas live in Tokyo, titled Nakazawa Yuko Chotto Dake Hayai Happy X'mas Show in Tokyo.[38]
In December, Nakazawa hosted a corner on RBK Radio called "Quiz Nakazawa Yuko" where she answered questions from fans.[39] [40]
2020
[
]
In early May, Nakazawa joined instagram.
On July 24, Nakazawa did an interview with TVQ, talking about her life since she moved to Fukuoka including her maternity, job and daily life. It was available on the networks official site and their YouTube channel for a limited time.[41]
On August 22, Nakazawa was on 24jikan Terebi in Fukuoka with Haraguchi Akimasa.[42]
2021
[
]
On June 20, Nakazawa held a dinner show called Nakazawa Yuko Birthday☆Casual Dinner Show 2021~Thanks to everyone~.
On August 2, Nakazawa was a guest MC at Fukuoka Mama Project[43]. It was an online zoom event.[44]
2022
[
]
In February, Nakazawa held two live events called Nakazawa Yuko SPECIAL ☆ Live 2022 One heart.
In June, Nakazawa held a live event, called Nakazawa Yuko Birthday Talk Event ~49 years old me~.[45]
Personal Life
[
]
Nakazawa has one sister (as well as a niece). She also has two chihuahuas: Taro (male) and Hana (female).
On December 6, 2011, Nakazawa announced she would be getting married in the following spring. It was also reported that after getting married, she would move to Fukuoka to live with her husband.[46] They officially registered their marriage on April 1, 2012.[47]
On June 19, 2012, she announced during her birthday live that she was 5 months pregnant with her first child, and afterwards released an official statement on her blog.[48] On November 25, Nakazawa gave birth to a baby girl.[49]
On December 7, 2014, Nakazawa announced that she was five months pregnant with her second child.
[50]
On May 7, 2015, Nakazawa gave birth to a boy.
[51]
Profile
[
]
Birth Name: Nakazawa Yuko (中澤裕子)
Stage Name: Nakazawa Yuko (中澤ゆうこ) (1998-2001, for her debut album and 2nd to 5th single releases)
Nickname: Yuu-chan (ゆうーちゃん)
Birthdate: June 19, 1973
Blood Type: O
Height: 159 cm (5 ft 2.5 in)

?

Western Zodiac: Gemini
Eastern Zodiac: Ox
Hello! Project Status:

1997-09-07: Joined Morning Musume
2001-04-15: Graduated from Morning Musume
2009-03-31: Graduated from Hello! Project

UP-FRONT GROUP Status:
Dream Morning Musume Color: Purple
Years in Morning Musume: 4 Years
Hobbies: Map driving
Western Zodiac: Gemini
Eastern Zodiac: Ox
Hello! Project Groups:
Shuffle Units:
Concert Units:
Other Groups:
Charm point: Nose
Habits: Bites tongue when asleep, Stretching top lip, touching bangs
Fears: Natural disasters, live broadcasts
Something she can't handle: Seeing people cry
Most used emoticon: :heartbeat:
Strengths: "I'm easily impassioned"
Weaknesses: Short temper, easily
Favorite movies: "Phenomenon", "Legally Blonde", "City of Angels", "Shuri"
Favorite book: "Angel's Egg"
Favorite phrase: "Survival of the fittest…"
Favorite color: Purple
Favorite flowers: Cherry blossoms
Favorite season: Summer
Favorite food: Squid, boiled fresh white rice
Disliked food: Bananas, tomatoes, miso soup with bean curd and onions
Favorite clothes: Mini skirts
Favorite song: "Tokyo Bijin"
Discography
[
]
Main article: Nakazawa Yuko/Discography
Major Singles
Other Singles
Fan Club Singles
[1999.03.10]

Umihotaru

(海ほたる) (#1 Umihotaru, #2 Nagasugita Koibito)
[2000.11.01]

Super Best

(#9 Umihotaru)
[2002.03.20]

Kakurenbo

(かくれんぼ) (#1 Kakurenbo)
[2002.04.10]

Eien no Natsu

(永遠の夏) (#3 Kakurenbo)
[2003.04.02]

Itsuki Hiroshi Cover to Self Collection Zen Juuroku Uta ~Ofukuro no Komoriuta

(五木ひろしカバー&セルフコレクションズ全16曲~おふくろの子守唄) (#7 Tabidatsu Kimi ni, #14 Ai no Merry Christmas)
[2004.09.16]

Bijo to Ya!Boo – Hawaiian Sound ni Yoru Shouwa Kayou Meikyoku Shuu

(美女とYA!BOO 〜ハワイアンサウンドによる昭和歌謡名曲集〜) (#2 Furimukanaide)
[2008.12.03]

GUILTY PLEASURES 3

(#4 Love Machine)
Publications
[
]
Solo Photobooks
[
]
[2001.08.24] Feather
[2002.11.25] Watashi ga Omou, Konna Onna
[2004.xx.xx] camera shy
Essay Books
[
]
[2002.07.30]

Kaishin

(改心; Change of Heart)
[2003.11.17]

Zutto Ushiro Kara Mite Kita

(ずっと後ろから見てきた; I Have Been Watching You (Secretly))
[2013.06.19] Musume Kara Haha e (娘。から母へ; From Musume to Mother)
Other
[
]
[1999/2000] GIRLPOP Hello! Project Special
Hello! Project Digital Books Vol.014 Yuko Nakazawa & Ayumi Shibata Vol. 3 & Vol. 4
Hello! Project Digital Books] Vol.027 Nakazawa Yuko, Iida Kaori & Abe Natsumi Vol. 4
[2003] Nakazawa Yuko Calendar
[2007.03] JAF Mate Series Taidan "Kuruma no Koto, Dou no Koto, JAF no Dainanakai Guest (Interviewed by Nakai Miho) (JAF Mate シリーズ対談「車のこと、道のこと、JAFの話」第7回ゲスト (聞き手は中井美穂))
Works
[
]
TV Programs
[
]
[1999-2002] Idol wo Sagase!
[2000] Morning Musume no Heso
[2000] Friday Night wa Onegai! Morning (フライデーナイトはお願い!モーニング)
[2000.08.03] Utaban
[2000–2007] Hello! Morning
[2001–2004] M no Mokushiroku (Mの黙示録) (as MC)
[2001–2005] Osaka Hatsu Genki Dash!DOYAH (大阪発元気ダッシュ!DOYAH) (as MC)
[2002–2003] Hello Land (ハローランド)
[2003] NHK Junior Special (NHKジュニアスペシャル)
[2004] Futarigoto (二人ゴト)
[2005–2006] Cchu~nen! (っちゅ〜ねん!)
[2006] Chichin Puipui (ちちんぷいぷい)
[2001–2003, 2005–2006] Morita Kazuyoshi Hour: Waratte Ii Tomo! (森田一義アワー 笑っていいとも!)
[2010] Iki da ne! Watashi no Tokyo Jikan (イキだね!わたしの東京時間)
[2010–2011] Geki ☆ Otoboke plus (激☆音ボケ plus)
[2010–2011] Tsuuhan Bijin Trend Collection (通販美人 Trend Collection)
[2011] Daredemo Dekiru Hajimete no Kirie (誰でもできる はじめての切り絵)
[2014–] Mentai Wide (めんたいワイド) (guest commentator on Thursdays)
[2014-] Momochi Hama Store (ももち浜ストア) (regular once a month, regular every monday from 2016)
[2014-2016] Shun-kan Kitakyuushuu (旬感北九州) (Narrator)
[2016-2017] Tenjin Nichiyoubi! (天神日曜ビ!)
[2017-] Sunday Watch (サンデーウォッチ) (regular once a month)
[2017-] Jikkan Dododo! (実感ドドド!)
[2019-] Terebi-ha (テレビ派) (regular once a month)
TV Dramas
[
]
[1998] Taiyou Musume to Umi
[2001] Beauty 7 (ビューティ7)
[2001] Mukai Arata no Doubutsu Nikki ~Aiken Rossinante no Sainan~ (向井荒太の動物日記~愛犬ロシナンテの災難~)
[2002] Ginza no Koi (ギンザの恋)
[2002] Gokusen (ごくせん)
[2003] Densetsu no Madame (伝説のマダム)
[2004] Kochira Hon Ikegami Sho 3, 4 & 5(こちら本池上署)
[2004] Home Maker (ほーむめーかー)
[2007] Getsuyou Golden (月曜ゴールデン)
[2009] Tokumei Kakarichou Tadano Hitoshi Season 4 Totsunyuu Special (特命係長 只野仁 シーズン4突入スペシャル)
[2009] Doyou Wide Gekijou (土曜ワイド劇場「火災調査官・紅蓮次郎」) (as Tanashi Kozue)
[2010] Matsumoto Seichou Drama Special: Kiri no Hata (松本清張ドラマスペシャル・霧の旗) (as Otsuka Yoshiko)
[2011] Sakura Shinjuu (さくら心中) (as Takakura Akemi)
[2012] Counter no Futari (カウンターのふたり) (as Okano Ayako)
[2016] Sono "Okodawari", Watashi ni mo Kure yo!! (その「おこだわり」、私にもくれよ!!) (as herself)
Web Dramas
[
]
[2006] Doutoku Joshi Tandai Eko-ken Dai 3-wa "Tokyo Dasshutsu" (道徳女子短大 エコ研 第3話「東京脱出」) - also released on DVD
Internet
[
]
[2005.04.30] Hello! Project Video Chat #7 (第7回ハロプロビデオチャット)
[2005.06.24] Hello! Project Video Chat #15 (第15回ハロプロビデオチャット)
[2005.07.21] Hello! Project Video Chat #19 (第19回ハロプロビデオチャット)
Theater
[
]
[2001] Footloose (フットルース)
[2003] Edo no Hanayome (江戸の花嫁)
[2005-2006] Kasagi Shizuko Monogatari Wagauta Boogie Woogie (笠置シズ子物語 わが歌ブギウギ)
[2006, 2008] Apache Toride no Koubou "Tomadoi no Nichiyoubi" (アパッチ砦の攻防「戸惑いの日曜日」)
[2007] Blue Blue Birthday (ぶるー・ブルー・バースディ)
[2007; 2008; 2010; 2011] Saka no Gabai Baachan (佐賀のがばいばあちゃん)
[2009] Kagayake! Shufu Band FOUR RIVERS Smoke on the Water 2009 (輝け! 主婦バンド FOUR RIVERS スモーク・オン・ザ・ウォーター2009)
[2010] Haha no Sakura ga Chitta Yoru (母の桜が散った夜)
[2010, 2012] Genji Monogatari x Ohguro Maki songs ~Boku wa, Juunihitoe ni Koi wo Suru~ (源氏物語×大黒摩季songs 〜ボクは、十二単に恋をする〜)
Movies
[
]
[2001] Pinch Runner
[2003] Minimoni the Movie Okashi na Daibouken! (voice)
[2005] Tetsujin 28-gou (鉄人28号)
[2011] TWILIGHT File VIII: Fighting Okan (ファイティング オカン TWILIGHT FILE VIII)
[2011] Koitani Bashi ~Vallée de l'amour~ (恋谷橋 La Vallee de l'amour)
[2012] Atsuhime Number 1 (篤姫ナンバー1) (as Tae)
DVD
[
]
Radio
[
]
[2000–2001] Nakazawa Yuko no All Night Nippon SUPER! (中澤裕子のallnightnippon SUPER!)
[2001] Nakazawa Yuko no All Night Nippon Sunday Special (中澤裕子のallnightnippon Sunday Special)
[2001-2003] Nakazawa Yuko no All Night Nippon Sunday SUPER! (中澤裕子のallnightnippon Sunday SUPER!)
[2002–2004] Young Town Douyoubi (ヤングタウン土曜日)
[2004-2006] Music Plaza "Kimamani Classic (ミュージックプラザ「気ままにクラシック」)
[2009-2013] Young Town Douyoubi (ヤングタウン土曜日)
[2005–2008] Majiasa! (マジアサ!)
[2008–2009] JAM PUNCH (ジャム パンチ!)
[2011–2012] BAY LINE GO GO!! (ベイライン・ゴー!・ゴー!) (DJ on Wednesdays)
[2014–2015] Entame Variety THE☆Hit Jouhou (エンタメバラエティ THE☆ヒット情報) (on Tuesdays)
[2016-207] Doyou no Radio (土曜のらじお)
[2017] Nichiyou no Radio (日曜のらじお)
[2017] Yoshimoto Radio Barikata!!! (よしもとRadio バリカタ!!!)
[2018] Gabrina (ガブリナ)
[2019] Kyou wa Tsuitachi "Hello! Pro" Zanmai (今日は一日"ハロプロ"三昧)
Commercials
[
]
[2000] Glico Mousse Pocky
[2001] Elleseine (エルセーヌ)
[2001–2002] Oriko Card (オリコカード)
[2001] Nihon Chouou Keiba (日本中央競馬会) (voice)
[2002] Shiseido Cty Veil (資生堂シティベール)
[2008] Gen hin fugu (玄品ふぐ)
[2009] House hokuhin kare nabe tsuyu (ハウス食品カレー鍋つゆ)
[2011] DHC Protein Diet (DHCプロティンダイエット)
Music Videos
[
]
[2011] HAPPY BIRTHDAY - SHIT!
[2014] Koisuru Baila Baila - KYOKO
[2014] Southern All Stars - Tengoku On The Beach (天国オン・ザ・ビーチ)
Rankings
[
]
She ranked #1 in music goo's 2011 "The best former leaders of Morning Musume" poll.
Trivia
[
]
Her father passed away of a sudden stroke at the age of 29 (she was 6 years old at the time). Her solo monologue in Happy Summer Wedding was difficult for her, and Tsunku had to help her convey the proper tone he wanted for the song. When she got married in 2012, she said an altered version of the monologue "introducing" her husband to her father's butsudan.[52]
She is extremely close to her mother, Reiko. She has often wished her well for her birthday on-air (a few times on Hello! Morning, and during her casting duties in Fukuoka.) She has often cited her mother as one of her biggest role models and strives to follow in her footsteps, both as a strong woman and a mother.
After losing the Sharam Q Josei Rock Vocalist Audition in 1997, Nakazawa recieved a phone call from ASAYAN when at the beach with friends from Osaka. They had taken her out to try to get her spirits up after losing the audition. She couldn't stop crying when they asked her to come down to the studio, so much that her friends were concerned. Nakazawa jumped on the Shinkansen heading for Tokyo again, without knowing anything.
She was known as an older sister figure within Hello! Project but was also famous for her aggressive, yankee-like personality as well.
She has grown accustomed to usually speaking with a Tokyo dialect, and has usually suggested fellow members from Kansai (Heike Michiyo, Kago Ai, and more recently Mitsui Aika) speak in a Tokyo dialect while in Hello! Project. Ironically, she is known for bursting out in her native Kansai dialect whenever she is annoyed, usually "scaring" younger members.
She was particularly close to Ichii Sayaka before her graduation from Morning Musume and Hello! Project, and still remains a fairly close friend to her and her new family.
She used to be a big fan of punk music.
She has stated that her reason for graduating from Morning Musume was that she began to feel physically limited from keeping up with the group's activities due to her age.
At one point, she hated bananas so much that she felt repulsed just being in the same room with them. However, when asked by Tsuji Nozomi what had changed about her since she had graduated from Morning Musume, Nakazawa said that she could now be in the same room with someone eating a banana and is fine with it.
She is not a big fan of using phones and is known for not answering the phone (so much so that Yasuda Kei has said it is a "miracle" if Nakazawa answers the phone).
She was one of the oldest members of Hello! Project.
She is the seventh former Morning Musume member to get married, the first being Ishiguro Aya, second being Ichii Sayaka, third being Iida Kaori, fourth being Tsuji Nozomi, fifth being Fujimoto Miki, and sixth being Yaguchi Mari
She is the first former Morning Musume member to only graduate from Morning Musume and not Hello! Project.
When Morning Musume appeared on Music Fighter in 2009 to promote "Naichau Kamo" and they were asked to think of a new nickname for her, Junjun answered "Nakazawa-chan", and Linlin answered "Blonde Fat Ass" after being given the suggestion by one of the hosts.
When Tsunku appeared on the variety show Shabekuri 007 in April 2009, he described Nakazawa as "harsh" and a "sadist".[53]
Said in a 2018 interview that Morning Cop and Pinch Runner left the deepest impact on her looking back over the last 20 years[54].
Said in a 2018 interview that her favorite song, putting aside her graduation song, her favorite might be Kimagure Princess[55].
Total Sales Count
[
]
Year
Year Sales
Total Sales
1998
102,480
102,480
1999
26,820
129,300
2000
52,560
181,860
2001
112,650
294,510
2002
16,860
311,370
2003
13,147
324,517
2004
20,834
345,351
2005
0
345,351
2006
3,966
349,317
2007
4,275
2008
1,020
354,612
Honorary Titles
[
]
Honorary Titles
Preceded by
First
Leader of Morning Musume
September 7, 1997 – April 15, 2001
Succeeded by
Iida Kaori
Preceded by
First
Leader of Hello! Project
April 15, 2001 – February 1, 2009
Succeeded by
Takahashi Ai
Preceded by
First
Oldest member of Morning Musume
September 7, 1997 – April 15, 2001
Succeeded by
Yasuda Kei
Preceded by
First
Oldest member of Hello! Project
January 26, 1998 – February 21, 1999
Succeeded by
Shinoda Miho
Preceded by
Shinoda Miho
Oldest member of Hello! Project
October 10, 2000 – March 31, 2009
Succeeded by
Takahashi Ai
References
[
]
External Links
[
]
Nakazawa Yuko
Discography
Singles
Albums
DVDs

Video Collections
Concerts
Units & Other Acts
Associated Acts
Morning Musume
Members
Current Members
Former Members
Discography
Singles

Indies
Major
Digital
Collab

Albums
Sub-Units
Concerts
Concerts

Spring Tours
Summer Tours
Fall Tours
Naruchika
Overseas

2008
2009
2010
2014
2016
2017
2018

Dinner Shows
One-Day
Units & Other Acts
In-group Sub-units
Associated Acts