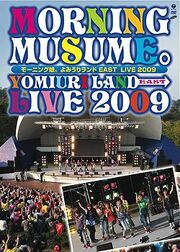 Morning Musume Yomiuri Land EAST LIVE 2009 (モーニング娘。よみるいランドEAST LIVE 2009) is Morning Musume's 2009 release event concert for their compilation album, Morning Musume Zen Single Coupling Collection. The DVD was released on January 20, 2010
The concert itself took place on October 31, 2009. All except for two songs performed (Kimagure Princess and SEXY BOY ~Soyokaze ni Yorisotte~) were Morning Musume b-sides and were chosen from a list of the most popular ones as voted by the fans in a survey. The results of the top 5 of that survey were announced during the Opening Talk segment, along with the member's own choices for their top 3.
The DVD ranked at #7 and sold 8,013 copies total.
Track listing
[
]
OPENING TALK
Love&Peace! HERO ga Yattekita. (ラヴ&ピィ~ス! HEROがやって来たっ。)
Kimagure Princess (気まぐれプリンセス)
Inspiration! (インスピレーション!)
Subete wa Ai no Chikara (すべては愛の力)
Please! Jiyuu no Tobira (Please!自由の扉)
SEXY BOY ~Soyokaze ni Yorisotte~ (SEXY BOY ~そよ風に寄り添って~)
Sono Bamen de Bibiccha Ikenaijan! (その場面でビビっちゃいけないじゃん!)
Koi ING (恋 ING)
Bonus
[
]
★特典映像★ (Tokuten Eizou; Bonus Footage)
Backstage Footage (バックステージ映像)
Information
[
]
Members featured in this release
[
]
Opening Talk
[
]
During the Opening Talk the members were split into 4 groups, which were divided by Blood Type. Each group picked their own top 3 favorite b-sides to compare with those chosen by the fans in a survey.
The results were as follows (in descending order).
External Links
[
]
Morning Musume
Members
Current Members
Former Members
Discography
Singles

Indies
Major
Digital
Collab

Albums
Sub-Units
Concerts
Concerts

Spring Tours
Summer Tours
Fall Tours
Naruchika
Overseas

2008
2009
2010
2014
2016
2017
2018

Dinner Shows
One-Day
Units & Other Acts
In-group Sub-units
Associated Acts