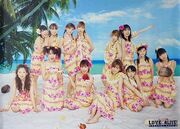 Morning Musume LOVE IS ALIVE! 2002 Natsu at Yokohama Arena (モーニング娘。LOVE IS ALIVE! 2002夏 at 横浜アリーナ) was the DVD release of the final day of Morning Musume's summer 2002 concert tour Morning Musume CONCERT TOUR 2002 Natsu "LOVE IS ALIVE!" (モーニング娘。CONCERT TOUR 2002夏 "LOVE IS ALIVE!"). The concert tour ran from August 3 to September 23, and the final performance at Yokohama Arena marked Goto Maki's graduation from Morning Musume. It was also the last show before Petitmoni and Tanpopo welcomed new members. Guests included Coconuts Musume and Country Musume. The DVD of the final show was released on November 20, 2002, and sold 89,526 copies. The Blu-ray version of the concert was released on September 11, 2013.
Opening
MC
Otoko Tomodachi - Abe Natsumi (accomapnied by 5th Generation)
MC
BABY! Koi ni KNOCK OUT! + Chokotto LOVE - - Petitmoni
MC
MC
MC
Akai Nikkichou - Goto Maki
Te wo Nigitte Arukitai - Goto Maki
Guests
Community content is available under
CC-BY-SA
unless otherwise noted.