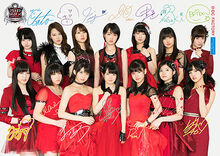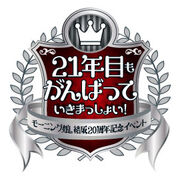 Morning Musume Kessei 20 Shuunen Kinen Event ~21 Nenme mo Ganbatte Ikimasshoi!~ (モーニング娘。結成20周年記念イベント ~21年目もがんばっていきまっしょい!~; Morning Musume 20th Anniversary Commemoration Event ~Let's Also Do Our Best in the 21st Year!~) was Morning Musume '17's 20th anniversary event. It took place on September 14, 2017 at Shinkiba STUDIO COAST.
A recording of the event was released in the limited edition Blu-ray of the album ⑮ Thank you, too.
VTR
MC
7th Place Request: KoiING
MC
6th Place Request: I WISH (Updated)
5th Place Request: Shabondama
4th Place Request: Resonant Blue
MC
3rd Place Unit Request: Daisuki Dakara Zettai ni Yurusanai - Oda Sakura, Nonaka Miki
2nd Place Unit Request: Robo Kiss - Sato Masaki, Kudo Haruka
MC
3rd Place Request: One・Two・Three (Updated)
2nd Place Request: Fantasy ga Hajimaru
1st Place Request: Say Yeah! ~Motto Miracle Night~
MC
1st Place Unit Request: Ookii Hitomi - Michishige Sayumi, Tanaka Reina
MC
Kare to Issho ni Omise ga Shitai! - Morning Musume '17, Michishige Sayumi, Tanaka Reina
MC
What is LOVE?
Encore
VTR
MC
VTR
Featured Members
Edit
Guests
Event Schedule
Edit
| Date | Venue | Prefecture | Doors Open | Concert Starts |
| --- | --- | --- | --- | --- |
| 9/14 | Shinkiba STUDIO COAST | Tokyo | 17:30 | 18:30 |
A voting form was open from July 31 to August 14, 2017 in order to decide what songs the group would perform at the event.[1] Fans could only vote for one song (including songs by Morning Musume sub-units and soloists), comment on their selection, and request which Morning Musume '17 members they want to see perform that song.
Shinkiba STUDIO COAST is the same location used for the "Sukatto My Heart" music video,[2] as well as ℃-ute's "Naze Hito wa Arasoun Darou?" music video.[3]
In the fourth MC, it was revealed that "Daite HOLD ON ME!" was voted 10th, "Be Alive" was 9th, and "Pyocopyoco Ultra" was 8th.[4]
References
Edit
External Links
Edit
Community content is available under
CC-BY-SA
unless otherwise noted.