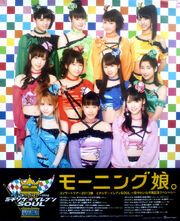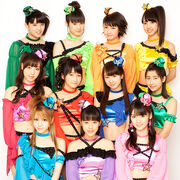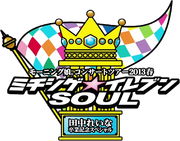 Morning Musume Concert Tour 2013 Haru Michishige☆Eleven SOUL ~Tanaka Reina Sotsugyou Kinen Special~ (モーニング娘。コンサートツアー2013春 ミチシゲ☆イレブンSOUL~田中れいな卒業記念スペシャル~) was Morning Musume's 2013 Spring concert tour. This was the graduation concert tour for 6th generation member Tanaka Reina, and it was also their first concert tour to feature 11th generation member Oda Sakura. The Morning Musume 12ki Member "Mirai Shoujo" Audition was announced on the first day of this concert tour, while Fukumura Mizuki and Iikubo Haruna were appointed sub-leaders of Morning Musume at the last day.
The DVD and Blu-ray disc for the concert was released on September 4, 2013.
Setlist
MC1
Opening VTR (track played: Lalala no Pipipi)
MC2
Ookii Hitomi - Michishige Sayumi & Tanaka Reina, with 9th, 10th and 11th Generation as background dancers
MC3 - Michishige Sayumi & Tanaka Reina
Waratte! YOU - Fukumura Mizuki, Ikuta Erina, Sayashi Riho, Suzuki Kanon, Iikubo Haruna, Ishida Ayumi, Sato Masaki, Kudo Haruka, Oda Sakura
Medley:
MC4 - Michishige Sayumi, Fukumura Mizuki
Rock no Teigi - Tanaka Reina, with Sayashi Riho & Sato Masaki as background dancers)
Medley:
Dokka~n Cappricio (Sayashi Riho and Ishida Ayumi dance battle in interlude)
Encore
Letter by Tanaka Reina
Graduation Ceremony
Second Encore
The following performances might not be available in the DVD, as they were not featured at the Budokan concert. However, they could be featured in the soukou USB concert or in an upcoming DVD magazine.
Live Photobook
A live photobook was released on August 10, 2013.
Featured Members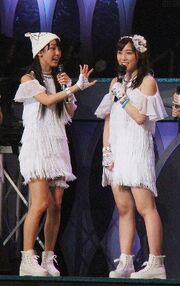 Trivia
When Tanaka Reina announced her graduation, the tour's name was changed to honor her graduation.
When the concert name was announced first, many fans thought that it would be the graduation concert of Michishige Sayumi.
Michishige said that she had to re-record Lalala no Pipipi for the opening scene in this tour.
The concert is named after then leader, Michishige Sayumi. However, her name is spelled in katakana.
This is the 2nd spring tour in a row in which a Morning Musume member graduates in Nippon Budokan.
This was the 3rd consecutive graduation of a Morning Musume member to happen in Nippon Budokan.
This is the second time a concert tour is named after the leader, the first being Morning Musume Concert Tour 2011 Aki Ai BELIEVE ~Takahashi Ai Graduation Memory Special~.
This is the second concert tour to have a Morning Musume member graduate on May 21st, first being is Ichii Sayaka.
The members wore a white version of their outfits from Kimi Sae Ireba Nani mo Iranai only on May 21st.
During one of the concerts, Fukumura Mizuki suffered a nosebleed.
Sato Masaki celebrated her birthday during this concert tour.
A petition was started for a live stream of Tanaka Reina's graduation on May 21, links to this petition were posted on various fanpages via Hello!Project on Facebook. Later, it was announced that there would be an Ameba live stream. However, in early May it was announced that the live stream had been cancelled.
Juice=Juice is the opening act for most of the concerts.
On the first day, 12th generation auditions were announced.
On April 13, the 5/21 concert tickets for Tanaka Reina's graduation concert at Nippon Budokan went on sale. They were sold out in less than 5 minutes.
S/mileage, ℃-ute, Berryz Koubou, Hello Pro Kenshuusei, Takahashi Ai, Ogawa Makoto, Mano Erina, Mitsui Aika, Kamei Eri, Niigaki Risa, Kikkawa Yuu, Yoshizawa Hitomi, Yaguchi Mari, Ishikawa Rika, Okada Robin Shouko, Mori Saki, Arai Manami, Sekine Azusa, Sashihara Rino, Wakatsuki Chinatsu, Keiko Terada, Time Machine, Genichiro Tenryu, Yukawa Reiko, Etsuko-sensei, Shirofuku were at the graduation concert.
Oricon Chart Positions
DVD
| Mon | Tue | Wed | Thur | Fri | Sat | Sun | Week Rank | Sales |
| --- | --- | --- | --- | --- | --- | --- | --- | --- |
| - | 1 | 1 | 2 | 1 | 1 | 2 | 1 | 3,736 |
| - | x | x | x | x | x | x | 12 | 790 |
| x | x | x | x | x | x | x | 27 | 364 |
Total Sales: 4,890*
Blu-ray
| Week Rank | Sales |
| --- | --- |
| 1 | 4,641 |
| 4 | 491 |
Total Sales: 5,132*
Gallery
Videos
Concert Schedule
Date
Venue
Prefecture
Doors Open
Concert Starts
Guest
03/16
Olympus Hall Hachiouji
Tokyo
14:00
15:00
Juice=Juice
17:30
18:30
03/17
13:30
14:30
17:00
18:00
03/20
Yokosuka Gejitsu Gekijou
Kanagawa
14:00
15:00
17:30
18:30
03/23
Harmony Hall Zama Dai Hall
11:30
12:30
Juice=Juice
15:00
16:00
03/24
Shizuoka Shimin Bunka Kaikan
Shizuoka
14:00
15:00
17:30
18:30
04/06
Hiroshima-shi Bunka Kouryuu Kaikan
Hiroshima
14:00
15:00
17:30
18:30
04/07
Fukuoka Sun Palace
Fukuoka
14:00
15:00
17:30
18:30
04/13
Gamagouri Shimin Kaikan
Aichi
13:00
14:00
16:30
17:30
04/14
Nagoya-shi Koukaido
14:30
15:30
Juice=Juice
18:00
19:00
04/20
Tochigi-ken Sougo Bunka Center
Tochigi
14:00
15:00
17:30
18:30
04/21
Sendai Izumiti
Miyagi
14:00
15:00
17:30
18:30
04/27
NHK Osaka Hall
Osaka
14:00
15:00
17:30
18:30
04/28
13:30
14:30
17:00
18:00
05/03
Nakano Sun Plaza
Tokyo
14:00
15:00
Juice=Juice
17:30
18:30
05/04
13:30
14:30
17:00
18:00
05/06
14:00
15:00
17:30
18:30
05/11
NHK Osaka Hall
Osaka
14:00
15:00
17:30
18:30
05/12
13:30
14:30
17:00
18:00
05/21
Nippon Budokan
Tokyo
17:00
18:00
Total: 37 Shows
External Links