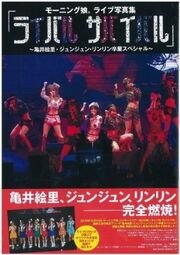 Morning Musume Concert Tour 2010 Aki ~Rival Survival~ (モーニング娘。コンサートツアー2010秋~ライバルサバイバル~) Morning Musume's fall 2010 concert tour. It ran from September 18 to December 15, 2010.
Kamei Eri, Junjun, and Linlin graduated from Morning Musume and Hello! Project on the final day of the tour at Yokohama Arena.
The DVD of the Yokohama Arena concert ranked at #7 and sold 9,463 copies, while the Blu-ray ranked at #13 and sold 2,087 copies.
Tracklist
[
]
VTR - Member Introduction
MC1
MC2
Medley
MC3
MC4
MC5
Encore
MC (Sotsugyou Ceremony) (卒業セレモニー; Graduation Ceremony)
MC6
Featured Members
[
]
Opening Act (12/15 only)
Videos
[
]
Gallery
[
]
External Links
[
]
Morning Musume
Members
Current Members
Former Members
Discography
Singles

Indies
Major
Digital
Collab

Albums
Sub-Units
Concerts
Concerts

Spring Tours
Summer Tours
Fall Tours
Naruchika
Overseas

2008
2009
2010
2014
2016
2017
2018

Dinner Shows
One-Day
Units & Other Acts
In-group Sub-units
Associated Acts