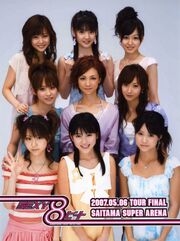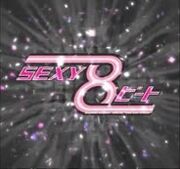 Morning Musume Concert Tour 2007 Spring ~SEXY 8 Beat~ (モーニング娘。 コンサートツアー2007春~SEXY 8 ビート~) is Morning Musume's 2007 spring concert tour. The final performance at Saitama Super Arena on the May 6 was the graduation of leader Yoshizawa Hitomi from the group. The DVD was released on July 4th, 2007. The DVD ranked at #1 and sold 25,819 copies total.
The Blu-ray Disc version of the concert was released on November 6, 2013.
Setlist
[
]
VTR1: Member Introduction
MC2
Performance varies:
Takara no Hako - Shigepink and Kohappink
Tsuugaku Ressha - All except Kusumi Koharu and Mitsui Aika
VTR2: MC GAKI's Late Night Midnight Letter
Medley
MC3: Graduation Messages
MC4: Yoshizawa's Message
Encore
MC5
Featured Members
[
]
Trivia
[
]
Member Introductions is part of the bonus footages for this tour's DVD.
Gallery
[
]
Concert schedule
[
]
| Date | Time | Place |
| --- | --- | --- |
| 2007-03-17 | 15:30 | Harmony Hall Zama |
| 2007-03-17 | 19:00 | Harmony Hall Zama |
| 2007-03-18 | 14:30 | Harmony Hall Zama |
| 2007-03-18 | 18:00 | Harmony Hall Zama |
| 2007-03-31 | 15:00 | Niigata Prefectural Civic Center |
| 2007-03-31 | 18:30 | Niigata Prefectural Civic Center |
| 2007-04-07 | 15:30 | Matsumoto Cultural Center |
| 2007-04-07 | 19:00 | Matsumoto Cultural Center |
| 2007-04-08 | 15:30 | Yamanashi People's Cultural Hall (Main Hall) |
| 2007-04-08 | 19:00 | Yamanashi People's Cultural Hall (Main Hall) |
| 2007-04-14 | 15:30 | Asahikawa People's Cultural Center |
| 2007-04-14 | 19:00 | Asahikawa People's Cultural Center |
| 2007-04-15 | 14:30 | Hokkaido Welfare Pension Center |
| 2007-04-15 | 18:00 | Hokkaido Welfare Pension Center |
| 2007-04-21 | 14:30 | Osaka Welfare Pension Center (Main Hall) |
| 2007-04-21 | 18:00 | Osaka Welfare Pension Center (Main Hall) |
| 2007-04-22 | 15:30 | Aichi Welfare Pension Center |
| 2007-04-22 | 19:00 | Aichi Welfare Pension Center |
| 2007-04-28 | 15:30 | Yokosuka Fine Arts Theater |
| 2007-04-28 | 19:00 | Yokosuka Fine Arts Theater |
| 2007-04-30 | 15:30 | Nagoya International Conference Center (Century Hall) |
| 2007-04-30 | 19:00 | Nagoya International Conference Center (Century Hall) |
| 2007-05-03 | 15:30 | Osaka Welfare Pension Center (Main Hall) |
| 2007-05-03 | 19:00 | Osaka Welfare Pension Center (Main Hall) |
| 2007-05-06 | 15:30 | Saitama Super Arena |
| 2007-05-06 | 19:00 | Saitama Super Arena |
External Links
[
]
Morning Musume
Members
Current Members
Former Members
Discography
Singles

Indies
Major
Digital
Collab

Albums
Sub-Units
Concerts
Concerts

Spring Tours
Summer Tours
Fall Tours
Naruchika
Overseas

2008
2009
2010
2014
2016
2017
2018

Dinner Shows
One-Day
Units & Other Acts
In-group Sub-units
Associated Acts