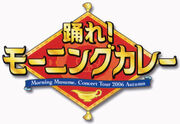 Morning Musume Concert Tour 2006 Aki ~Odore! Morning Curry~ (モーニング娘。コンサートツアー2006秋~踊れ! モーニングカレー~) is the fifteenth live DVD released by Morning Musume. It features footage from their autumn 2006 concert tour on October 28, 2006 at Nippon Budokan.
The DVD ranked at #5 and sold 28,654 copies total.
A Blu-ray version of the concert was released on November 6, 2013.
Tracklist
[
]
OPENING
MC
MC
Namida ga Tomaranai Houkago - Yoshizawa Hitomi, Takahashi Ai, Niigaki Risa, Kamei Eri, and Michishige Sayumi
Melodies - Fujimoto Miki (GAM cover)
"Suggoi Nakama" - Yoshizawa Hitomi, Fujimoto Miki, Kamei Eri, Michishige Sayumi, Tanaka Reina, and Kusumi Koharu
MC
Koe - Takahashi Ai and Niigaki Risa
KoiING - Yoshizawa Hitomi and Kamei Eri then follows Morning Musume
MC
ENCORE
MC
Extras:
Koe (Takahashi Ai Ver.) (声 (高橋愛 Ver.)) - Takahashi Ai, Niigaki Risa
"Morning Musume Concert Tour 2006 Aki ~Odore! Morning Curry~" Tour Photos (「モーニング娘。コンサートツアー2006秋 踊れ! モーニングカレー」ツアー写真館)
"Koi no Dance Site" VTR (「恋のダンスサイト」VTR)
Featured Members
[
]
Gallery
[
]
External Links
[
]
Morning Musume
Members
Current Members
Former Members
Discography
Singles

Indies
Major
Digital
Collab

Albums
Sub-Units
Concerts
Concerts

Spring Tours
Summer Tours
Fall Tours
Naruchika
Overseas

2008
2009
2010
2014
2016
2017
2018

Dinner Shows
One-Day
Units & Other Acts
In-group Sub-units
Associated Acts