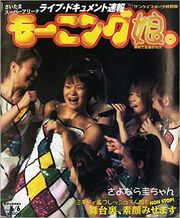 Morning Musume Concert Tour 2003 Spring "NON STOP!" (モーニング娘。コンサートツアー2003春NON STOP!) is a DVD and VHS release featuring a concert by Morning Musume, the lead Hello! Project group. Both DVD and VHS were released on June 25, 2003 on the zetima label. It is Yasuda Kei's graduation concert, held in Saitama Super Arena. The DVD ranked at #1 and sold 77,031 copies total.
The Blu-ray for this concert was released on September 11, 2013.
A photobook of the final May 5 concert, titled Live Document Sokuhou Morning Musume (ライブ・ドキュメント速報 モーニング娘。) was published on June 6, 2003 issue and relsate date in May 29, 2003 by Sankei Sports.
Tracklist
[
]
Opening
MC
Member introduction VTR (メンバー紹介VTR)
MC
MC - Tsuji Nozomi, Kago Ai, Takahashi Ai, Ogawa Makoto, Konno Asami, and Niigaki Risa
MC - Iida Kaori
MC
MC - POCKY GIRLS
MC
Encore
MC
MC: 6th gen member introduction by Yasuda Kei (保田から6期メンバー紹介)
MC: Message from everyone to Yasuda Kei (全員から保田へ贈るメッセージ)
Members Featured
[
]
Guests
Gallery
[
]
Trivia
[
]
In the manga Death Note, the character Amane Misa's diary indicates she went to see Morning Musume at Saitama Super Arena on May 4, 2003. That actually was a correct time and place for this tour, one of the final performances.
External Links
[
]
Morning Musume
Members
Current Members
Former Members
Discography
Singles

Indies
Major
Digital
Collab

Albums
Sub-Units
Concerts
Concerts

Spring Tours
Summer Tours
Fall Tours
Naruchika
Overseas

2008
2009
2010
2014
2016
2017
2018

Dinner Shows
One-Day
Units & Other Acts
In-group Sub-units
Associated Acts