Morning Musume 2nd Tsuika Audition (モーニング娘。第2回追加オーディション; Morning Musume 2nd Additional Audition) was an audition held in August 1999, in search of third generation members for the Hello! Project group Morning Musume.
The audition process was aired on ASAYAN on August 1, August 8, and August 22.
Audition details
Edit
Application Requirements

Female, must be in 7th through 12th Grade during the auditions.
Total Applicants

11,000 Auditionees
Training Camp and Theme Song

Voice - Summer Night Town
Broadcast

On ASAYAN
Audition Process
Edit
First Round
Edit
The girls submit an application before the due date in order to participate. 11.000 applicants sent in their letter wishing to participate. The number of applicants was reduced to 155 in the first screening, and 21 in the second screening. One of the applicants withdrew, making it 20 people who passed the second screening.
Second Round
Edit
A videotape and profile of each girl is viewed by Tsunku, who then arbitrarily selects the ones he wants to go into the third round.
Goto Maki (後藤真希), 13
Satou Sayaka (佐藤沙矢佳), 18
Satou Ikumi (佐藤衣久美), 18
Nemoto Tsugumi (根本胤水), 13
Fukuda Yurika (福田由理香), 15
Fujimoto Youko (藤本陽子), 14
Kouda Kumiko (神田來未子), 16
Watarihiki Tomomi (渡引智美), 13
Izumikawa Mari (泉川まり), 25
Ishikawa Yuka (石川由佳), 13
Sakamoto Chisato (坂本千佐登), 15
Takeoka Akina (竹岡明菜), 13
Miyoshi Erika (三好芳佳), 12
Ooyama Erino (大山恵理乃), 17 (former member of OPD)
Okamoto Saori (岡本沙緒理), 14
Sakurada Aiko (櫻田有幾子), 16
Kumazawa Shizuka (熊沢しずか), 18
Arai Mami (新井麻美), 12
Asakawa Kaori (浅川香織), 15 (associated with a 1998 act called Cream)
Sugawara Mariko (菅原真理子), 15
Third round
Edit
Five people passed the training camp.
Goto Maki (後藤真希), 13
Okamoto Saori (岡本沙緒理), 14
Sugawara Mariko (菅原真理子), 15
Kumazawa Shizuka (熊沢しずか), 18
Watarihiki Tomomi (渡引智美), 13
Plans was to have 9 people for Morning Musume's 9th single, set for release on September 9, 1999 (99.9.9). This means two people were going to be selected out of the five. First one to win the audition was Goto Maki. The second winner was going to be out of the four other girls. None of them ended up being chosen. The difference between the two candidates was so high, only one winner was selected.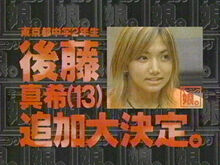 Notable failed auditionees include singers Koda Kumi and Sonim, comedian and TV personality Imoto Ayako, comedian and professional boxer Yamazaki Shizuyo, and gravure idol Isoyama Sayaka.
Participants #2 and #3 (Sayaka and Ikumi) are twins.
External Links
Edit
Community content is available under
CC-BY-SA
unless otherwise noted.