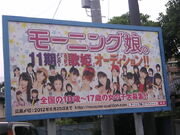 Morning Musume 11ki Member "Suppin Utahime" Audition (モーニング娘。11期メンバー「スッピン歌姫」オーディション; Morning Musume 11th Generation Member "Makeup-less Songstress" Audition) was the audition to choose eleventh generation members for Morning Musume. It was announced on May 18, 2012, at Niigaki Risa's and Mitsui Aika's graduation concert at the Nippon Budokan.
Tsunku said he would "be focusing more on the talents that will be present at this year's auditions instead of the looks of the members".
Audition Details
[
]
Application Requirements

Female, Minimum of age 10 and maximum of 17 years of age by March 31, 2012.
Must not be under contract with any agencies or as a performing arts talent.
Must have consent from legal guardian if under age.

Total Applicants: 7,000+
Training Camp Choreographer: YOSHIKO
Training Camp Singing Teacher: marron
Broadcast:
Audition Process
[
]
First Round
[
]
The application deadline was June 25, 2012.
Second Round
[
]
The second round began on July 15, 2012. The videotape and profile of each girl was viewed by Tsunku, who then arbitrarily selected the ones he wanted to go into the third round. All the candidates were interviewed during this 2nd round. The 2nd round was from July 15th to the 30th in 6 places across the country:
Sapporo
Sendai
Tokyo
Nagoya
Osaka
Fukuoka
Third Round
[
]
The 56 candidates, not counting Hello Pro Kenshuusei members, gathered in Tokyo for further screening. From there, they were selected, and invited to the training camp.
In this round the girls had to:

Show a special skill.
Give a performance to the rhythm of Be Alive.
Sing a song of their choice.
Fourth Round
[
]
They were taken to a training camp from where they received dance and vocal lessons, separately recorded Be Alive and danced in group to What's Up? Ai wa Dou na no yo~ and One•Two•Three in front of Tsunku and the dance teacher.
6 girls were chosen for the fourth round:
The finalists were revealed for the first time when footage of the fourth round was broadcast on September 13, only a day before the results were announced.
Results
[
]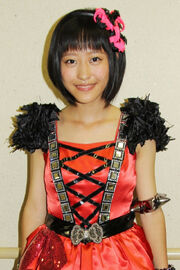 The winner and only 11 generation member was Oda Sakura.
The results were announced on September 14 at an open rehearsal for the Morning Musume Tanjou 15 Shuunen Kinen Concert Tour 2012 Aki ~Colorful Character~, which fans could attend by winning a lottery, at Harmony Hall Zama in Kanagawa. At the same time an announcement video was uploaded to the official Morning Musume YouTube channel.
Footage of the Auditions
[
]
Trivia
[
]
Gallery
[
]
Morning Musume
Members
Current Members
Former Members
Discography
Singles

Indies
Major
Digital
Collab

Albums
Sub-Units
Concerts
Concerts

Spring Tours
Summer Tours
Fall Tours
Naruchika
Overseas

2008
2009
2010
2014
2016
2017
2018

Dinner Shows
One-Day
Units & Other Acts
In-group Sub-units
Associated Acts