Morning Musume '19 LOVE Audition (モーニング娘。'19 LOVEオーディション) was the audition for 15th generation member(s) to join Morning Musume. It was announced on January 2, 2019 at Hello! Project 20th Anniversary!! Hello! Project 2019 WINTER ~YOU & I~.[1][2][3]
The audition was searching for girls who love Morning Musume and Hello! Project, love to sing and dance and are confident in singing and dancing, want to take advantage of their personal strengths and special skills, and want to find their "new self".[4]
Audition Details
Application Requirements:

Female, living in Japan, enrolled in the fifth year of elementary school up to the second year of high school as of January 2, 2019.
Must not currently be under contract with any agencies.
Must have consent from legal guardian if under the age of 15.

Application Deadline: February 15, 2019
Total Applicants: 4,500+[5]
Dance Instructor: Mitsubachi Maki[6]
Audition Process
First Round
The application deadline was on February 15, 2019 (at noon for web applications). On March 6, it was announced that application screening was completed and candidates who passed into the second round would receive their results in the mail.
Second Round
On April 10, it was announced on the audition website that the second round was finished and only continuing candidates would be contacted by mail.
Third Round
On May 17, it was announced that the third round was completed and mail was sent to candidates informing them of whether they would continue onto the next round or were rejected.
Final Round
Six girls continued into the final round, which took place over two days in late May. marron was in charge of singing lessons and Mitsubachi Maki was in charge of dance lessons. The finalists had to learn to perform "Help me!!" as a group and "Only you" as a solo.[6]
Results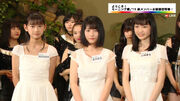 During Morning Musume '19's release event for their 67th single "Jinsei Blues / Seishun Night" on June 11, 2019 at Ikebukuro Sunshine City Fountain Square, it was announced that the 15th generation would be revealed on June 22 at 5:00 PM JST in a YouTube live stream on Morning Musume's official channel,[7] as well as on UP-FRONT LINK's Facebook page.[8] Members commented that at this time they have not been told any information about the results such as how many would join or how old they are.[7]
Due to technical issues, the stream was delayed over 20 minutes past its scheduled start time.[9] During the delay, it was announced that broadcast for Facebook was cancelled and the stream could only be watched on YouTube.[10]
The Morning Musume '19 members were still uninformed who won, except for leader Fukumura Mizuki, who stated in the opening talk before the reveal that she had visited the winners' homes to notify them they had won.[11][12]
The winners of the audition were:[13][14]
The third member promoted from Hello Pro Kenshuusei Hokkaido was:[13][14][5]
Trivia
Videos
Gallery
References
External Links
Community content is available under
CC-BY-SA
unless otherwise noted.