Morning Musume '14 Fanclub Tour in HAWAII ~Me ka aloha pumehana!!~ (モーニング娘。'14ファンクラブツアー in HAWAII ~Me ka aloha pumehana!!~) is Morning Musume '14's 2014 fanclub tour in Hawaii. The deadline to pre-order the DVD for the tour was October 27, 2014.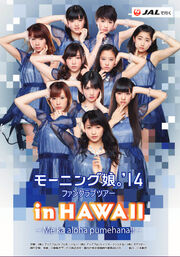 Morning Musume. '14 FC Hawaii Tour Special live and handshake at University of Hawaii amphitheater.
MC1
MC2
MC3
Encore
MC4 - present lottery
Handshake event
Activities
Edit
August 22

Outdoor morning exercises :

Zumba and Hula at Kapiolani Park with teacher Tiffany.

Event goods handed out
Commemorative photo with members
Play Moni. in HAWAII event at Sheraton Waikiki hotel :

Red team (Team Yume no Kuniguni チーム夢の国々) - Ishida Ayumi (Captain), Fukumura Mizuki, Ikuta Erina, Suzuki Kanon, Oda Sakura
Blue team (Team 999 Sankyu チーム999 サンキュー) - Michishige Sayumi (Captain), Sayashi Riho, Iikubo Haruna, Sato Masaki, Kudo Haruka
Game 1 - Maracas battle (One•Two•Three)
Ishida 160 shakes, Riho 129 shakes. 10 points to Red.
Game 2 - Body Board balance battle - Maa-chan vs. Sakura. Maa-chan fell out and started laughing. Sakura won.
20 points to Red.
Game 3 - Beach ball long throw - Eripon vs. Kudo (draw). 5 points each
Game 4 - English gesture battle. Mizuki vs. Haruna - Haruna won 5 to 3.
Game 5 - Atchi Muite Hoi (Janken variation) Sayumi vs. Kanon. Sayumi won.
Game 6 - Atchi Muite Hoi again. Sayumi vs. Kanon.
Team Yume no Kuniguni wins.

August 23

Play Moni. rally
Special Live
Handshake
B course : Factory tour of how the most popular Hawaiian goods/exports are made.
C course : Driving Range. (golf)
Featured Members
Edit
Comments about their solo songs:
External Links
Edit
Community content is available under
CC-BY-SA
unless otherwise noted.