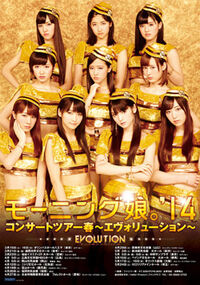 Morning Musume '14 Concert Tour Haru ~Evolution~ (モーニング娘。'14コンサートツアー春 ~エヴォリューション~) is Morning Musume '14's spring tour. It ran from March 15 through May 31, 2014.
The DVD and Blu-Ray for this concert was originally set to be released on August 20, 2014, but was later changed to September 10, 2014.
Setlist
[
]
Opening VTR: Member Introductions
MC1
Medley:
MC2
Coupling Medley
MC
Coupling Medley
[
]
Coupling Medley 1
Coupling Medley 2
Featured Members
[
]
※: After Yoshihashi was not able to participate between 17th and 24th May, she was replaced by Kaga Kaede.
Trivia
[
]
Second 12th generation audition "Morning Musume '14 (Golden) Audition!" was announced on the opening day.[1]
Kudo Haruka did not dance for the second half of the 4/6 performance at Okayama due to a twisted leg. For the following lives, she participated while sitting in a stool.

At the 5/3 day concert at Niigata, Kudo Haruka was cleared to dance again halfway through the concert, but sat down again at the night concert.
Kudo was dancing again at the next venue after this, at the Nakano Sun Plaza.

During the 4/29 live at Yamaguchi, Michishige Sayumi announced that she will graduate from Morning Musume and Hello! Project on the Autumn's concert last day.
Oda Sakura also lost her voice halfway through the 5/3 concert at Niigata, and various other members filled in for her for the rest of the day. 
LoVendoЯ and Bitter&Sweet joined in at the tour final at Yamanashi on 5/31 as guests.
For promotion of the DVD and Blu-ray release on September 10, Club DAM Karaoke is adding the live performances from Morning Musume '14's Evolution concert to their Karaoke song list (Toki wo Koe Sora wo Koe, Password is 0, What is LOVE?, LOVE Machine (Updated), Ren'ai Revolution 21 (Updated)).
Concert Schedule
[
]
Date
Venue
Prefecture
Doors Open
Concert Starts
03/15
Olympus Hall Hachiouji
Tokyo
14:00
15:00
17:30
18:30
03/16
13:30
14:30
17:00
18:00
03/21
Morioka Shimin Bunka Hall
Iwate
15:30
16:30
03/22
Sendai Izumiti 21 Dai Hall
Miyagi
14:00
15:00
17:30
18:30
04/05
Hiroshima Bunka Gakuen HBG Hall
Hiroshima
14:00
15:00
17:30
18:30
04/06
Okayama Shinmin Kaikan
Okayama
13:00
14:00
16:30
17:30
04/12
Nitori Bunka Hall
Hokkaido
13:30
14:30
17:00
18:00
04/19
Houzan Hall
Kagoshima
15:00
16:00
04/20
Fukuoka Shinmin Kaikan
Fukuoka
13:30
14:30
17:00
18:00
04/27
Nippon Tokushutogyo Shimin Kaikan
Aichi
14:00
15:00
17:30
18:30
04/29
Shunan-shi Bunka Kaikan
Yamaguchi
11:00
12:00
14:30
15:30
05/03
Niigata Prefectural Civic Center
Niigata
14:00
15:00
17:30
18:30
05/05
Nakano Sun Plaza
Tokyo
14:00
15:00
17:30
18:30
05/06
13:30
14:30
17:00
18:00
05/10
 Gunma Beishia Cultural Hall
Gunma
14:00
15:00
17:30
18:30
05/17
Osaka Orix
Osaka
14:00
15:00
17:30
18:30
05/18
13:00
14:00
05/24
Kawaguchi Lilia
Saitama
14:00
15:00
17:30
18:30
05/31
Kawaguchiko Stellar Theater
Yamanashi
16:30
17:30
Oricon Chart Positions

[

]
DVD
[
]
Daily DVD overall ranking
| Mon | Tue | Wed | Thu | Fri | Sat | Sun | Week Rank | Sales |
| --- | --- | --- | --- | --- | --- | --- | --- | --- |
| - | 6 | 4 | 11 | 6 | 10 | 28 | 7 | 3,468 |
| 21 | - | - | - | - | - | - | - | 590 |
| - | - | - | - | - | - | - | - | 355 |
| - | - | - | - | - | - | - | - | 349 |
Music DVD Ranking
| Mon | Tue | Wed | Thu | Fri | Sat | Sun | Week Rank | Sales |
| --- | --- | --- | --- | --- | --- | --- | --- | --- |
| - | 2 | 2 | 3 | 3 | 5 | 6 | 2 | 3,468 |
| 6 | 17 | 12 | 10 | 13 | - | 15 | 15 | 590 |
| - | 20 | - | - | - | - | - | 24 | 355 |
| - | - | - | - | 9 | 16 | 12 | 18 | 349 |
| 20 | - | - | - | - | - | - | - | - |
Total Reported Sales: 4,762
Blu-ray
[
]
Daily Blu-ray overall ranking
| Mon | Tue | Wed | Thu | Fri | Sat | Sun | Week Rank | Sales |
| --- | --- | --- | --- | --- | --- | --- | --- | --- |
| - | 4 | 7 | 18 | 9 | 7 | 12 | 5 | 3,737 |
| 13 | - | - | - | - | - | - | 8 | 425 |
Total Reported Sales: 4,162
Gallery
[
]
References
[
]
External Links
[
]
Morning Musume
Members
Current Members
Former Members
Discography
Singles

Indies
Major
Digital
Collab

Albums
Sub-Units
Concerts
Concerts

Spring Tours
Summer Tours
Fall Tours
Naruchika
Overseas

2008
2009
2010
2014
2016
2017
2018

Dinner Shows
One-Day
Units & Other Acts
In-group Sub-units
Associated Acts