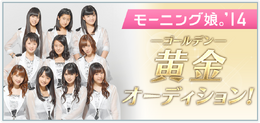 Morning Musume '14 <Golden> Audition! (モーニング娘。'14 <黄金>オーディション!) was the second Morning Musume 12th generation auditions. It was announced on March 15, 2014 at the 2014 spring tour.[1] The winner(s) of the audition received lessons and were able to participate in fall 2014 events, and became full member(s) in 2015. Girls who failed the audition may have had the opportunity to join Hello Pro Kenshuusei, receiving free training.
Audition Details
Audition Process
First Round
The application deadline was May 11, 2014.
Second Round
The second round started on May 12th. Each girl's profile were viewed by Tsunku, who then arbitrarily selected the ones he wanted to go onto the third round. All the candidates were interviewed as well.
On July 7, it was announced on the audition website that the second round was finished and continuing candidates would be contacted directly.
Third Round
On July 19, the candidates gathered in Tokyo for further screening. From there, they were selected, and invited to the training camp. Kenshuusei joined in this round.
Fourth Round
The fourth round began in mid August and concluded on August 24th. The finalists were taken to a training camp from where they received dance and vocal lessons, individually recorded Date ja nai yo Uchi no Jinsei wa and danced to Seishun Beat wa 16 in a group in front of Tsunku and the dance teacher.
9 girls were chosen to participate in the fourth round. They include:
Results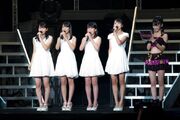 The winners of the Golden Auditions have been chosen and were revealed on September 30 at Nippon Budokan:[2]
The following Hello Pro Kenshuusei members were selected to join Morning Musume as 12th generation members alongside the audition winners:
Video Messages from Tsunku and Members
Comments by Tsunku and Members
Comments by Tsunku:

Profile: A girl who loves singing, and who strongly believes in her own future. And even though she is not so certain about her confidence, she still wants to try.
The winner(s) who pass will participate in events that Morning Musume '14 have in fall and will take lessons. They will fully start working as a part of the group in 2015.
If no one gets picked, there will be the possibility to join Hello Pro Kenshuusei and get free lessons and take part in lives that way. Then it's possible to take part in Morning Musume's next audition and/or join a new Hello! Project unit.
The skills of the girls in Morning Musume '14 these days is really high and because of that the requirements are higher too. But we believe that there are still a lot of talent out there that will shock us.

Comments by Members at the Morning Musume '14 Concert Tour Haru ~Evolution~:
Comments by Members at the media interview for Morning Musume's 17th anniversary event:
Trivia
Gallery
References
External Links
Community content is available under
CC-BY-SA
unless otherwise noted.