Morning Coffee (モーニングコーヒー) is Morning Musume's debut single. It was released January 28, 1998 as an 8cm CD. It sold a total of 200,790 copies.
It was re-released as part of the Morning Musume Early Single Box in 2004, a limited edition box set containing Morning Musume's first eight singles reissued on 12cm CDs. In 2005, the singles were released individually under the zetima label, and first press editions came with a photo card.
Tracklist
[
]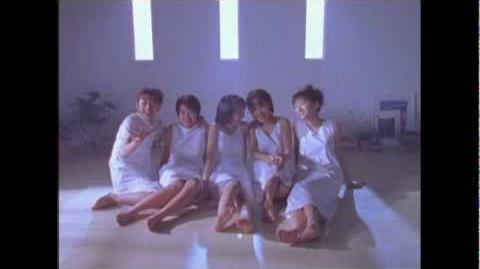 Original Edition
[
]
Morning Coffee
Ai no Tane (愛の種; Seeds of Love)
Morning Coffee (Instrumental)
Re-release Edition
[
]
Morning Coffee
Ai no Tane
Morning Coffee (Instrumental)
Morning Coffee (Unreleased "B♭" Version)
Featured Members
[
]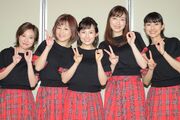 Single Information
[
]
Morning Coffee
Lyrics and Composition: Tsunku
Arrangement and Programming:

Sakurai Tetsutaro

12-string Guitar and Acoustic Guitar: Takahashi Yuichi
Electric Guitar:

Tsuchiya Kiyoshi

Acoustic Piano and Keyboards:

Kono Shin

Dance Choreographer: Natsu Mayumi
TV Performances
[
]
[1998.01.25] ASAYAN
[1998.01.30] Music Station
[1998.02.06] POP FILE
[1998.02.09] Hey! Hey! Hey!
[1998.02.12] Music Park
[1998.02.24] Utaban
[1998.02.28] POP JAM
[1999.01.03] ASAYAN
[2000.10.08] Hello! Morning Episode #27 (Last Phrase Karaoke)
[2014.04.xx] Bokura no Ongaku
[2015.02.25] SKY PerfecTV! MUSIC FESTIVAL
Concert Performances
[
]
Morning Coffee
Oricon Chart Positions

[

]
| Mon | Tue | Wed | Thu | Fri | Sat | Sun | Week Rank | Sales |
| --- | --- | --- | --- | --- | --- | --- | --- | --- |
| - | - | - | - | - | - | - | 6 | 95,060 |
| - | - | - | - | - | - | - | 14 | 33,680 |
| - | - | - | - | - | - | - | 22 | 29,030 |
| - | - | - | - | - | - | - | 29 | 16,500 |
| - | - | - | - | - | - | - | 42 | 9,670 |
| - | - | - | - | - | - | - | 53 | 7,560 |
| - | - | - | - | - | - | - | 64 | 5,470 |
| - | - | - | - | - | - | - | 78 | 3,820 |
Total Reported Sales: 200,790
Cover Versions
[
]
Trivia
[
]
Early on, Tsunku had decided that Iida Kaori was going to be be the lead vocalist.[1] Before the recording on the second day, Tsunku changed the lead vocals to Abe Natsumi. Iida said in a 2018 interview that the recordings for that song lasted two days. She recorded her vocals on the first day, and the next day she had to be back in her hometown of Hokkaido for school exams. But once she was done with exams and came back to Tokyo, suddenly Abe had become the main singer instead of her. She also said no one ever told her, "if you go and take your exams, you won't become the main singer of this song." She said herself she managed to record a good take on the first day and so they sent her off with a "go and ace your exams!" So then coming back and finding out she was no longer the main singer, and what with the cameras constantly rolling and everything [referring to the TV show ASAYAN recordings]… She also said it was a huge shock, but on the other hand, she was still happy that they were going to have their major debut. So it was like she was half crying, half laughing — this mixture of sadness and happiness.[2]
For their major debut single, three songs were recorded: "Morning Coffee", "Usotsuki Anta" and "Dou ni ka Shite Doyoubi". Demos of the songs were played on ASAYAN while the girls were interviewed. The hosts of the show started laughing listening to "Dou ni Kashite Doyoubi", because they thought parts of the lyrics were funny ("Doyoubi nante, KIRAI KIRAI, TEREBI datte, NO NO").[3] People could phone in and vote for the song that would be their debut single, and on December 28, 1997, "Morning Coffee" was chosen as their debut single.[4]

"Dou ni ka Shite Doyoubi" and "Usotsuki Anta" would eventually be released in Morning Musume's first album First Time with the 2nd generation members.

This is the only Morning Musume single that was under the One Up Music label in its original release.
Disregarding their indies single, this is the only single to feature only the original members.
Morning Musume set out on a handshake campaign called Morning Musume Debut Kinen Akushu-kai to promote their debut with this single. They also got a spread and photo shooot in the February issue of Young Magazine, as well as 18 more issues in March[5], They also got stage appeareances on Music Station, HEY! HEY! HEY!, POP FILE, Music Park, and POP JAM.[6] They also got TV stage appeareances at AXEL, Aoi Taiken (青い体験), Utaban, Mecha Mecha Iketeru, and Waratte Ii Tomo

At Music Station, Morning Musume shared a stage with PUFFY, GLAY, MY LITTLE LOVER; hide with Spread Beaver, Shounentai, Odani Michiko, and J-FRIENDS

This was Morning Musume's lowest selling official single until "Furusato".
With this single, Morning Musume has the fifth highest selling debut single in all of Hello! Project, excluding shuffle units.
The 4th track on the re-release had never been released to the public. It was an original version completed on December 22, 1997, but Tsunku and the staff felt the sound to be a little weak. In order to create a more "sellable" sound, they decided to drop the key by a half and played the pre-programmed rhythm parts from sequence software instead of using the actual band. The newer version was recorded on December 30 and it became the final version for the debut single. In comparison, the vocal parts for the original version were thought to be inexperienced yet fresh, and somewhat more humble, for the members were still dreaming of becoming the top of the pop idol groups[7]
1st generation member Nakazawa Yuko commented on the single for a YouTube video series counting up to Morning Musume's 50th single.[8]
Interviews
[
]
Interviews
;1998 Interview with the Morning Musume members

Interviewer: What was difficult or challenging?

Fukuda: It was difficult to express the song's mood accurately.

Yasuda: The rapidly spoken part at the very end was difficult. I had such a hard time with it.

Nakazawa: For me, it was the chorus part of 'Yes'. My harmony was lower but my voice was apparently way too low. I remember Tsunku was laughing at me.
2010 Interview with Tsunku
Interviewer: January 1998, Morning Musume released "Morning Coffee". At that point, did you have a clear vision of the unit?
Tsunku: Not at all. I was testing to see how many households I could reach. I didn't know whether the unit could be in top 10 artists. So "Morning Coffee" was good for testing the market. But once I saw the unit's popularity, I felt like the unit possessed a huge risk to be perceived as artificial idol group, so I immediately changed my game plan. I wanted to keep the unit as multi-dimensional, or the unit was going to follow the typical fate of the artificial units, that's photogenic without substance. Back when we were promoting "Ai no Tane", things were in much smaller scale, with warm supports, just like young athletes being supported by the family members. The warm atmosphere began to cool down around the release date, and I didn't like that at all. We came up with the idea of adding more members, and changing the image of the unit at the same time. I think that's when I began seeing the clear vision of the unit.
Up until the release of "Morning Coffee", general public was interested in the unit for one reason: The members were, in short, a bunch of losers (of the audition), and they were simply curious to see how long it could survive. The unit landed 6th place on the first week of the pop chart, and that was great, but I didn't think about what was to follow. I wasn't sure whether general public's curiosity would wear off completely. That was the biggest realization at that time, and I was looking for another boost to bring back their curiosity.
Also, I felt the members of the unit were beginning to feel too comfortable in their positions. Understandably, they had enough fans, they landed 6th place, they were surrounded by people at every meet-and-greet sessions. So I could see them starting to be less humble than they used to be. And I thought I had to make some changes.
References
[
]
External Links
[
]