Miyoshi Chinatsu (三佳千夏), born as Chigi Rumiko (千木留美子) and currently known as Tani Rumiko (谷ルミコ), is a Japanese and Korean singer. She became a member of Hello! Project in 1999, leaving in late 2000, returning to South Korea. Since her marriage in 2006 to Korean pop singer Kim Jung Min, she has been working as a talent while maintaining her blog.
Biography
[
]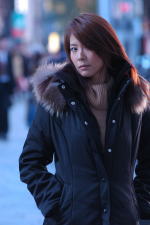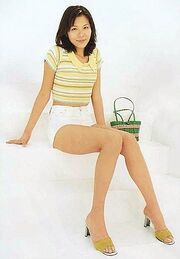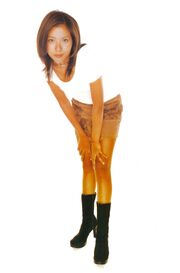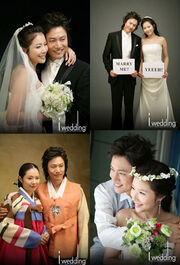 1999
[
]
In February, Chigi Rumiko entered the 1st Morning Musume & Heike Michiyo Protegee Audition as one of over 3000 applicants.
On May 18, 1999 it was revealed on Idol wo Sagase that Chigi had passed the audition. She was given the stage name Miyoshi Chinatsu shortly after she won. She was given a solo career within Hello! Project next to Nakazawa Yuko and Heike Michiyo. However, while Nakazawa released enka and Heike pop/rock, Miyoshi released up-beat ballads.
On August 4, Miyoshi released her first single, Unchain My Heart. On the same date as its release, Hello! Project had a live concert TV broadcast called LIVE!! Summer Night Town 99, where Miyoshi made her debut on stage.
On August 10, Miyoshi held her debut event at Ikebukuro Sunshine City Alpa
In November, she released her second single, Love, Yes I do!. The song was used as the first ending theme for the anime Majutsushi Orphen: Revenge. The song also made it onto two compilation albums for the anime.
2000
[
]
In February Miyoshi appeared in the music video "Tunnel Tengoku", used as the opening theme for the TV show "THE GARAGE" on TV Tokyo.
In March Miyoshi appeared in the music video "Blue Chateu", used as the opening theme for the TV show "THE GARAGE" on TV Tokyo.
In April, Miyoshi travelled to New York, USA, to recharge her energy. She was watching musicals, going to museums and taking walks.[1]
On April 19, Garage Opening Theme Song Shuu Vol. 4 was released. It has four of the theme songs from the TV show "THE GARAGE", and Miyoshi is singing the song "Kimi ni Aitai."
In May, Miyoshi starred in the movie Pinch Runner alongside Morning Musume.
In May, Miyoshi released her third single, Anata no Shirts to Love song. The lyrics for this song was written by Miyoshi herself.
On August 29, Miyoshi participated in the Yunotsu LOVE² Oosawagi Hello! Project 2000 event.
On September 26, Miyoshi participated in the Dream Live Pop Revue 2000 concert.
In September, Miyoshi appeared in what would be her last concert. The official reason for her departure was that she would like to look at herself objectively, and have more variety of experience. (In 2004, she says she suddenly entered a period of time in which to recharge one's batteries [2]). It was speculated that the real reason was that she was dismissed due to monetary issues with the office. There were rumors that she was either the former lover of the person who was in the office, or the lover of someone who had the trouble with the office.
2004
[
]
In September, Miyoshi began to show her face to the public again and began taking up acting, singing, and dancing lessons.
2005
[
]
In 2005, Miyoshi re-entered the music scene when she contributed to a soundtrack to a horror movie called Kokkuri-san. Upon her return, she began performing by her real name, Tani Rumiko, and appeared as both a solo artist and in a band called march. The band is made up of Tani and Sun (a Korean artist).
2006
[
]
In August, she and Korean pop singer Kim Jung Min (real name Kim Jung Soo), who she had been dating, announced their engagement, they married on October 21. She claimed South Korean citizenship and currently resides in South Korea. They have since had three children together.
Profile
[
]
Hobbies: Traveling, watching movies, listening to music, golfing, dancing, snowboarding, basketball
Specialty: Cooking, English
Discography
[
]
[1999.12.18] Majutsushi Orphen Revenge – OST Part 1 (魔術士オーフェンRevenge ― オリジナル・サウンドトラック Part 1)
[2000.01.21] Majutsushi Orphen Mubouhen – Original Radio Drama 2 (魔術士オーフェン無謀編 オリジナル・ラジオ・ドラマ 2)
Works
[
]
Concerts
[
]
Events
[
]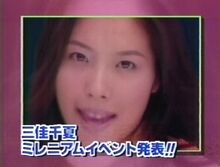 Movies
[
]
Television
[
]
Magazines
[
]
Trivia
[
]
References
[
]
External Links
[
]