Meguru Koi no Kisetsu

Regular Edition
Single by

℃-ute


from the album

3rd ~LOVE Escalation!~

Native title
めぐる恋の季節
Released
July 11, 2007
July 18, 2007 (Single V)
July 31, 2007 (Event V)
Genre
J-Pop
Format
CD Single, CD+DVD, Single V, Event V, digital download
Length
10:20
Label
zetima
Producer
Tsunku

℃-ute

Singles Chronology
Previous
Sakura Chirari 1st single (2007)
Next
Tokaikko Junjou 3rd single (2007)
Other Covers
Meguru Koi no Kisetsu (めぐる恋の季節; The Revolving Seasons of Love) is ℃-ute's second major single. It was released on the zetima label on July 11, 2007 in limited edition (includes bonus DVD), and regular edition. The first pressings of the limited and regular editions contained a card with a serial number on it that could be used to enter a contest to win tickets for the ℃-ute Cutie Circuit 2007 ~Magical Cutie Tour~.
Meguru Koi no Kisetsu is the second theme song to the anime Robby to Kerobby. After Arihara Kanna and Umeda Erika left, Nakajima Saki and Hagiwara Mai took their lines.
The Single V was released on July 18, 2007.
Tracklist
Edit
Meguru Koi no Kisetsu
Bishoujo Shinri (美少女心理; Beautiful Girl Mentality)
Meguru Koi no Kisetsu (Instrumental)
Limited Edition DVD
Edit
Meguru Koi no Kisetsu (Close-up Ver.)
Meguru Koi no Kisetsu (PV)
Meguru Koi no Kisetsu (Dance Shot Haru Ver.)
Making of (メイキング映像)
Meguru Koi no Kisetsu (Multi Angle)
Meguru Koi no Kisetsu (Dance Shot Natsu Ver.)
Regular Edition Interchangeable Covers
Edit
Featured Members
Edit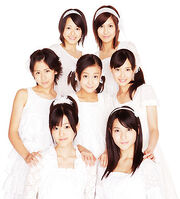 TV Performances
Edit
[2007.07.08] Haromoni@
[2007.07.14] Ongaku Senshi MUSIC FIGHTER
[2007.07.20] MUSIC JAPAN
Concert Performances
Edit
Meguru Koi no Kisetsu
Bishoujo Shinri
Single Information
Edit
All Lyrics and Compositions: Tsunku
Meguru Koi no Kisetsu
Bishoujo Shinri
Daily & Weekly Ranking
| Mon | Tue | Wed | Thu | Fri | Sat | Sun | Week Rank | Sales |
| --- | --- | --- | --- | --- | --- | --- | --- | --- |
| - | 2 | 4 | 6 | 2 | 11 | 16 | 5 | 23,810 |
| 16 | - | - | - | - | - | - | 67 | 1,947 |
| - | - | - | - | - | - | - | 162 | 602 |
| - | - | - | - | - | - | - | 192 | 426 |
Yearly Ranking
| Year | Year Rank | Sales |
| --- | --- | --- |
| 2007 | 291 | 26,785 |
Total Reported Sales: 26,785
Single V
| Mon | Tue | Wed | Thu | Fri | Sat | Sun | Week Rank | Sales |
| --- | --- | --- | --- | --- | --- | --- | --- | --- |
| - | - | - | - | - | - | - | 6 | 4,427 |
| - | - | - | - | - | - | - | - | 1,262 |
Total Reported Sales: 5,689
Additional Videos
Edit
External Links
Edit
℃-ute
Concerts & Events

Concerts

Spring Tours: 2007 (Hajimatta yo! Cutie Show, Golden Hatsu Date) | 2009 | 2010 | 2011 | 2012 | 2013 | 2014 | 2015 | 2016
Summer Tours: 2008 | 2009 | 2010
Fall Tours: 2007 | 2013 (Budokan, Tour) | 2014 | 2015 | 2016
Winter Tours: 2012-2013 | 2017
Naruchika: 2014 | 2015 (Spring, Winter) | 2017
Overseas: 2013 (Paris) | 2014 (Taipei) | | 2015 (Mexico) | 2016 (Hong Kong & Taipei) | 2017 (Mexico, Paris)
Others: 2006 | 2007 | 2008 (LOVE Escalation!, ℃-ute no Hi) | 2009 (℃-ute no Hi, FIVE) | 2010 | 2011 (Kiss me Aishiteru, ℃-ute no Hi) | 2012 (Otodama, ℃-ute no Hi) | 2013 | 2014 (Otodama, ℃-ute no Hi) | 2015 (Otodama, ℃-ute no Hi) | 2016 (Otodama, ℃-Fes!) | 2017 (℃ocktail, ℃ocktail in ℃OTTON CLUB, Last Dinner Show, Last Concert)

Other Concerts & Events
Joint Concerts

Spring Tours: 2008 (with Berryz Koubou) | 2011 (with S/mileage)
Fall Tours: 2011 (with Berryz Koubou) | 2013 (with S/mileage)
Other: 2014 (with Berryz Koubou)

Hello! Project Concerts

Summer Tours: 2009 | 2010 | 2011 | 2012 | 2013 | 2014 | 2015 | 2016
Winter Tours: 2010 | 2011 | 2012 | 2013 | 2014 | 2015 | 2016 | 2017
Hina Fes: 2013 | 2014 | 2015 | 2016 | 2017
COUNTDOWN PARTY: 2013 | 2014 | 2015 | 2016
Other Concerts: Hello! Project ☆ Festival 2011 | Hello! Project Yaon Premium Live ~Soto Fest~ | Berryz Koubou Matsuri