Maeda Yuki (前田有紀) is a former Japanese singer, stage actress, and radio host. She started her career under the management of enka singer Itsuki Hiroshi in 1994,[1] before joining Hello! Project as a soloist in 2000, debuting her first single "Naki Usagi" under the renowned enka label Teichiku Records.
She graduated with the rest of the Elder Club in March 2009, but continued her singing career as part of UP-FRONT AGENCY. In June 2012, she announced on her Twitter account that she was five months pregnant and would retire to focus on being a mother.
Biography
[
]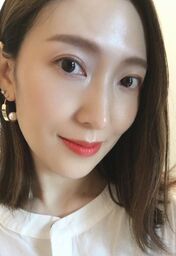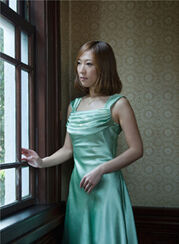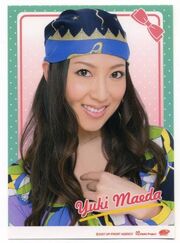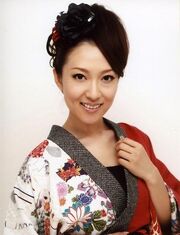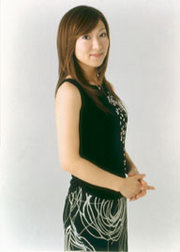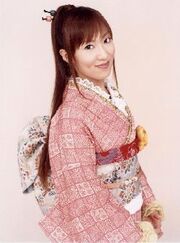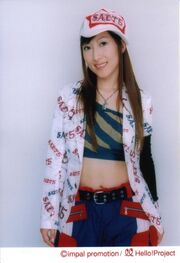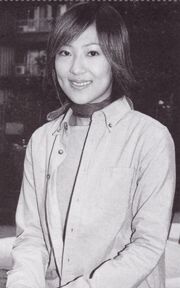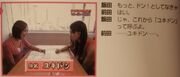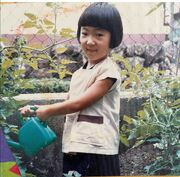 Early Life
[
]
Maeda Yuki's parents ran a tavern in Kochi prefecture, and Maeda used to listen to people singing karaoke in the izakaya in the story below ever since she was a child. She started singing from the age of 2 until the third year of junior high school.[2]
Her father had recommended that she participated in the "Karaoke Tournament" during her second year of elementary school. Her name quickly became known throughout the Shikoku region. In her fifth year of elementary school, she moved from the Shikoku Karaoke Tournament of the Amateur Kayo Festival to the Tokyo Finals Tournament and received a special jury prize. In her second year of junior high school, she received a special award at the Columbia Newcomer Audition National Convention. She advanced to the final round of the Nagasaki Kayo Festival in her third year of junior high school. [3]
In 1993, she participated in a talent search for Columbia Records who were looking for new members for their label.[1]
On September 3, 1994, she was a finalist at the 18th Nagasaki Song Festival with five other girls. Maeda sang the song "Hana Banka", but was beaten by Nakanishi Ayana (中西礼奈) who sang "Blue Rose".[4]
Also in 1994, at the age of 15, she went to Osaka because she passed the first screening in a song contest sponsored by Itsuki Hiroshi called "Itsuki Hiroshi '94 POPULAR SINGER'S CONTEST", and the second screening was divided into regional competitions all over the country. After passing the second round, the final tournament was in Tokyo. Maeda won, singing the song "Hana Banka". The judges included Itsuki Hiroshi, Harumi Miyako, Toyohisa Araki, Kazuma Tomizawa, and others. They said that all the judges had goose bumps from the singing voice of 15-year-old Maeda Yuki. Having won the Grand Prix in the finals, Maeda later said that was when she decided to become a singer.[5]
A few days later, she was in a television show called NHK BS Tournament Song Championship, where she sang the song "Kamome… Kamome". She came in second place, and was only beaten by Kondo Kaori with one point.[1]
Itsuki's office came to her parents' house and talked about various things in the future for her. Maeda then moved from Kochi to Tokyo
Itsuki Hiroshi told her, "From now on, you don't have to listen to Enka. Go to Tokyo, do full-fledged voice training, and concentrate on improving yourself."[6]
In 1995, she went to Tokyo to study at Meiji Nakano High School, taking vocal lessons at the same time. She also learned about concerts, one-month zachoukouen, events, recordings, and dinner shows. The same year, she was featured as one of the female singers in Itsuki Hiroshi's duet album Itsuki Hiroshi Duet Special Selection 14, credited as Yuki (in hiragana).
In 1998, she he graduated from Meiji Nakano High School.[1] After graduating from high school, when she wasn't going to study in the field, she answered the phone at the office and worked on word processors.[7]
2000
[
]
Iida Kaori from Morning Musume became a manager for Itsuki Hiroshi for one day and later on was given the opportunity to become Maeda's manager.[1] On April 4, Maeda apperaed on national television for the first time, on the show Idol wo Sagase! and became a member of Hello! Project, starting her career under the renowned enka record label Teichiku Records with her debut single Naki Usagi. For the summer months, Maeda went on a tour promoting the single, singing at different arenas in five cities.[8]
In July she participated in her first Hello! Project concert, performing in 12 cities, with an audience up to 200.000 people.[9]
On August 29, Maeda participated in the Yunotsu LOVE² Oosawagi Hello! Project 2000 event.
On December 5, it was announced on the variety show "Idol wo Sagase!" that Maeda would release a new single.
On December 19, the variety show showed the making of the PV and announced an event at Ikebukuro, and on December 26, Maeda reported the new song to Itsuki Hiroshi.[10]
2001
[
]
On January 1, she released her second single "Tokyo You Turn".
On January 20, she presented songs at three events in Nagoya.[11]
On March 23, Teichuki released a compilation album featuring Maeda's single released earlier this year.[12]
2002
[
]
UP-FRONT AGENCY started releasing a series of albums called Douyou Pops in 2002, in which different Hello! Project members would sing different well known and new childrens' songs. Six albums, some themed according to the four seasons, and two DVDs with promotional videos were released. Maeda sung several of the songs and is featured in the promotional video for "Oomakiba wa Midori".
On February 21, she released her third single "Tokyo, Yoimachigusa.". She also participated on Itsuki Hiroshi's album Nagoya Misonoza Koen Live 2002 "Uta Mai Sou", where she sang the songs "Hana" and "Shimauta". The live performances were taken form the concert of the same name where Maeda was a special guest.[13]
In the Hello! Project concert Hello! Project 2002 ~Kotoshi mo Sugoi zo!~, running from January to February, she performed not her own song, but Itsuki's song "Chigiri".[13] This song would later be released as a single by Itsuki the following year.[14]
In June, Teichiku Records released a compilation album featuring Maeda's single. It also features the track "Anata to Ikiru", originally by Teresa Teng, covered by Maeda.[12]
In October, Maeda's voice was added in Ringtone corner, compatible with i-mode, au (EZ Web), and J-PHONE mobile phones.
2003
[
]
On July 3, she joined her first shuffle unit, SALT5. In the group she sang her first rap song, "GET UP! Rapper".
On July 16, Maeda switched record labels and signed with UP-FRONT WORKS and their label zetima, releasing her fourth single "Tokyo Kirigirisu".
She was also a guest at Itsuki Hiroshi's 55th Happy Birthday Concert in Yokohama Arena, alongside several other members from Hello! Project.
2004
[
]
On January 1, she released her fifth single "Sarasara no Kawa".
In mid-2004 she was transferred to another UP-FRONT WORKS label, Rice Music.
On August 10 and 11, Maeda was a reporter at the "51st Yosakoi Matsuri" in Masugata Shopping Street in Kochi.
On August 25, she was a jury member at the "Atami Kaidou Matsuri" in Shizuoka.[15]
On September 29, she released her sixth single "Nishi Shinjuku de Atta Hito".
2006
[
]
In 2006, it was announced that Maeda would release her sixth single, entitled "Nagai Tunnel". It was also announced that this would be her graduation single.[16] Eventually there was another announcement, after which the title changed to "Omae no Namida wo Ore ni Kure", and the graduation reference disappeared entirely. Therefore it is unknown if she was actually going to leave, or if she (or management) reconsidered. The single sold no more than 500 copies before falling out of the charts. On the same day her single was released, UP-FRONT AGENCY also released a radio drama show on CD, in which Maeda had a role.
She would also be part of a play later that year called Showa Kayou Teater Shyuuchaku Eki and she appeared regularly on the Hello! Project cover song show Uta Doki! Pop Classics.
In the summer, a fanclub tour with Iida Kaori called Otona no Nouryousai Fanclub Tour 2006. Clips from this concert was released in a fanclub DVD titled Hello! Days vol.7.
2007
[
]
From June 9 to June 17, Maeda appeared in the stage play Tokyo alongside Shibata Ayumi.[17]
On September 26, she released her eighth single "Ai Ai Daiko".
From November 28 to December 2, she appeared in the stage play Olivia wo Ki Kinagara alongside Yoshizawa Hitomi and Kimura Ayaka.[18]
2008
[
]
In May and June 2008, she started hosting a weekly radio show named Maeda Yuki no Yume Ongakukan. It ran for 30 minutes every Sunday night. After the show went off the air, Maeda became a regular at Music Bird hosting a weekly show named Maeda Yuki's Music & Diary, which ended March 31, 2009. She also hosted NHK Radio's Uta no Sanpomichi, which was set in NHK studio park.
In October, the Hello! Project website announced that the Elder Club would graduate from in 2009, including Maeda. She would remain with UP-FRONT AGENCY and continue on as a solo singer.
2009
[
]
On February 25, she released her ninth single "Gwaenchanha ~Daijoubu~".
On March 31, she graduated from Hello! Project along with the rest of the Elder Club. After her graduation she was a regular at the radio shows Maeda Yuki no Ai no Uta Kokoro no Uta and Maeda Yuki no Hayaoki Banzai. She also started her own Oricon-hosted blog after graduating, titled Yuki Style, which eventually closed in 2012.[19]
On September 9, she released her first album, Maeda Yuki Zenkyoku Shuu ~Gwaenchanha~.
From September 27 to September 30, she appeared in the stage play FAR AWAY alongside Abe Natsumi and Kimura Ayaka.[20]
2010
[
]
On April 4, she released her 10th single "Mianhaeyo ~Gomennasai~". The release announcement also stated that this would be her second release in her South Korean series. For this series, she started collaborating with Korean lyricist, singer, composer and screen writer Yoo Hae-Joon. He composed all of the music, while Mori Chiyoko wrote most of the lyrics.
Maeda started hosting a new radio show named Maeda Yuki no Gift For You in early April, where she played song requests from listeners and interviewed guests active in the music industry. Around the same time she opened her official Twitter account.
Since the release of "Gwaenchanha ~Daijoubu~", Maeda starting taking language courses learning to speak Korean. At fanclub events she has held since this, her Korean has improved and she says herself she is now capable of every day lingo and basic greetings.[21]
2011
[
]
In May, she released "Busan Hatsu", her third Korean-themed single and 11th single overall. It contains five tracks, one of which is a Korean version of the title track. It charted for one week and sold 500 copies.
Shortly after the release of the single, it was announced that Maeda would release her first mini album in November, titled Busan Hatsu ~Kankoku Series Best~.
2012
[
]
On June 22, Maeda announced through her Twitter account and on her blog that she had married a man she met while studying Korean in South Korea. She also announced she was five months pregnant, and that she had made the decision to retire from the music industry to focus on being a wife and mother. She expressed that she hoped to return to the music industry in the future.
Statement from Maeda Yuki[22]
"I have a very important announcement to make.

I've been dating a man who I always wished to spend my future with. I am happy to announce that we are getting married this month. Also, I'm expecting as well: I'm 5 months pregnant. The reason I haven't been able to update my blog was because my morning sickness has been quite serious. Also, at the beginning of my pregnancy, I almost miscarried my baby. That's why I had to take some time and rest for a while.

Now that I'm in my second trimester, I can safely announce my pregnancy. Every day, I am enjoying the moment.

As for my future plan, I'd like to focus on delivering a healthy baby and raising my child. Therefore, I've decided to pause my career for a while.

To be honest, I'd like to do both. But I think it's best for me to take some time away from my career for now.

Every day, I'm monitoring my health as well as my baby's. 

This blog will be closed in June. Until then, you should still be able to access and view my entries.

As for my Twitter, I will still maintain that account. So please stay tuned.

I don't like to say goodbyes, so let me say that I am looking forward to seeing all of you again.

If/when I return to the stage in the future, please welcome me back with your warm support.

Please keep thinking about me, as I'll do the same for you.

I feel grateful to be surrounded by such wonderful people.

Thank you.

With love, Yuki Maeda."
In late November, she gave birth to a baby girl and announced her retirement as a singer in order to focus on her family.[23] Several Hello! Project acts, including Heike Michiyo, Nakazawa Yuko, Iida Kaori, and Saito Hitomi, congratulated Maeda when she posted the news.[24][25][26]
2013
[
]
At the end of 2013, Maeda was one of the Hello! Project OG members performing in the Hello! Project COUNTDOWN PARTY 2013 ~GOOD BYE & HELLO!~.
2014
[
]
In November, Maeda gave birth to a son.[27]
2016
[
]
On April 20, she announced that she was pregnant with her third child.[28] She gave birth to a son on August 8.[29][30]
2019
[
]
On April 21, Debut Kinenbi Yes! Shiawase Issho ni Iwatte Kuremasu ka?, a live talk by Taiyou to Ciscomoon, was held at Dai Ani LIVEBASE Nishiazabu. Maeda, who also celebrated her 19th debut anniversary on the same day, was featured as one of the guests.[31]
2020
[
]
On February 19, Maeda appeared at choreographer YOSHIKO's event "YOSHIKO-sensei Hello Pro Furitsuke 20shuunen Kinen team445 Dummy Fes. ~"Kiiroi Osora de BOOM BOOM BOOM" kara 20nen☆Furitsuke Zen 494 Kyoku kara Episode Digest~ at Zepp DiverCity" in Tokyo.[32]
In March, she opened her official instagram account.[33]
2021
[
]
On December 15, Maeda appeared as a guest on the radio show of guitarist Yamashita Shunsuke ("Yamashita Shunsuke no Brush Time RADIO"). This is her first time in ten years appearing on radio. [34] [35] Maeda and Yamashita are both from Kochi, and he was a junior in the same junior high school as her, so they made friends and at the same time he was also a music companion.
2022
[
]
On March 10 and 11, Maeda will appear as a guest on the stage of unit Tribal days-season05- alongside Inaba Atsuko and Ogawa Makoto.[36]
On March 18, Maeda opened an official youtube channel.[37]
In July, Maeda appeared as a guest on the stage of unit Tribal days-season06-. She also released her 12th single, 11 years after her previous single.
Profile
[
]
Name: Maeda Yuki (前田有紀)
Nicknames: Yukidon
Birthdate: August 28, 1979
Blood Type: A
Western Zodiac: Virgo
Eastern Zodiac: Goat
Hello! Project Groups:
Shuffle Units:
Concert Units:
Other Groups:
Hobbies: Watching movies, taking pictures, listening to favorite CDs
Favorite colors: Light blue, black, red
Favorite flowers: Roses, baby's breaths
Favorite season: Summer
Favorite words: Effort, sympathy
Favorite food: Chicken, fruits
Disliked food: Salmon roe
Discography
[
]
Main article: Maeda Yuki/Discography
Works
[
]
TV Programs
[
]
[2000] Idol wo Sagase!
[2001-2002] Hello! Morning
[2002] Dai 16-kai Gunma Ken Kayou Ongaku Taishou Kesshou Taikai (第16回群馬県歌謡音楽大賞決勝大会)
[2006-2008] Uta Doki! Pop Classics
[2010.05.17] TV Saitama "Natsumi to Yuuki no Kochira Saishin Kayoukyoku" (夏美と侑希のこちら最新歌謡曲)
[2011.08.27] TV Kouchi ""35-kai Utatte Hashitte Kyarabanban Kesshou Taikai"
Radio
[
]
[2002.05.02-2002.08.29] Shinseki!! Kayou Dai Koushin (新世紀!!歌謡大行進) (Regular)[38]
[2010] Maeda Yuki no Ai no Uta Kokoro no Uta (前田有紀の愛の歌こころの歌)
[2010] Maeda yuki no Hayaoki Banzai (前田有紀の早起きバンザイ)
[2010-2012] Maeda Yuki no GIFT FOR YOU (前田有紀のGIFT FOR YOU)
Video Games
[
]
Tenkuu no Restaurant Hello! Project Ver. (天空のレストラン Hello! Project Ver.) (For Playstation)
Internet
[
]
[2005.06.24] 15th HaloPro Video Chat (Hello! Project on FLET'S)
Theater
[
]
[2006] Showa Kayou Teater "Shuuchakueki" (昭和歌謡シアター「 終着駅」; Terminal Station)
[2007] Showa Kayou Teater "Tokyo" (昭和歌謡シアター 「東京」)
[2007] Gekidan Senior Graffiti Showa Kayo Theater "FAR AWAY" (劇団シニアグラフティ 昭和歌謡シアター「FAR AWAY」)
[2007] Gekidan Senior Graffiti "Yokosuka Story" (劇団シニアグラフティ「横須賀ストーリー」)
[2008] Shouwa Kayou Theater "Olivia wo Kikinagara" (昭和歌謡シアター 「オリビアを聴きながら」; While Listening to Olivia-Newton John)
Achievements
[
]
[1991.03] Judges Special Prize at "Dai 1-kai Shiishi Zenkoku Karaoke Taishou Tokubetsu Kesshou Taikai" (第1回嬉嬉(シーシ)全国カラオS大賞 特別決勝大会)
[1993] Special Award at the Columbia Shinjin Kayou Audition (ロムビア新人歌謡オーディション)
[1994.09] Finalist at the 18th Nagasaki Kayo Festival (第18回長崎歌謡祭)
[1994.09] Winner of the Itsuki Hiroshi '94 POPULAR SINGER'S CONTEST.
Trivia
[
]
She is an only child.
Iida Kaori is the main reason why Maeda became a part of Hello! Project.
She received the nickname Yukidon from Iida on an episode of [[Idol wo Sagase!].
She was an enka soloist under Hello! Project.
She did not have her first charting single until she signed with the UP-FRONT WORKS label, zetima in 2003 and released "Tokyo Kirigirisu". After 2002, Oricon restructured how they counted singles sales and started including the top 200.
She shares the same last name as original S/mileage member Maeda Yuuka, BEYOOOOONDS member Maeda Kokoro, and former Hello Pro Egg member Maeda Irori.
Fujikawa Kyuji from the baseball team Hanshin Tigers, and actress and singer Hirosue Ryoko (best known to international audiences for her roles in the Luc Besson-produced movie "Wasabi") attended the same high school as Maeda, but one year lower.[39]
References
[
]
External Links
[
]
Maeda Yuki
Units & Other Acts
Associated Acts