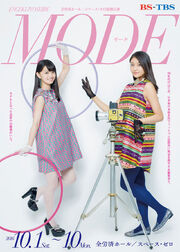 MODE (モード) is an Engeki Joshibu musical starring ANGERME and Hello Pro Kenshuusei member Kiyono Momohime. It ran from October 1 to October 10, 2016 at the Zenrosai Hall/Space Zero in Shinjuku.
The DVD was released on January 25, 2017.
It's the beginning of the 1970s.
Women still struggled for social advancement during this era.
A female editor is burning with enthusiasm to publish Japan's first completely female fashion magazine, and the young lady of a respectable family has become one of its models.
The main cast ANGERME present a story about women who fight to live life their own way.
From ANGERME
From Hello Pro Kenshuusei
Others
Sato Yuki as Hosokawa Setsuko (細川節子)
Hiruta Machi as Kajii Kazuaki (梶井和明)
Script & Director: Ota Yoshinari
Choreography: YOSHIKO
Producer: Niwa Tamon Andrew (BS-TBS)
Soundtrack
Edit
The original soundtrack for the musical was pre-released at the venue on October 1, 2016 and generally released on November 2, 2016.
Tracklist
Edit
MODE
Sakura no Uta (桜の歌; Sakura's Song) - Yamaguchi Sakura
Hanako no Uta (華子の歌; Hanako's Song) - Emori Hanako
Aiko no Uta (愛子の歌; Aiko's Song) - Mita Aiko
Kayo no Uta (かよの歌; Kayo's Song) - Misaki Kayo
Michiko no Uta (美智子の歌; Michiko's Song) - Hosokawa Michiko
Believe in Me - Katsuragi Yayoi
Oshare wa Onna no Sentoufuku (オシャレは女の戦闘服; A Fashionable Woman's Battle Uniform)
Fashion Magazine (ファッションマガジン) - Katsuragi Yayoi, Yamaguchi Sakura, Sayama Kotaro
Bonus CD Tracklist
Edit
The DVD includes a bonus CD with unreleased tracks.
Jidai (時代; Time Period)
Audition (オーディション)
Model Nante (モデルなんて; Why Become a Model?)
Issatsu Nokorazu (一冊残らず; Every Book)
Kono Shunkan (この瞬間; This Moment)
Fashion Magazine (Short ver.) (ファッションマガジン(ショートver.))
Zenzen Chigau (ぜんぜん違う; Completely Wrong)
Ato Sukoshi (あと少し; A Little While)
Jitsu no Fuan (実の不安; True Anxiety)
Kutsujoku (屈辱; Humiliation)
Tatakatte Ita (闘っていた; I Had Fought)
Hontou no Koto (本当のこと; The Truth)
Yume (夢; Dream)
Information
Edit
Lyrics: Ota Yoshinari
Compositions: Hatake
Arrangements: Hatake & HEYSKE
DVD Tracklist
Edit
Opening (オープニング)
Futari no Onna (2人の女; Two Women)
Audition (オーディション)
Shinsa Kekka (審査結果; Judging Results)
Satsuei (撮影; Photoshoot)
Hatsubai (発売; Release)
Kiki Ippatsu (危機一髪; A Close Call)
Zasetsu (挫折; Setback)
MODE
Zetsubou (絶望; Despair)
Hontou no Koto (本当のこと; The Truth)
Yume (夢; Dream)
Ending (エンディング)
References
Edit
External Links
Edit
Community content is available under
CC-BY-SA
unless otherwise noted.