M-line club (エムライン クラブ) is a fanclub for UP-FRONT GROUP talent, mostly former Hello! Project members.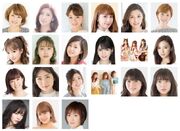 Current Members
Former Members
M-line club began operating in April 2009 under UP-FRONT INTERNATIONAL. The founding members were the following Elder Club graduates: Nakazawa Yuko, Iida Kaori, Abe Natsumi, Yasuda Kei, Yaguchi Mari, Ishikawa Rika, Yoshizawa Hitomi, Ogawa Makoto, Fujimoto Miki, and Tsuji Nozomi; as well as Satoda Mai, Konno Asami, Korenaga Miki, Noto Arisa, and Sengoku Minami all under Ongaku Gatas.[1]
On December 28, 2009, it was announced that Satoda Mai, Korenaga Miki, Noto Arisa, and Sengoku Minami would leave the fanclub as of April 2010.[2]
On July 1, 2010, Kusumi Koharu joined.[3]
On March 31, 2011, Konno Asami left UP-FRONT GROUP and M-line club to join TV Tokyo.[4]
On October 3, 2011, Takahashi Ai joined.[5]
On May 21, 2012, Niigaki Risa joined.[6]
In March 2013, Mano Erina joined.[7]
In June 2013, Tanaka Reina, Okada Marina, Uozumi Yuki, and Miyazawa Marin joined as LoVendoЯ.[8]
As of September 17, 2013, operations were moved from UP-FRONT INTERNATIONAL to UP-FRONT CREATE.[9]
On March 31, 2015, Ogawa Makoto left J.P ROOM and M-line club to retire from entertainment activities.[10]
In May 2015, Sudo Maasa and Kumai Yurina joined.[11]
On January 24, 2016, it was announced that Abe Natsumi and Fujimoto Miki would both leave M-line club as of March 2016.[12]
On May 20, 2016, Natsuyaki Miyabi, Kobayashi Hikaru, and Nihei Yuuka joined as PINK CRES..[13]
On September 16, 2016, Uozumi Yuki left M-line club in accordance with her graduation from LoVendoЯ and separation with UP-FRONT CREATE.[14][15]
On November 30, 2016, Kusumi Koharu left after she had decided not to renew her contract with J.P ROOM.[16]
In spring 2017, Michishige Sayumi joined.[17]
On July 10, 2017, Yajima Maimi, Nakajima Saki, Suzuki Airi, and Okai Chisato joined.[18]
On August 24, 2017, Shimizu Saki joined.[19]
On December 7, 2017, Kudo Haruka announced that she would join M-line club following her graduation from Hello! Project,[20] and her profile was added to the site two days later.
On September 28, 2018, Yoshizawa Hitomi left M-line club as a result of the termination of her contract with J.P ROOM.[21]
On December 17, 2018, Iikubo Haruna joined the club.[22]
On January 16, 2019, it was announced that Mano Erina would leave M-line club as of March.[23]
LoVendoЯ member Okada Marina will leave M-line club at the end of March when she graduates from the band and her contract with UP-FRONT CREATE expires.[24]
M-line Memory DVDs
Edit
Bus Tours
Edit
References
Edit
External Links
Edit
Community content is available under
CC-BY-SA
unless otherwise noted.