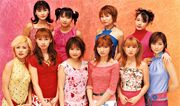 Live Revolution 21 Haru ~Osaka Jou Hall Saishuu Bi~ (ライブレボリューション21春~大阪城ホール最終日~) was Morning Musume's video release of the final performance of their 2001 spring concert tour Morning Musume CONCERT TOUR 2001 "Live Revolution Haru" (モーニング娘。CONCERT TOUR 2001 "ライブレボリューション春") on April 15, 2001 performance at Osaka Jou Hall Saishuu Bi. Heike Michiyo, Country Musume and Matsuura Aya were featured as guests. This was Matsuura's debut concert, as well as the graduation of 1st generation member and leader Nakazawa Yuko. It was released on VHS and DVD on June 27, 2001. The DVD sold 185,545 copies, the VHS version sold 89,177 copies. The Blu-ray edition was released on August 7, 2013, and it failed to chart on Oricon's DVD chart.
Tracklist
[
]
OPENING
Chokotto LOVE - Petitmoni
Tanpopo Medley

Otome Pasta ni Kandou - Tanpopo
Koi wo Shichaimashita! - Tanpopo

MC
Heike Michiyo Medley

One Room Natsu no Koi Monogatari - Heike Michiyo
Kekkyoku Bye Bye Bye - Heike Michiyo

"Mini Musical Akogare My Boy"
Akogare My Boy
MC
MC - Nakazawa Yuko
Nakazawa Yuko Morning Musume Sotsugyou (中澤裕子 モーニング娘卒業)
MC4: Graduation
DVD Bonus Special
The first two repeat a segment seen in the main concert, but from a different performance. Yoshizawa Hitomi and Yasuda Kei take the roles previously seen performed by Ishikawa Rika and Nakazawa Yuko.
"Mini Musical Akogare My Boy"
Akogare My Boy
Featured Members
[
]
Guests
Gallery
[
]
External Links
[
]
Morning Musume
Members
Current Members
Former Members
Discography
Singles

Indies
Major
Digital
Collab

Albums
Sub-Units
Concerts
Concerts

Spring Tours
Summer Tours
Fall Tours
Naruchika
Overseas

2008
2009
2010
2014
2016
2017
2018

Dinner Shows
One-Day
Units & Other Acts
In-group Sub-units
Associated Acts