Last & New Decade 2 is a live concert by former Hello! Project group Taiyou to Ciscomoon commemorating their 20th anniversary. It is their first concert with a live band!
It was first announced in March 2019 on Kominato Miwa's official Twitter that the group would get together for their 20th anniversaryto hold a live talk held at Dai Ani LIVEBASE Nishiazabu on April 21st, called Debut Kinenbi Yes! Shiawase Issho ni Iwatte Kuremasu ka?
At the live talk, it was announced that Taiyo to Ciscomoon would hold a concert with a live band at Cotton Club on July 28, 2019. This was also confirmed by Kominato on twitter on May 17th. On June 12, tickets went on sale and the name of the live concert was revealed to be Last & Νew Decade 2.
The band is without a manager or contract to any agency, so three of the members (Kominato, Inaba, and Shinoda) are responsible for putting it all together.[1] Kominato said they had asked RuRu to be part of the concert, but she has her family and is scheduled to go to the United States, so she couldn't come.[2] She also said due to the length of a rehearsal, and the high cost of accomodation and travel from Shanghai to Japan she couldn't attend.[3] Shinoda, and Kominato stayed in touch with her until the upcoming live.[4]
Two shows are announced to be held on July 28; one at 4:30pm and one at 7:30pm. The live band consists of Junichi Saito on guitar, Morifuji Shoji on piano keyboard, Morita Kouhei on bass, and Wakiyama Kousuke on drums.
After the show, announcements was made that the performance might be released on DVD and/or Blu-ray.[5] A poll was held on twitter (with a total of 887 votes, where 38% voted for a DVD and 62% for BLU-RAY), and a statement was later made that they were aiming for a November release[6].
In late September, Kominato posted pictures from a live talk she, Inaba, and Shinoda had[7]. The talk session was streaming at Inaba's account at TwitCasting Live[8]. Kominato posted pictures from the editing of the DVD, and confirmed it would be released, but not in stores. She wrote to keep an eye at their official accounts for details[9].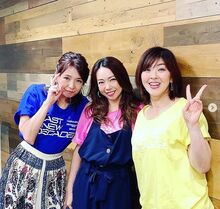 Featured Members
Edit
Tracklist
Edit
1st Show
2nd Show
Magic of Love
Tsuki to Taiyou
Uchuu de La Ta Ta
Be My LOVE
Be Cool Down (Acoustic)
DON'T STOP Renaichuu (Acoustic)
Marui Taiyou (Acoustic)
Everyday Everywhere (Acoustic)
HEY! Mahiru no Shinkirou
ENDLESS LOVE〜I Love You More〜
Gatamekira
Encore: Yes! Shiawase
Furutani Ayano, Hello! Project, Maeda Yuki, and Melon Kinenbi sent flower bouquets which were presented in the entrance[11]
Several fan reports praised the performance of Everyday Everywhere.
Pictures
Edit
References
Edit
External Links
Edit
Community content is available under
CC-BY-SA
unless otherwise noted.