Kono Machi

Regular Edition
Single by

℃-ute


from the album

⑧ Queen of J-POP

Native title
この街
Released
February 6, 2013
February 16, 2013 (Event V)
Genre
J-Pop
Format
CD Single, CD+DVD, Event V, digital download
Length
14:21 (regular edition)
Label
zetima
Producer
Tsunku

℃-ute

Singles Chronology
Previous
Aitai Aitai Aitai na 19th single (2012)
Next
Crazy Kanzen na Otona 21st single (2013)
Other Covers
Kono Machi (この街; This Town) is ℃-ute's 20th single. It was released on February 6, 2013 in 5 editions: 1 regular and 4 limited.
The single and all its coupling tracks are covers songs from the singer Moritaka Chisato.
The Event V was released on February 16, 2013.
Tracklist
Edit
Regular Edition
Edit
Kono Machi
Kono Machi (Dance Groove Ver.)
Kono Machi (Instrumental)
Limited Editions A & B
Edit
Kono Machi
Ame (雨; Rain) - Yajima Maimi
Kono Machi (Instrumental)
Limited Editions C & D
Edit
Kono Machi
Hae Otoko (ハエ男; Fly Man)
Kono Machi (Instrumental)
Limited Edition A DVD
Edit
Kono Machi (Another Edition)
Kono Machi (Close-up Ver.)
Limited Edition C DVD
Edit
Kono Machi (Another Edition)
Kono Machi (5shot Ver.)
Kono Machi (Yajima Maimi LIVE Solo Ver.)
Kono Machi (Nakajima Saki LIVE Solo Ver.)
Kono Machi (Suzuki Airi LIVE Solo Ver.)
Kono Machi (Okai Chisato LIVE Solo Ver.)
Kono Machi (Hagiwara Mai LIVE Solo Ver.)
Featured Members
Edit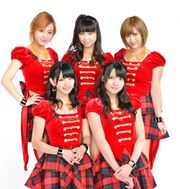 Single Information
Edit
Kono Machi
Ame
Hae Otoko
Concert Performances
Edit
Kono Machi
Ame
Hae Otoko
Mon
Tue
Wed
Thu
Fri
Sat
Sun
Week Rank
Sales
-
5
5
4
3
4,297
4
6
4
24,361
4
-
-
36
-
-
-
39
1,993
-
-
-
-
-
-
-
149
430
| Year | Month | Month Rank | Sales |
| --- | --- | --- | --- |
| 2013 | February | 17 | 26,784 |
Total Reported Sales: 26,784
Additional Videos
Edit
External Links
Edit
℃-ute
Concerts & Events

Concerts

Spring Tours: 2007 (Hajimatta yo! Cutie Show, Golden Hatsu Date) | 2009 | 2010 | 2011 | 2012 | 2013 | 2014 | 2015 | 2016
Summer Tours: 2008 | 2009 | 2010
Fall Tours: 2007 | 2013 (Budokan, Tour) | 2014 | 2015 | 2016
Winter Tours: 2012-2013 | 2017
Naruchika: 2014 | 2015 (Spring, Winter) | 2017
Overseas: 2013 (Paris) | 2014 (Taipei) | | 2015 (Mexico) | 2016 (Hong Kong & Taipei) | 2017 (Mexico, Paris)
Others: 2006 | 2007 | 2008 (LOVE Escalation!, ℃-ute no Hi) | 2009 (℃-ute no Hi, FIVE) | 2010 | 2011 (Kiss me Aishiteru, ℃-ute no Hi) | 2012 (Otodama, ℃-ute no Hi) | 2013 | 2014 (Otodama, ℃-ute no Hi) | 2015 (Otodama, ℃-ute no Hi) | 2016 (Otodama, ℃-Fes!) | 2017 (℃ocktail, ℃ocktail in ℃OTTON CLUB, Last Dinner Show, Last Concert)

Other Concerts & Events
Joint Concerts

Spring Tours: 2008 (with Berryz Koubou) | 2011 (with S/mileage)
Fall Tours: 2011 (with Berryz Koubou) | 2013 (with S/mileage)
Other: 2014 (with Berryz Koubou)

Hello! Project Concerts

Summer Tours: 2009 | 2010 | 2011 | 2012 | 2013 | 2014 | 2015 | 2016
Winter Tours: 2010 | 2011 | 2012 | 2013 | 2014 | 2015 | 2016 | 2017
Hina Fes: 2013 | 2014 | 2015 | 2016 | 2017
COUNTDOWN PARTY: 2013 | 2014 | 2015 | 2016
Other Concerts: Hello! Project ☆ Festival 2011 | Hello! Project Yaon Premium Live ~Soto Fest~ | Berryz Koubou Matsuri