Kominato Miwa
小湊美和

Kominato Miwa, January 2020
Birth Info
Born
February 15, 1977
Origin
Sukagawa, Fukushima, Japan
Blood Type
B
Zodiac Sign
Aquarius
Sizes
Height
154cm
Professional Info
Genres
J-Pop, Folk
Occupation
Singer
Years Active
1984–Present
Agency
UP-FRONT AGENCY (1999-2000)
Label
zetima (1999-2000)
INFINITY Records (2002)
RtG Records (2006)
Associated Acts
Taiyou to Ciscomoon, Aoiro 7, Priest

Taiyou to Ciscomoon

Info
Joined
April 1999
Debut Single
Tsuki to Taiyou
Last Single
HEY! Mahiru no Shinkirou
Left
October 2000
Links
Website
komi'x
Blog
What's The Purpose?
Twitter
@komix215
Instagram
@miwa_kominato
Facebook
Kominato Miwa Official Facebook Page
Kominato Miwa
(小湊美和) is a Japanese folk singer and a former member of
Taiyou to Ciscomoon
.
She started her career as a child, performing in folk music festivals. She became a member of the group Taiyou to Ciscomoon in 1999, from which she graduated in 2000. Kominato is still active in the industry as a back-up singer, live performer, she participates in special projects from time to time, and is taking care of her family.
Biography
Edit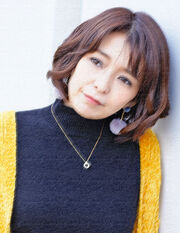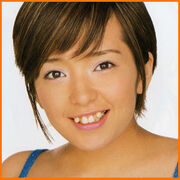 Early Life
Edit
Kominato Miwa was born into a family who have been singing minyo and folk music for two generations. Kominato, being the third generation, has been performing in Folk Music festivals since she was three years old.
In 1984, she won the Japanese Native Folk Song Conference at age seven. She participated in the same event in 1988 and won again (and again in 1998).
At this time she started her education learning folk songs; training to be a professional singer. After junior high, she didn't enter a school of a higher grade, but started traveling on the road singing folk songs.
In 1995, she won the Nationwide Japanese Native Folk Song Conference, and she had now made a name for herself in this industry. All though singing folk, it was rock and roll that she mostly listened to. This year, she also got married (at the age of 17).
In 1996, she participated in the Sharam Q Josei Rock Vocalist Audition on ASAYAN,[1] the same one in which Heike Michiyo and the original five members of Morning Musume were discovered, but she had to bow out to give birth to her second child.
On November 22, the talent search show ASAYAN annoounced their Geinoujin Shin Unit Audition in which they were looking for girls with special talents who have enough experiences.
On December 20, Kominato appeared in the semi-finals as one of sixteen auditionees. She sang "Atsukunare" by Ohguro Maki acapella and was interviewed face to face by Tsunku. On the same date she was the third to be chosen as the final eight. They appeared in the ASAYAN studio getting interviewed by the hosts before Tsunku split them in two groups (Kominato was in the group called Ciscomoon) and announced they were being sent off to San Fransisco for boot camp training sessions including performance, dance, rhythm and rap.
Then she, along with Inaba Atsuko, Shinoda Miho and RuRu, made her debut as a member of Taiyou to Ciscomoon in April 1999. Originally, the unit was formed under a contract of releasing only one song. But to their great surprise, the debut song, "Tsuki to Taiyou" landed 6th place on the Oricon charts during its first release week, later moving up to 4th place. After it's success, singles were released on a monthly basis and they kept holding live performances across the nation.
The biggest obstacle for Kominato during this time was probably being let go from the unit without any solid reason in late 1999. On the show Akashiya Santa no Shijou Saidai no Christmas Present, Kominato was forced out of the unit and put on a diet.[2] The rumor has it that it was the record label's pre-planned action to let Kominato go. In 2019, Kominato mentione don twitter that she was temprarily withdrawn form the unit for a period of time.[3]
Kominato returned to the unit on January 3, 2000, and the unit's name was changed to "T&C Bomber". They tried to recreate the similar popularity as they used to have, but in reality it was never quite the same.
When T&C Bomber split up, in 2000, she was asked to debut as a solo enka/minyo singer, but she declined.
2001-2006
Edit
Kominato's first solo live performance took place in July 2001 in Mikasa, Hokkaido. It was an outdoor concert, and in April 2001, she appeared on NHK's minyo TV program called Dontokoi Minyo on a monthly basis as a host and reporter. She did this for two years.
The song "Itoshii Hito e" was not planned to be released originally; it was created as a theme song for the movie, Lady Plastic. However, a petition was created by fans and enough signatures were collected. As a result, the song was featured as a B-side for her first single, "Ai no Chikara", which was released in April 2002.
In July 2002, she is credited for the festival music used in the song "Shiawase Kyouryuu Ondo" by Odoru 11.
In 2003, after releasing only one single, she left her agency and became an independent artist. Kominato and her brother started a minyo/pop/folk inspired band as a duo, calling themselves Priest. Their latest release was an album in 2006.
2007-2008
Edit
In 2008, Taiyou to Ciscomoon was resurrected for their 10 year anniversary, releasing the best album Taiyou to Ciscomoon / T&C Bomber Mega Best and holding a reunion concert.
In June 2008, Ito Kanako, a Japanese singer whose songs have appeared in numerous video games and anime, released the single "Tsuisou no Despair".[4] Kominato sings the chorus for the single's A-side.
In 2012, Kominato was featured as a singer on the compilaton album Luxendarc Dai Kikou,[5] which is a special project called LinkedHorizon; a music project started by a sound creator called Revo, whose songs are usually linked up to video games. Kominato sings in the tracks "Theme of the Linked Horizon", "Luxendarc Kikou", "Hinatori", and "Kibou e Mukau Tenshikyoku". A concert in November, linked up to the release of this album was also held, featuring songs from the album as well as non-album tracks. It was later released as a two-disc DVD and a single Blu-ray.
She was also featured on several of Ishii Tatuya's releases. She sings the chorus for the songs "RAIN SONG" and "Koudo" from his album White Canvas released in 2013.[6] She appears on the album STONE released in 2015,[7] singing the chorus for "Hi -Jump- Shou"[8] and "Otona-tachi no Meiro"; and the album "Ryo" released in 2018.[9]
In 2015, she appeared as a guest in Momoiro Clover Z's concert Momoiro Clover Z Toujinsai 2015 Ecopa Stadium Taikai, singing the song "Chakkiribushi".[10]
This year, she was also appointed as a tourism ambassador in her hometown Sukagawa City in Fukushima Prefecture.
In 2016, she participated on the album Mars Red by SUPER SOUND THEATRE. They recorded four songs taken from their performance at the Maihama Amphitheater in September 2015 and released them as an EP. Kominato sang vocals for "Hitei Enbu", "Zangetsu", "Taisho Sakuran", and "Akai Yagi no Uta".[11]
In 2018, she also participated in Lisa Ono's album Tabi Soshite Furusato,[12] singing in the song "Nangoku Tosa wo Ato ni Shite", which was written and composed by Eisaku Takemasa.
In April, she became a lecturer at Yoyogi Animation Academy, teaching "Tsunku Proffesionalism" (つんく♂プロフェッショナルイズム).
On November 9th, Kominato was one of the judges in the Tsunku♂Award (つんく♂アワード), alongside Tsunku, Yamashita Yuji, and Kondo Hisashi.[13] Voice actor Kugisaki Nichika (15) wwas chosen as the winner from 10 finalists from 8 schools using Tsunku's artist development method. As well as a cash prize she can record songs with another judge.
Name: Kominato Miwa (小湊美和)
Nickname: Komi (コミ), Mick
Birthdate: February 15, 1977
Birthplace: Fukushima, Japan
Blood type: B
Height: 154cm
Western Zodiac: Aquarius
Eastern Zodiac: Dragon
Hobbies: Traveling overseas, comics, games, camping
Favorite artists: Bobby Caldwell, Phil Perry, Fourplay
Hello! Project Groups:
Other Groups:
Personal Life
Edit
Kominato is the oldest child in her family.
Kominato got married in 1994 at 17 years old and had two sons. They divorced in 2000, and Kominato re-married in 2003 a man 9 years older than her. They have at least one daughter.[14]
Discography
Edit
Discography Featured In
Edit
Kominato is the third generation of a nationally-renowned minyo folk singing school. She has appeared in NHK's yearly Dontokoi Minyo special both before and after her involvement with Hello! Project.
As a married mother of two children, she was often referred to as the "true housewife" of Hello! Project. She was the first active member of Hello! Project to be married, and the first to be a mother. This situation would not be repeated again until 2007 with former Morning Musume member Iida Kaori, and in 2009 with former Morning Musume member Tsuji Nozomi.
Kominato was the youngest member of Taiyou to Ciscomoon, and she disliked being called by her full first name. She liked being called by her last name, such as "Kominato" or "Komi". 
[2007.04.26] Kominato Miwa Solo Live @GRAPE FRUIT MOON (小湊美和ソロLIVE@GRAPE FRUIT MOON)
[2007.03.31] Priest Fukushima Gaisen One-man Live (Priest福島凱旋ワンマンLIVE) - Priest
[2007.02.17] Priest One-man Live "WHat's the purpose? vol. 4 ~Happy birthday to komi~" (Priest ワンマンLIVE『What's the purpose? vol.4 ~Happy birthday to komi』) - Priest
[2006.12.23] Yume Kuukan vol. 20 Priest LIVE (夢空間 vol.20 Priest LIVE) - Priest 
[2006.11.25] Kominato Miwa Solo LIVE (小湊美和ソロLIVE) 
[2006.09.18] Priest LIVE@GRAPE FRUIT MOON - Priest
[2006.07.15-2006.08.26] Dai 9-kai Tokita Fujio Minwa no Sekai (第9回 常田富士男 民話の世界)
[2006.07.08] Priest One-man Live "Wa no Chikara! ~What's the purpose? Vol.3" (PriestワンマンLIVE『和のチカラ~What's the purpose? Vol.3』) - Priest
[2006.04.09] Priest One-man Live @Minami Aoyama MANDALA (PriestワンマンLIVE@南青山MANDALA) - Priest
[2006.01.11] Wa no Chikara! "What's the purpose? Vol.2 (和のチカラ "What's the purpose?" Vol.2)
Events Featured In
Edit
[2007.05.13] ACE PROJECT SPRING LIVE 2007~TOGETHER~ 
[2008.12.19] Masago Hideaki Native Flute Concert "Holy Quest" (真砂秀朗ネイティブフルートコンサート「Holy Quest」)
[2009.02.07] Inochi no Jugou Symposium 2009 ~Kokoro wo Hagukumu Kyouiku to wa~ (いのちの授業シンポジウム2009~こころを育む教育とは~
[2009.12.26] Kawamura Ryuichi No Mic, No Speakers Concert #002 (河村隆一 No Mic,No Speakers Concert #002)
[2006.12.06] Kaori Ongaku Deaino Utage (香楽響宴・其之六) - with Aeka
[2009.12.05] Kaori Ongaku Deaino Utage (香楽響宴) - with Aeka
[2005.11.29] 和楽器のチカラ~こみフェス2005~@六本木Velfarre
[2006.05.06] Namaon (なまおん) (Sapporo TV) - Priest
[2005.01.01] Omedetou Minyo Kazoku Dai Shuugou ~Nipponrettou Kita Kara Minami~ (おめでとう民謡家族大集合~日本列島 北から南~)
[2007.03.25] RCF Radio Fukushima
[2007.03.14] Kattobi Wide (かっとびワイド) (RFC Radio Fukushima) - Priest
[2007.03.02] 9tiipii (9てぃ~びぃ~) (KFB Fukushima Housou) - Priest
[2006.11.23] Watashi no Kaita Poem Special Koukai Rokuon (Radio NIKKEI) - Priest
Magazines
Edit
[2005.04.12] Shuukan Asahi 4/21 (週刊アサヒ芸能 4/21)
[2003.10.xx] Minyo Bunka (みんよう文化)
References
Edit
External Links
Edit
Community content is available under
CC-BY-SA
unless otherwise noted.