Kominato Miwa (小湊美和) is a Japanese folk singer and a former member of Taiyou to Ciscomoon. She started her career as a child, performing in folk music festivals. She became a member of the group Taiyou to Ciscomoon in 1998, from which she graduated in 2000. In 2002, she embarked on a short-lived career as a solo singer before creating the duo Priest with her brother in 2003.
Kominato is active in the industry as a chorus singer, as a live performer, she participates in special projects from time to time, and is taking care of her family. She also runs an after school activity where she teaches hands-on lessons for elementary and junior high school students to familiarize them with traditional Japanese music and folk songs.[1]
Biography
[
]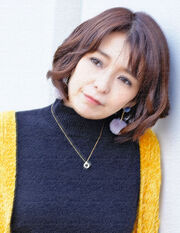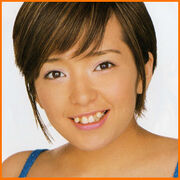 Early Life
[
]
Kominato Miwa was born into a family who have been singing minyo and folk music for two generations. Kominato, being the third generation, has been performing in Folk Music festivals since she was three years old.
In 1984, she won the Japanese Native Folk Song Conference at age seven. She participated in the same event in 1988 and won again (and again in 1998).
At this time she started her education learning folk songs; training to be a professional singer. After junior high, she didn't enter a school of a higher grade, but started traveling on the road singing folk songs.
From April 1993 to March 1994, she started singing activities such as the stage of folk songs, including the moderator assistant at "Kubota Folk Song Country Tour" (Tohoku area broadcast).[2]
In 1995, she won the Nationwide Japanese Native Folk Song Conference, and she had now made a name for herself in this industry. All though singing folk, it was rock and roll that she mostly listened to. This year, she also got married (at the age of 17).
1997
[
]
In 1997, she participated in the Sharam Q Josei Rock Vocalist Audition on ASAYAN, the same one in which Heike Michiyo and the original five members of Morning Musume were discovered, but she had to bow out to give birth to her second child.
1998
[
]
On November 22, the talent search show ASAYAN annoounced their Geinoujin Shin Unit Audition in which they were looking for girls with special talents who have enough experiences.
On December 20, Kominato appeared in the semi-finals as one of sixteen auditionees. She sang "Atsukunare" by Ohguro Maki acapella and was interviewed face to face by Tsunku. On the same date she was the third to be chosen as the final eight. They appeared in the ASAYAN studio getting interviewed by the hosts before Tsunku split them in two groups (Kominato was in the group called Ciscomoon) and announced they were being sent off to San Fransisco for boot camp training sessions including performance, dance, rhythm and rap.
1999
On February 7 1999, ASAYAN aired footage from the boot camp training sessions in San Fransisco. Inaba recieved a phone call after four weeks into the boot camp, were she reads the names of three participants Tsunku have chosen as the winners: Inaba (from Ciscomoon), Kominato (from Ciscomoon), and Shinoda (from San Fran). RuRu was later on selected as the fourth and final member of the unit after showing her devotion to music and vocal skills.
On February 21, 1999, the winners appeared on stage in the ASAYAN studio with the hosts. Here, Tsunku pointed out each member's weakness and said they were going to go back to the US for private lessons. He said Kominato needed to practice her dancing skills.
For three weeks, from February to March, ASAYAN covered the members' journeys. They were sent to four different cities, and Kominato was sent to Detroit (famous for Motown).
On April 21, they released their debut single, "Tsuki to Taiyou".
In October, when recording the 6th single "Marui Taiyo -winter ver.-", Kominato was temporarily removed from the group to concentrate on her dance studies, which she was not good at. On the show "Akashiya Santa no Shijou Saidai no Christmas Present", Kominato says she was forced out of the unit and put on a diet.[3] The rumor has it that it was the record label's pre-planned action to let Kominato go. In 2019, Kominato mentioned on twitter that she was temporarily withdrawn form the unit for a period of time.[4] Kominato returned to the unit on January 3, 2000, and the unit's name was changed to "T&C Bomber". They tried to recreate the similar popularity as they used to have, but in reality it was never quite the same.
2000
[
]
In the spring of 2000, Tsunku decided to shuffle all the artists he managed under Hello! Project. He split all the artist into three groups, and Kominato ended up in Aoiro 7. The whole purpose of the shuffling and three groups was to see which group would sell the most singles. Aoiro 7 released "Aoi Sports Car no Otoko", and ended up in third place with total sales of 385,540 copies.
On August 27, the news of the Taiyou to Ciscomoon's upcoming disbandment in October was announced[2]. The reason was so that each member could focus on solo activities.
On October 9, the group disbanded. Kominato was asked to debut as a solo enka/minyo singer, but she declined.
2001-2006
[
]
In April 2001, she appeared on NHK's minyo TV program called Dontokoi Minyo on a monthly basis as a host and reporter. She did this for two years.
Kominato's first solo live performance took place in July 2001 in Mikasa, Hokkaido. It was an outdoor concert.
In April 2002, Kominato released er first single, "Ai no Chikara". The B-side, "Itoshii Hito e", was not planned to be released originally; it was created as a theme song for the movie, "Lady Plastic" in which Kominato had the role as Southern Manager. However, a petition was created by fans and enough signatures were collected. As a result, the song was featured as a B-side for her first single.
In July 2002, she is credited for the festival music used in the song "Shiawase Kyouryuu Ondo" by Odoru 11.
In 2003, after releasing only one single, she left her agency and became an independent artist. Kominato and her brother started a minyo/pop/folk inspired band as a duo, calling themselves Priest. They released their debut album in 2006.
2007-2008
[
]
In 2008, Taiyou to Ciscomoon was resurrected for their 10 year anniversary, releasing the best album Taiyou to Ciscomoon / T&C Bomber Mega Best and holding a reunion concert.
In June 2008, Ito Kanako, a Japanese singer whose songs have appeared in numerous video games and anime, released the single "Tsuisou no Despair".[5] Kominato sings the chorus for the single's A-side.
2012
[
]
In 2012, Kominato was featured as a singer on the compilaton album Luxendarc Dai Kikou,[6] which is a special project called LinkedHorizon; a music project started by a sound creator called Revo, whose songs are usually linked up to video games. Kominato sings in the tracks "Theme of the Linked Horizon", "Luxendarc Kikou", "Hinatori", and "Kibou e Mukau Tenshikyoku". A concert in November, linked up to the release of this album was also held, featuring songs from the album as well as non-album tracks. It was later released as a two-disc DVD and a single Blu-ray.
2013
[
]
She was also featured on several of Ishii Tatuya's releases. She sings the chorus for the songs "RAIN SONG" and "Koudo" from his album White Canvas released in 2013.[7] She appears on the album STONE released in 2015,[8] singing the chorus for "Hi -Jump- Shou"[9] and "Otona-tachi no Meiro"; and the album "Ryo" released in 2018.[10]
2015
[
]
In 2015, she appeared as a guest in Momoiro Clover Z's concert Momoiro Clover Z Toujinsai 2015 Ecopa Stadium Taikai, singing the song "Chakkiribushi".[11]
This year, she was also appointed as a tourism ambassador in her hometown Sukagawa City in Fukushima Prefecture.
2016
[
]
In 2016, she participated on the album Mars Red by SUPER SOUND THEATRE. They recorded four songs taken from their performance at the Maihama Amphitheater in September 2015 and released them as an EP. Kominato sang vocals for "Hitei Enbu", "Zangetsu", "Taisho Sakuran", and "Akai Yagi no Uta".[12]
2018
[
]
In 2018, she also participated in Lisa Ono's album Tabi Soshite Furusato,[13] singing in the song "Nangoku Tosa wo Ato ni Shite", which was written and composed by Eisaku Takemasa.
In April, she became a lecturer at Yoyogi Animation Academy, teaching "Tsunku Proffesionalism" (つんく♂プロフェッショナルイズム).
2019
[
]
On November 9th, Kominato was one of the judges in the Tsunku♂Award (つんく♂アワード), alongside Tsunku, Yamashita Yuji, and Kondo Hisashi.[14] Voice actor Kugisaki Nichika (15) wwas chosen as the winner from 10 finalists from 8 schools using Tsunku's artist development method. As well as a cash prize she can record songs with another judge.
2020
[
]
On May 5, 2020, Tsunku released the content of his photobook on his official YouTube channel. Kominato is reading the voice of the mother in the book.[15]
On May 27, Kominato and her brother appeared at "Nippon Hasshin Project" (にっぽん発信プロジェクト). In the latter half, they had a live performance of folk songs.[16] [17]
2021
[
]
On February 27, Kominato appeared at the "2nd Fukushima Sake Support Live" as part of Fukushima Wagakki Band with Ohkawa Yoshiaki, Kominato Akihisa, Endo Genki, and Sato Michiyoshi.[18]
In March 2021, Kominato is joining Kashiwagi Hinata on her solo live "over the moon" tour as a chorus guest. They did a livestream on March 15th on YT Livestream. They talked a bit about how the collab came to fruition, Miwa's impression of Hinata etc.
Profile
[
]
Name: Kominato Miwa (小湊美和)
Nickname: Komi (コミ), Mick
Birthdate: February 15, 1977
Blood Type: B
Height: 154 cm (5 ft 0.6 in)

?

Western Zodiac: Aquarius
Eastern Zodiac: Dragon
Hello! Project Groups:
Other Groups:
Hobbies: Traveling overseas, comics, games, camping
Favorite artists: Bobby Caldwell, Phil Perry, Fourplay
Personal Life
[
]
Kominato is the oldest child in her family.
Kominato got married in 1994 at 17 years old and had two sons. They divorced in 2000, and Kominato re-married in 2003 a man 9 years older than her. They have at least one daughter.[19]
Discography
[
]
Discography Featured In
[
]
Taiyou to Ciscomoon
Hello! Project
Priest
LinkedHorizon
[2012.09.19]

Luxendarc Dai Kikou

(#1 Theme of the Linked Horizon, #2 Luxendarc Kikou, #20 Hinatori (Vocalized Version), #26 (Kibou e Mukau Tenshikyoku (Concert Arranged Version))
Super Sound Theatre
Compilation Albums
Taiyou to Ciscomoon
Aoiro 7
Priest
Itou Kanako
[2008.06.26]

Tsuisou no Despair

[2010.01.27]

ChaosAttractor
KATEI
[2009.11.18]

JOURNEY

[20]
Ishii Tatuya
[2013]

WHITE CANVAS

[2015]

STONE

[2018]

Ryuu
Lisa Ono
[2018]

Tabi Soshite Furusato
[2013.03.20]

Luxendarc Kikou

(ルクセンダルク大紀行) (with Linked Horizon)
[2015.11.25]

Momoiro Clover Z Momo Jinsai 2015 momo shinsai 2015 Ecopa Stadium Taikai

(ももいろクローバーZ 桃神祭2015 エコパスタジアム大会) (with

Momoiro Clover Z

)
Trivia
[
]
Kominato is the third generation of a nationally-renowned minyo folk singing school. She has appeared in NHK's yearly Dontokoi Minyo special both before and after her involvement with Hello! Project.
As a married mother of two children, she was often referred to as the "true housewife" of Hello! Project. She was the first active member of Hello! Project to be married, and the first to be a mother. This situation would not be repeated again until 2007 with former Morning Musume member Iida Kaori, and in 2009 with former Morning Musume member Tsuji Nozomi.
Kominato was the youngest member of Taiyou to Ciscomoon, and she disliked being called by her full first name. She liked being called by her last name, such as "Kominato" or "Komi". 
Works
[
]
Events
[
]
[2002.04.28] Solo Debut Hatsubai Kinen Event (ソロデビュシングル発売記念イベント) (Mini-live & Talk & Handshake)
[2002.05.03] Solo Debut Hatsubai Kinen Event (ソロデビュシングル発売記念イベント) (Mini-live & Talk & Handshake)
[2002.05.05] Solo Debut Hatsubai Kinen Event (ソロデビュシングル発売記念イベント) (Mini-live & Talk & Handshake)
[2002.05.11] Solo Debut Hatsubai Kinen Event (ソロデビュシングル発売記念イベント) (Mini-live & Talk & Handshake)
[2002.05.12] Solo Debut Hatsubai Kinen Event (ソロデビュシングル発売記念イベント) (Mini-live & Talk & Handshake)
[2002.05.19] Solo Debut Hatsubai Kinen Event (ソロデビュシングル発売記念イベント) (Mini-live & Talk & Handshake)
[2002.05.26] Solo Debut Hatsubai Kinen Event (ソロデビュシングル発売記念イベント) (Mini-live & Talk & Handshake)
[2002.06.01] Solo Debut Hatsubai Kinen Event (ソロデビュシングル発売記念イベント) (Mini-live & Talk & Handshake)
[2006.07.15-2006.08.26] Dai 9-kai Tokita Fujio Minwa no Sekai (第9回 常田富士男 民話の世界)
[2006.12.25] Kominato Miwa Solo LIVE (小湊美和ソロLIVE) at Yoyogi Live House Bogaloo[21]
[2007.04.26] ★Kominato Miwa Solo Live @GRAPE FRUIT MOON★ (小湊美和ソロLIVE@GRAPE FRUIT MOON) at Sangenjaya GRAPE FRUIT MOON
[2006.11.25] Kominato Miwa Solo LIVE (小湊美和ソロLIVE) 
[2006.07.15-2006.08.26] Dai 9-kai Tokita Fujio Minwa no Sekai (第9回 常田富士男 民話の世界)
Events Featured In
[
]
[2005.07.01] Fukushima-ken Aidzu Destination Campaign (福島県あいづデスティネーションキャンペーン) at Tokyo Station Marunouchi Exit Dome Special Stage
[2006.12.16] Kaori Ongaku Deaino Utage (香楽響宴・其之六) - with Aeka
[2007.05.13] ACE PROJECT SPRING LIVE 2007~TOGETHER~ at Kobe, Nagata SITE KOBE
[2008.12.19] Masago Hideaki Native Flute Concert "Holy Quest" (真砂秀朗ネイティブフルートコンサート「Holy Quest」) at Aoyama Moon Romantic
[2009.02.07] Inochi no Jugou Symposium 2009 ~Kokoro wo Hagukumu Kyouiku to wa~ (いのちの授業シンポジウム2009~こころを育む教育とは~= at Oota Kumin Hall Aprico Ko Hall
[2009.12.05] Kaori Ongaku Deaino Utage (香楽響宴) at Asakusa Miban - with Aeka
[2009.12.26] Kawamura Ryuichi No Mic, No Speakers Concert #002 (河村隆一 No Mic,No Speakers Concert #002) at Tokyo Opera City Concert Hall
[2011.09.23] Sosei Kagura "Dai 4-kai Kamigami no Furusato Kaguramatsuri" ((創生神楽『第4回 神々のふるさと神楽祭』) at Izanagi Jinguu Koen"
[2011.09.25] Sosei Kagura (創生神楽 ) at Hiraoka Jinja Kouen
[2011.11.12-2011.11.19] Japan Festival 2011 in Italy
[2012.11.25] Revo Linked BRAVELY DEFAULT Concert at Yokohama Arena[22]- with Linked Horizon
[2013.01.05+2013.01.06] Komatsubara Youko Spain to 50-nen -Toubi wo Kazaru-" Chi no Konrei" "Watashi no Maestro ni Sasageru" (小松原庸子 スペインと50年 -悼尾を飾る-「血の婚礼」「私のマエストロに捧げる」) at New National Theater Tokyo[23]
[2013.02.27-2013.03.15] Harukana Tomo ni Kokoro Yosete Nihon - Chile Kouryū Concert (はるかな友に心寄せて 日本 - チリ交流コンサート ※日本、チリ公演参加)
[2013.07.12] Linked Horizon Talk & Live Event "Jiyuu e no Shingeki" (Linked Horizon トーク&ライブイベント「自由への進撃」大阪)[24] - with Linked Horizon
[2014.01.25] Sousei Kagura Butai (創生神楽舞台) at Katori-shi Omigawa Shimin Center Ibuki-kan Tamokuteki Hall
[2014.03.11] Tatuya Ishii GROUND ANGEL ~HOPE HILLS ~ (石井竜也 GROUND ANGEL ~HOPE HILLS ~コンサート) <small>Chorus Participation</small>
[2014.11.15] Asakusa Kenban LIVE (浅草見番LIVE) at Asakusa Miban - with Aeka
[2015.02.15] Kominato Miwa with AEKA… Tomonokai ~ Futatabi (Kari) Live (小湊美和 with AEKA …友の会~再び(仮)ライブ) at Otoriyose Restaurant KOUCHI-YA
[2015.07.31] Momoiro Clover Z "Toujinsai 2015" (ももいろクローバーZ「桃神祭2015」)
[2015.09.26] SUPER SOUND THEATRE "MARS RED" Shin Kankaku Ongaku Roudoku Geki (SUPER SOUND THEATRE「MARS RED」新感覚・音楽朗読劇 ) <small>(Voice Participation)</small>
[2018.10.25] Linked Horizon Live Tour "Shingeki no Kiseki" Souin Shuuketsu Gaisen Koun (Linked Horizon Live Tour『進撃の軌跡』総員集結 凱旋公演)
[2021.03.15]-[2021.03.29] 木ひなた生誕ソロライブ『over the moon』[25]
Video
[
]
[2003.12.20] Saito Takashi no Tanoshii Nihongo Dai 1-kan "Jugemu Jugemu" (斉藤孝のたのしいにほんご 第1巻「じゅげむじゅげむ」)
[2003.12.20] Saito Takashi no Tanoshii Nihongo Dai 2-kan ""Kotowaza A I U E O" (斉藤孝のたのしいにほんご第2巻「ことわざあいうえお」)
TV
[
]
[2001.04-2003.03] NHK Sougou "Dontokoi Minyo"
[2001.04-2003.03] NHK Sougou "Studio Park"
[2005.01.01] Omedetou Minyo Kazoku Dai Shuugou ~Nipponrettou Kita Kara Minami~ (おめでとう民謡家族大集合~日本列島 北から南~)
Movies
[
]
Lady Plastic - as Southern Manager
Commercials
[
]
"Soukenbicha" Mittsu no Sekai-hen (「爽健美茶」三つの世界編)
Stage
[
]
Dai 8-kai Tokita Fujio Minwa no Sekai (第8回 常田富士男 民話の世界)
Tokita _Fujio Mukashibanashi Katari wa Inori no Kokoro (常田富士男 昔話・語りは祈りの心)
Dai 9-kai Tokita Fujio Minwa no Sekai (第9回 常田富士男 民話の世界)
Radio
[
]
[2007.03.25] RCF Radio Fukushima
Young Town Doyoubi (MBS Radio)
Arigatou Hamamura Jun Desu (MBS Radio)
Tetsurou & Kominato Miwa no Music Magic (FM Yamato)
Narration / Dubbing
[
]
Anime "Classicaloid" Episode 14: "Kaisan Kurakura, Debut Suru Kanae" [♪ 14: Musik]
"Sokenbicha" Three Worlds TVCM
[2020.05.05] Nee, Mama? Boku no Onegai! (ねぇ、ママ?僕のお願い!) Voice of Mama in the YouTube release)
Magazines
[
]
[2005.04.12] Shuukan Asahi 4/21 (週刊アサヒ芸能 4/21)
[2003.10.xx] Minyo Bunka (みんよう文化)
Awards
[
]
[1985] Grand Prize in the tournament "Nihon Kyoudo Minyo Kyoukai Dai 24-kai Shounen Shoujo Minyo Taikai"
[1989] Grand Prize in the tournament "Nihon Kyoudo Minyo Kyoukai Dai 29-kai Shounen Shoujo Minyo Taikai"
[1996] Overall winner in the competition "Nihon Kyoudo Minyo Kyoukai Dai 36-kai Minyo Tamibu Zenkoku Taikai"
Prime Minister Award
Minister of Education Award
Minister of Health and Welfare Award
Minister of Transport Award
Minister of Agriculture, Forestry and Fisheries Award
Governor of Tokyo Award
Sankei Shimbun Award
President's Award
See Also
[
]
List:Kominato Miwa Discography Featured In

List:Kominato Miwa Concert & Event Appearances
References
[
]
External Links
[
]
Template:T&C Bomber