Kominato Miwa
小湊美和

Birth Info
Born
February 15, 1977
Origin
Fukushima, Japan
Blood Type
B
Zodiac Sign
Aquarius
Sizes
Height
154cm
Professional Info
Genres
J-Pop, Folk
Occupation
Singer
Years Active
1984–Present
Associated Acts
Taiyou to Ciscomoon, Aoiro 7, Priest

Taiyou to Ciscomoon

Info
Joined
April 1999
Debut Single
Tsuki to Taiyou
Last Single
HEY! Mahiru no Shinkirou
Left
October 2000
Links
Website
komi'x
Blog
What's The Purpose?
Twitter
@komix215
Kominato Miwa (小湊美和) is a Japanese folk singer and a former member of Taiyou to Ciscomoon.
She started her career as a child, performing in folk music festivals. She became a member of the group Taiyo to Ciscomoon in 1999, from which she graduated in 2000.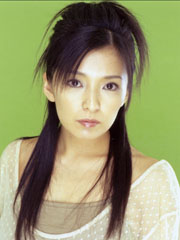 Kominato is still active in the industry as a back-up singer, live performer, she participates in special projects from time to time, and is taking care of her family.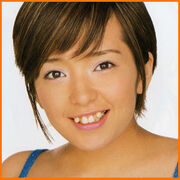 Biography
Edit
Early Years
Edit
Kominato Miwa was born into a family who have been singing minyo and folk music for two generations. Kominato, being the third generation, has been performing in Folk Music festivals since she was three years old.
In 1984, she won the Japanese Native Folk Song Conference at age seven. She participated in the same event in 1988 and won again (and again in 1998).
At this time she started her education learning folk songs; training to be a professional singer. After junior high, she didn't enter a school of a higher grade, but started traveling on the road singing folk songs.
In 1995, she won the Nationwide Japanese Native Folk Song Conference, and she had now made a name for herself in this industry. All though singing folk, it was rock and roll that she mostly listened to. This year, she also got married (at the age of 17).
1996-2000
Edit
In 1996 she participated in the audition ASAYAN Sharan Q Rock Vocalist Audition[1], the same one where Heike Michiyo and the original 5 members of Morning Musume were a part of, but had to bow out to give birth to her second child.
In 1998, she applied for ASAYAN's audition for the new idol unit that was going to be produced by Tsunku. The finalists were sent to San Francisco, USA for an intensive training which lasted for 48 days. Then, along with Inaba Atsuko, Shinoda Miho and RuRu, she made her debut as a member of Taiyo To Ciscomoon in April 1999. Originally, the unit was formed under a contract of releasing only one song. But to their great surprise, the debut song, Tsuki To Taiyou landed 6th place at the Oricon charts during its first release week, later moving up to 4th place. After it's success, singles were released on a monthly basis and they kept holding live performances across the nation.
During ASAYAN, members were given various challenges to overcome, and they were expected to perform as television entertainers. The biggest obstacle for Kominato was probably being let go from the unit without any solid reason. During ASAYAN, she was criticized for not being a great dancer. The rumor has it that it was the record label's pre-planned action to let Kominato go. But she came back to the unit soon and the unit's name was changed to "T&C Bomber". They tried to recreate the similar popularity as they used to have, but in reality it was never quite the same.
When T&C Bomber split up, in 2000, she was asked to debut as a solo enka/minyo singer, but shedeclined.
2001-2006
Edit
Kominato's first solo live performance took place in July 2001 in Mikasa, Hokkaido. It was an outdoor concert, and in April 2001, she appeared on NHK's minyo TV program called "Dontokoi Minyo" on a monthly basis as a host/reporter.
The song "Itoshii Hito e" was not planned to be released originally; it was created as a theme song for the movie, "Lady Plastic". But a petition was created by fans and enough signatures were collected. As a result, the song was featured as a B -side for her first single, Ai no Chikara which was released in April 2002.
In 2003, after releasing only one single, she left her agency and became an independent artist. Kominato and her brother started a minyo/pop/folk inspired band as a duo, calling themselves Priest. Their latest release was an album in 2006.
2007-2008
Edit
In 2008, Taiyo to Ciscomoon was resurrected for their 10 year anniversary, releasing a best-of album and holding a reunion concert.
In June 2008, Itou Kanako, a Japanese singer whose songs have appeared in numerous video games and anime, released the single Tsuisou no Despair (追想のディスペア; Despair in Retrospect). Kominato sings the chorus to the single's A-side.
In 2012, Kominato was featured as a singer on the compilaton album Luxendarc Dai Kikou , which is a special project called LinkedHorizon; a music project started by a sound creator called Revo (whose songs are usually linked up to video games.). Kominato is singing on the tracks Theme of the Linked Horizon, Luxendarc Kikou (Luxendarc Traveller's Journal), Hinatori (Baby Bird), and Kibou e Mukau Tenshikyoku (Ballad to Hope).
The album also features the singers Revo, mao, Ceui, RIKKI (famous for the theme song to Final Fantasy; «Suteki da ne»), Joelle, and Daisy×Daisy (MiKA). The track list is almost the same for both the regular edition and the limited edition. The regular version has the track Tatakai no Hane (Long Version), and the limited has the track Pikopiko Sentoukyoku as a bonus song. The covers are also similar, but have different color schemes.
A concert in November, linked up to the release of this album was also held, featuring songs from the album as well as non-album tracks. It was later released on DVD (double disc) and Blu-Ray (single disc).
2013-2019
Edit
She was also featured on several of Ishii Tatuya's releases. She was singing the chorus for the songs RAIN SONG and Koudo (鼓動; Beat) from his album White Canvas (released in 2013). She appears on the album STONE (released in 2015), singing the chorus for Hi -Jump- Shou (飛 ~JUMP~ 翔) and Otona-tachi no Meiro (大人達の迷路); and the album Ryo (龍) (released in 2018).
In 2015, she apperad as a guest on Momoiro Clover Z's concert Momoiro Clover Z Toujinsai 2015 Ecopa Stadium Taikai (ももいろクローバーZ 桃神祭2015 エコパスタジアム大会), singing the song Chakkiri-bushi (ちゃっきり節)[2].
In 2016, she participated on the album Mars Red by SUPER SOUND THEATRE. They recorded four songs taken from the performance at the Maihama Amphitheater in September 2015, and released it as a EP. Kominato does the vocals on Hitei Enbu (飛帝円舞), Zangetsu (残月), Taisho Sakuran (大正錯乱), and Akai Yagi no Uta (赤いヤギの歌).
In 2018, she also participated on Lisa Ono's album Tabi Soshite Furusato (旅 そして ふるさと), singing on the song Nangoku Tosa wo Ato ni Shite (南国土佐を後にして), written and composed by Takemasa Eisaku.
Discography
Edit
Discography Featured In
Edit
References
Edit
External Links
Edit