Kokoro no Pheromone (心のフェロモン; Pheromones of the Heart) is Sheki-Dol's debut indies single. It was released on November 1, 2000.
The song was used as the ending theme to the tv show "Sanma No Super Karakuri TV" and Idol wo Sagase!
Tracklist
[
]
Kokoro no Pheromone
Datte Datte (だってだって; Because, Because)
Kokoro no Pheromone (Instrumental)
Featured Members
[
]
Single Information
[
]
Lyrics, Composition, Arrangement, Drums, A. Guitar: Tsunku
Kokoro no Pheromone

Chorus: Tsunku
Bass, Piano, Organ:

Nagai Rui

E. Guitar: Suzuki Shunsuke,

Yasunori

from Seven House

Datte Datte
TV Performances
[
]
Kokoro no Pheromone
Concert Performances
[
]
Kokoro no Pheromone
Trivia
[
]
Comment by Tsunku
[
]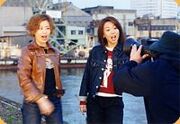 Tsunku's comments about the single:[2]
"I've arranged in Rock'n'roll style. I've arranged the whole song, as well as played the acoustic guitar and the drums. First, the acoustic guitar part was recorded followed by the drums part. After that, we got together and determined the overall structure of the song. Rui Nagai played the bass and the piano. After that, Yasunori from SEVEN HOUSE and Shunsuke Suzuki played the other guitar parts. And I re-recorded my acoustic guitar part at the end. I think it was wonderful collaboration by the rock musicians!
Oki Ibuki and Kitagami Ami recorded their voices while listening to the energetic drums track. I remember on their recording day, I told them it was just a practice. Since they were inexperienced and doing this for the first time, I wasn't sure how the recording process was going to be. My original plan was to let them sing and record a few parts at a time, and not the whole thing at once. But I was surprised to listen to their voices not because they were skilled singers, but they were simply cool! I didn't ask them how much time they put into for practice, but their singing style was something I had never heard before. What an awesome individuality the girls secretly possessed!
I felt like if they became better singer in the future, they would los the precious sound they naturally possessed. So I wanted to record the fresh, natural vocal track that was never overly practiced. I thought to myself, "If I ask them to sing just one more time, maybe they would sound better." On the other hand, I had to fight my urge and trust m instinct when I felt that "this is a lovable enough sound. Let's go with it. "
So you can see that I was going through internal dilemma as a producer. In the end, I didn't have to consume much time in thinking, and I was able to make the final decision right away. What was helpful in making the final decision was listening to the recorded voice track over and over. Their voices began to sound like a genuine rock'n'roll. They were able to utilize all of the tracks layered by us, the experienced rock musicians, which I thought was pretty impressive! What an awesome collaboration of "Rock'n'roll"!
As for the lyrics, in recent years, women are starting to become noticed as the stronger sex than men. So in contrast, I wanted to express the gentler side of women by utilizing powerful words. My message in the lyrics is that women are actually hoping for the men to notice their inner feminine power, "kokoro no pheromone".
References
[
]
External Links
[
]
Sheki-Dol
Discography
Singles

Indies
Major