Kobushi Factory
Members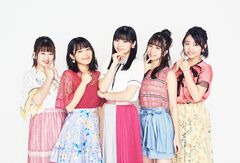 Main article: Kobushi Factory
Members (altogether): 8


Current members: 5
Graduated members: 1
Resigned members: 2

This page consists of basic information about current and former members of the J-pop group Kobushi Factory.
All members joined the group on January 2, 2015 and they were part of Hello Pro Kenshuusei.
List of Members
Edit
Current Members
Edit
Former Members
Edit
Name
Birthdate
Home
Prefecture
Blood
Type
Date Joined
Member Color
Date Left / Graduated
Notes

Fujii Rio
(藤井梨央)

March 4, 1999
(age 20)
Aichi
B
January 2, 2015

    


Mustard
July 6, 2017
Sub-leader
(2015-2017)

Ogawa Rena
(小川麗奈)

March 27, 2000
(age 19)
Tochigi
A

    


Red
September 6, 2017

Taguchi Natsumi
(田口夏実)

July 21, 2000
(age 19)
Saitama
A

    


Orange
December 6, 2017
Leadership
Edit
Leader
Period of time
Sub-Leader
Period of time
Hirose Ayaka
March 8, 2015 – Present
Fujii Rio
March 8, 2015 – July 6, 2017
None
July 7, 2017 - Present
Members Colors
Edit
Each Kobushi Factory member has their own color for outfits and merchandise to distinguish between each member.
Heritage Members Colors
Edit
All names in BOLD are current members.
Hirose Ayaka, Nomura Minami, Hamaura Ayano, Wada Sakurako and Inoue Rei: 5 Years, 0 Months, 16 Days
Taguchi Natsumi: 2 Years, 11 Months, and 4 Days
Ogawa Rena: 2 Years, 8 Months, and 4 Days
Fujii Rio: 2 Years, 6 Months, and 4 Days
Members Single Count
Edit
Members Line-Ups
Edit
Date
Member(s)
Total Members
Age Average
Singles Released with Line-up
January 2, 2015
(Formation)
Group formation. Founding members include Fujii Rio, Hirose Ayaka, Nomura Minami, Ogawa Rena, Hamaura Ayano, Taguchi Natsumi, Wada Sakurako, and Inoue Rei.
8
14.75-17.17
Nen ni wa Nen / Survivor, Dosukoi! Kenkyo ni Daitan / Ramen Daisuki Koizumi-san no Uta / Nen ni wa Nen (Nen'iri Ver.), Sakura Night Fever / Chotto Guchoku ni! Chototsumoushin / Osu! Kobushi Tamashii, Samba! Kobushi Janeiro / Bacchikoi Seishun! / Ora wa Ninkimono, Shalala! Yareru Hazu sa / Ee ja nai ka Ninja nai ka
July 6, 2017
Fujii Rio leaves.
7
17.01-17.18
None
September 6, 2017
Ogawa Rena graduates.
6
17.13-17.38
None
December 6, 2017
Taguchi Natsumi leaves.
5
17.38-
Kore Kara da! / Ashita Tenki ni Naare, Kitto Watashi wa / Naseba Naru, Oh No Ounou / Haru Urara
Kobushi Factory and Tsubaki Factory are currently the only Hello! Project groups consisting of members only from Hello Pro Kenshuusei.
All the members are born between 1999 and 2001, making this the first group to have all members born after Hello! Project's formation.
Kobushi Factory has the shortest age gap between the oldest and youngest member of the group (2 years and 4 months) out of current Hello! Project groups.
Community content is available under
CC-BY-SA
unless otherwise noted.