Kishimoto Yumeno (岸本ゆめの) is a Japanese pop singer under Hello! Project as a member of Tsubaki Factory. She was introduced at the Hello Pro Kenshuusei Happyoukai 2012 ~12gatsu no Nama Tamago Show!~ concert on December 9, 2012.[1]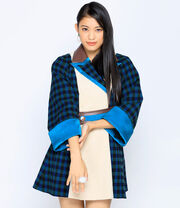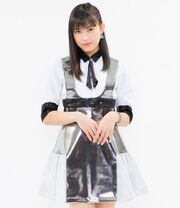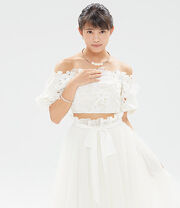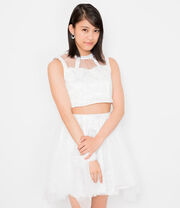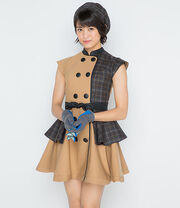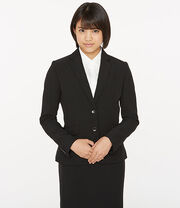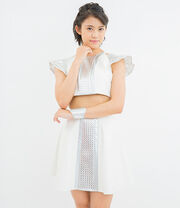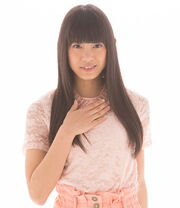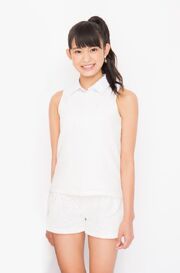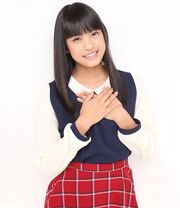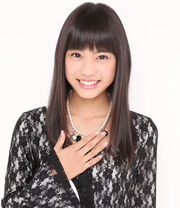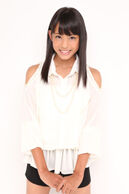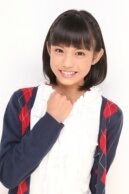 Kishimoto Yumeno was born on April 1, 2000 in Osaka, Japan to a couple whose names are undisclosed.
Prior to auditioning for the Morning Musume 11ki Member "Suppin Utahime" Audition, she was a child actress under NAC.
In 2012, Kishimoto auditioned for Morning Musume's 11th generation. Her audition number was #32 and she made it to the final round, but in the end she was not chosen to enter the group.
On November 20, it was announced that Kishimoto would be joining Hello Pro Kenshuusei alongside five other girls. She was officially introduced on December 9 at the Hello! Pro Kenshuusei Happyoukai 2012 ~12gatsu no Nama Tamago Show!~ alongside Kanazawa Tomoko, Kaga Kaede, Wada Sakurako, Makino Maria, and Ichioka Reina.[1]
On March 5, a fanclub event was held for Kishimoto and Kanazawa Tomoko.
On November 9, Kishimoto participated as a back-up dancer for the Morning Musume Concert Tour 2013 Aki ~CHANCE!~ in Hyogo.
From March 1 to April 29, Kishimoto participated as a back-up dancer in the Berryz Koubou Debut 10shuunen Kinen Concert Tour 2014 ~Real Berryz Koubou~.
At the Hello Pro Kenshuusei Happyoukai 2014 ~Haru no Koukai Jitsuryoku Shindan Test~, she won the best character award for her performance of "REAL LOVE".
On April 29, it was announced that Kishimoto would debut in the new Hello Pro Kenshuusei unit named Tsubaki Factory alongside Yamagishi Riko, Niinuma Kisora, Asakura Kiki, Ogata Risa and Tanimoto Ami.[2][3][4]
On April 3, Kishimoto celebrated her 17th birthday at a fanclub event titled Tsubaki Factory Kishimoto Yumeno Birthday Event 2017, featuring two shows at Shinjuku ReNY.
On April 3, she celebrated 18th birthday at a fanclub event titled Tsubaki Factory Kishimoto Yumeno Birthday Event 2018, featuring two shows at TOKYO FM HALL.
On July 25, the comedian duo Joujou Gundan released their debut single "Nakama", which features Kishimoto in the B-side "Kansha Kangeki Maji Manji" as a member of the fictional group Otome Manji Gakuen with Sawayaka Goro and Onoda Saori.[5][6]
On March 30, Kishimoto along with Yajima Maimi, Nakajima Saki, Juice=Juice's Takagi Sayuki, and LoVendoЯ's Okada Marina released the digital song "Koisuru! Sakana Hen" which will be performed for the first time in the "Fishing Club" Special Stage event at Asobu. Kurasu. Sodateru. SATOYAMA & SATOUMI e Ikou 2019 on the same day.[7]
On April 1, she celebrated her 19th birthday at a fanclub event titled Tsubaki Factory Kishimoto Yumeno Birthday Event 2019, featuring two shows at Shinjuku ReNY.
On October 5, the Hello Tsu PHOTOBOOK① was released, including Kishimoto's gravure that was originally published in a July 2018 issue of Weekly Famitsu.[8]\
On January 7, Kishimoto made her first appearance as a Tuesday regular personality on the radio show 60TRYbu, which she would rotate each week with Takeuchi Akari who has been on the show since 2015.[9][10]
On April 1, she was scheduled to celebrate her 20th birthday at a fanclub event titled Tsubaki Factory Kishimoto Yumeno Birthday Event 2020, featuring two shows at Shinjuku ReNY. However, it was cancelled in consideration of a new policy established by the government to prevent the spread of the coronavirus.[11] The event was later rescheduled.
On May 14, she opened up an official Instagram account.[12]
Kishimoto has an older sister, who gave birth to a daughter on July 1, 2015.[13]
When Kishimoto joined Hello Pro Kenshuusei in November 2012, she was a first year middle school student.[1] She graduated from high school in March 2018.
The following list are notable friendships Kishimoto Yumeno has acquired:
Her parents named her Yumeno because they wanted her to grow up holding onto hers dreams (夢; yume).[15] It is in hiragana because they thought it looks cuter than written in kanji and the hiragana in her name are all round (ゆめの).[16]
Here is a list of nicknames that have been used to refer to Kishimoto Yumeno:
Kishimon (きしもん): Official nickname, given to her since joining Hello Pro Kenshuusei.
Name: Kishimoto Yumeno (岸本ゆめの)
Nickname: Kishimon (きしもん)
Birthdate: April 1, 2000
Birthplace: Osaka, Japan
Blood type: B
Height: 167cm
Western Zodiac: Aries
Eastern Zodiac: Dragon
Hello! Project Status:
UP-FRONT PROMOTION Status:
Tsubaki Factory Member Color: Yellow
Hello! Project groups:
Shuffle Units:
Other Groups:

Otome Manji Gakuen (2018)
Specialty: Braiding, big eater (eating a lot), volleyball underhand pass, winking
Hobbies: Abs, watching comedy, walking, jogging, karaoke
Favorite Music Genre: Soul music
Favorite Food: Karage made by her mom (dried food)
Favorite Color: Gold
Charm Point: Working on her rapping
Favorite Sport: Marathon
Motto: Pinchi wa chansu (ピンチはチャンス; Pinch chance)
Favorite Tsubaki Factory Song: Seishun Manmannaka!
Favorite Hello! Project song: "Yuke Yuke Monkey Dance", "BOMB BOMB JUMP", "FARAWAY", "Kaccho Ii Uta", "VERY BEAUTY", "Magic of Love"
Looks Up To: Oda Sakura, Sato Masaki, Shimizu Saki, Tsugunaga Momoko, Inaba Manaka
[2001] Honmamon (ほんまもん)
[2009] Rekishi Hiwa Historia (歴史秘話「ヒストリア」)
[2010] Kodomo wo Mamore (子どもを守れ)
[2011] Omiyasan 8 (おみやさん)
[2011] Mito Komon Dai 43Bu (水戸黄門 第43)
[2020–] 60TRYbu (60TRY部) (Tuesday regular)
She thinks she won't lose to any other member in having light brown skin.
She wants to be an idol that is praised by everyone.
Tsunku said that she has a positive personality and seems to be up for doing anything.
In the March 2014 issue of Gekkan Entame, she was ranked the 2nd best at MC in Hello Pro Kenshuusei.[17]
She wanted to join Hello Pro Kenshuusei because she thought she could polish up her singing and dancing.
For her, the best thing about Hello Pro Kenshuusei was when she got to sing the parts of seniors she admires at the Nama Tamago show.
For her, the hardest thing about Hello Pro Kenshuusei is when newer Kenshuusei get more work than her.
She wants to try singing "Akai Nikkichou" by Akagumi 4.
She says that she couldn't attend all Kenshuusei lessons due to living in Osaka, but because so many new Kenshuusei joined after her, she says she would keep working hard.
Her rivals in Hello Pro Kenshuusei were Makino Maria and Wada Sakurako. They spend a lot of time together, they've known each other for a while, and they're friends, but lately she feels like Maria has been getting better than her at performances so she feels more of a rivalry between them.
She was sad because she felt that her generation-mates in Kenshuusei were getting better and getting more work as a result and she wondered why she hadn't improved as much as them.
Her dream is to become a perfect performer like Suzuki Airi, and she'll keep going to improve herself so that she can debut.
Tsunku commented on Kishimoto: "Put forth a lot of effort into making your singing better. Work on your impressions. I want you to memorize anything and everything about the way Western singers work."
Her future goal is study various types of songs, get better at talking and appear on TV.
She has stated during an interview that she wants to go to Brazil, because this is a country so far away from Japan and she want to experience the Carnival in Rio de Janeiro.
Community content is available under
CC-BY-SA
unless otherwise noted.