Kagiriaru Moment / Mirror Mirror (限りあるMoment/ミラー・ミラー; Limited Moment / Mirror Mirror) is ANGERME's 28th single. It was released on August 26, 2020 in 5 editions: 2 regular and 3 limited.[1] The first press of the regular editions includes a random trading card of 9 kinds depending on the jacket (18 in total). Limited Edition SP includes an event lottery serial number card.
This is the last single to feature 6th generation member Funaki Musubu. Oota Haruka did not participate in the single due to her activities within the group being temporarily suspended for rule violations since February 28, 2020.
The Special BOX Set, which could only be pre-ordered from the Pony Canyon Shopping Club for a limited time, includes a Making DVD with 30 minutes of footage.[2]
"Mirror Mirror" was used as the ending theme song for HBC TV's show, Ima Nani Shiteru? starting July 23, 2020.[3] "Kagiriaru Moment" was used as the ending theme song for the TV Hokkaido show Switchon!, and the opening theme song for the local Iwate TV show BEATNIKS, during the month of August 2020.[4][5]
Tracklist
[
]
CD
[
]
Kagiriaru Moment
Mirror Mirror
Kagiriaru Moment (Instrumental)
Mirror Mirror (Instrumental)
Limited Edition A DVD
[
]
Kagiriaru Moment (Music Video)
Limited Edition B DVD
[
]
Mirror Mirror (Music Video)
Limited Edition SP DVD
[
]
Kagiriaru Moment (Dance Shot Ver.)
Mirror Mirror (Dance Shot Ver.)
Event V
[
]
Kagiriaru Moment (Dance Close-up Ver.)
Mirror Mirror (Close-up Ver.)
Featured Members
[
]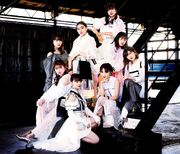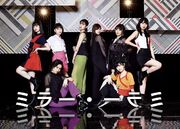 Single Information
[
]
Kagiriaru Moment
Mirror Mirror
Performances
[
]
TV Performances
[
]
Concert Performances
[
]
Kagiriaru Moment
Mirror Mirror
Chart Positions
[
]
Oricon Chart Positions

[

]
Daily & Weekly Rankings
Mon
Tue
Wed
Thu
Fri
Sat
Sun
Week Rank
Sales
-
3
30,658
15
15
4
16
19
4
35,147
18
-
-
-
-
-
30
39
979
27
-
-
-
-
-
-
96
319
-
-
-
-
-
-
-
169
125
-
-
-
-
-
-
-
Out for 1 week.
-
-
-
-
-
-
-
198
108
Monthly Ranking
| Year | Month | Month Rank | Sales | Ref |
| --- | --- | --- | --- | --- |
| 2020 | August | 10 | 35,147 | [8] |
Yearly Ranking
| Year | Year Rank | Sales |
| --- | --- | --- |
| 2020 | 95 | 36,678 |
Total Reported Sales: 36,678
Weekly Combined Ranking
| Week Rank | Points |
| --- | --- |
| 5 | 36,967 |
Total reported points: 36,967
| Week Rank | Sales | Ref |
| --- | --- | --- |
| 3 | 31,337 | [9] |
| 38 | 1,023 | [10] |
Total Reported Sales: 32,360
Recochoku Music Video Rankings
[
]
| Song | Daily Rank | Weekly Rank | Monthly Rank |
| --- | --- | --- | --- |
| Kagiriaru Moment | 4 | 9 | N/A |
| Mirror Mirror | 3 | 7 | N/A |
Other Chart Rankings
[
]
Trivia
[
]
Additional Videos
[
]
References
[
]
External Links
[
]