Kaga Kaede
(加賀楓) is a Japanese pop singer under
Hello! Project
as a 13th generation member of
Morning Musume
. She first joined Hello! Project as a member of
Hello Pro Kenshuusei
in November 2012,
[1]
and was introduced at the
Hello Pro Kenshuusei Happyoukai 2012 ~12gatsu no Nama Tamago Show!~
on December 9, 2012.
[2]
Biography
Edit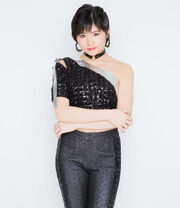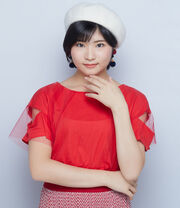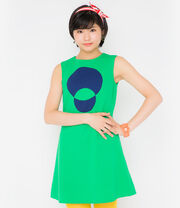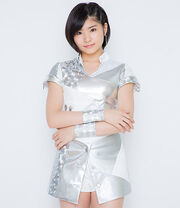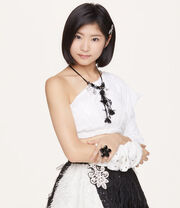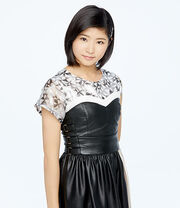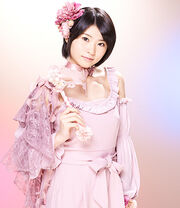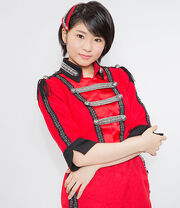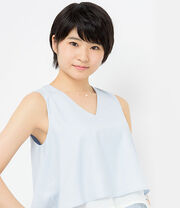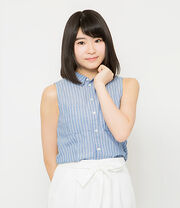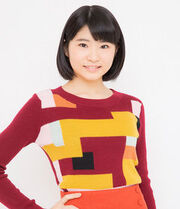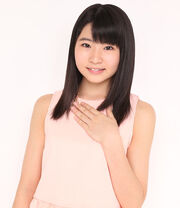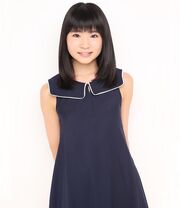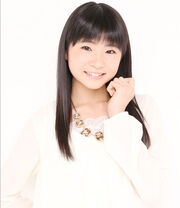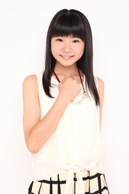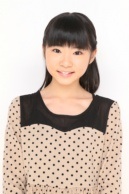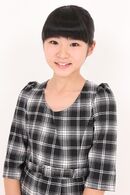 Early Life
Edit
Kaga Kaede was born on November 30, 1999 in Chiba, Japan. At some point, her family moved to Tokyo.
In summer 2012, Kaga auditioned for Morning Musume 11ki Member "Suppin Utahime" Audition for an opportunity to join Morning Musume, but did not pass.[1]
Kaga joined Hello Pro Kenshuusei in November 2012 after successfully passing an audition to join the program.[3] She was officially announced as a member on November 20,[1] and was then formally introduced at the Hello Pro Kenshuusei Happyoukai 2012 ~12gatsu no Nama Tamago Show!~ on December 9 alongside Kanazawa Tomoko, Ichioka Reina, Wada Sakurako, Kishimoto Yumeno, and Makino Maria.[2]
In January, Kaga began her Hello Pro Kenshuusei activities by participating as a back dancer in the Hello! Project Tanjou 15 Shuunen Kinen Live 2013 Fuyu tour.
From February 7 to February 17, Kaga participated in the stage play Nettai Danshi, alongside Yamagishi Riko.[4]
On March 7, a fanclub event was held for Kaga and Wada Sakurako at Pacific Heaven venue.[5] Yoshihashi Kurumi, Murota Mizuki and Nomura Minami also participated in the event as guests.[6]
On March 24, Kaga participated in Fujimoto Miki's 10th anniversary celebration alongside fellow Kenshuusei members Yoshihashi Kurumi, Hamaura Ayano, and Murota Mizuki.
Beginning on April 20, Kaga was to perform in ℃-ute's 2013 spring tour, ℃-ute Concert Tour 2013 Haru ~Treasure Box~, however couldn't participate in the entire tour due to an injury and was replaced by Kaneko Rie.
Kaga participated as a back dancer in the Morning Musume Concert Tour 2013 Aki ~CHANCE!~.
From March 14 to March 23, Kaga participated in the Bokutachi Karen na Shounen Gasshoudan musical, along with Morning Musume OG members Yasuda Kei and Ogawa Makoto, and Hello! Pro Kenshuusei members Tanabe Nanami, Hamaura Ayano, Murota Mizuki, Yamagishi Riko, Sasaki Rikako, Yamaki Risa and Oura Hirona. On the opening day, the Hello Pro Kenshuusei single "Karen na Gasshoudan" was released to promote the musical.
On May 4, Kaga was the runner-up for the judge's dance award at the Hello Pro Kenshuusei Happyoukai 2014 ~Haru no Koukai Jitsuryoku Shindan Test~ event, for her performance of SHALL WE LOVE? from Gomattou's only single .
From June 5 to June 15, Kaga participated in the musical LILIUM -Lilium Shoujo Junketsu Kageki- along with selected Morning Musume '14 members, S/mileage, and fellow trainees Tanabe Nanami and Sasaki Rikako. She played the role of Clematis, one of the followers of Princess Marguerite (played by Sato Masaki).
In 2015, Kaga was featured in the music video for ℃-ute's 27th single "Tsugi no Kado wo Magare," released on April 1st, alongside Ichioka Reina, Yamagishi Riko and Horie Kizuki as back-dancers.
On May 4, Kaga won the best performance award with 509 votes at the Hello Pro Kenshuusei Happyoukai 2015 ~Haru no Koukai Jitsuryoku Shindan Test~ event for her performance of "Love take it all".
From October 17 to November 28, Kaga participated as a member of the Hello Pro Kenshuusei opening act in the ℃-ute Concert Tour 2015 Aki ~℃an't STOP!!~.
In 2016, Kaga participated as a member of the Hello Pro Kenshuusei opening acts in the Morning Musume '16 Concert Tour Haru ~EMOTION IN MOTION~, Juice=Juice LIVE MISSION 220 ~Code3 Special→Growing Up!~, ℃-ute 12 Nenme Totsunyuu Kinen ~℃-Fes! Part 1 9gatsu 5ka mo ℃-ute no Hi at Nippon Budokan~, and ℃-ute Concert Tour 2016 Aki ~℃OMPASS~.
From November 3 to November 20, Kaga performed in the Engeki Joshibu musical Nega Poji Poji.
On December 12, during the finale of Morning Musume '16's fall tour, she was announced as a member of the 13th generation alongside Yokoyama Reina.[7][8][9] She and Yokoyama had their last performance as Hello Pro Kenshuusei members at the December 23 recital.
On February 21, Kaga and Yokoyama Reina held their debut fanclub event, Morning Musume '17 13ki Member FC Event, at Differ Ariake.
On March 2, Kaga and Yokoyama began a web talk show exclusive to fanclub members, titled Reversible Radio.[10] They also began a radio show on April 6, titled Morning Musume '17 no Morning Diary, alongside the 12th generation members.[11]
In July, Kaga joined the Hello! Project Station Dance Club.[12]
On November 30, Kaga celebrated her 18th birthday at a fanclub event titled Morning Musume '17 Kaga Kaede Birthday Event, which featured two shows at TOKYO FM HALL.
On April 19, Kaga was appointed as a tourism ambassador for Kaga Onsenkyo, a hot springs town in Ishikawa Prefecture that she shares the same kanji of her last name.[13] In November 2017, the secretary of the Kaga Onsenkyo Tourism Agency saw a Morning Musume concert and afterwards wrote a tweet wondering if he could get Kaga on a future poster for the onsen.[14] Fans started showing support with the hashtag "#加賀楓ポスタープロジェクト" (Kaga Kaede Poster Project)[15][16] and sold out Kaga Onsenkyo of their red T-shirts when they held a booth at the Asobu. Kurasu. Sodateru. SATOYAMA & SATOUMI e Ikou 2018 on March 31 and April 1.[17][18][19] The "Kaga Yontohaku 2018" campaign ran from the beginning of June 2018 to the end of March 2019 with Kaga appearing on posters and brochures.[20][21]
Kaga recorded vocals for the track "Isshakudama de Buppanase!" which was released in Hello Pro Kenshuusei's second indies album Rainbow×2 on May 6.
On November 30, she celebrated her 19th birthday at a fanclub event titled Morning Musume '18 Kaga Kaede Birthday Event, featuring two shows at LANDMARK HALL.
On May 31, it was announced that Kaga would continue working as the tourism ambassador for Kaga Onsekyo for a second year, and she would appear on new posters and brochures for the "Kaga Yontohaku 2019" campaign starting on June 1.[22][23]
On August 22, Kaga and Yokoyama Reina's fanclub-exclusive web talk show Reversible Radio ended with a total of 122 episodes.[24]
On November 29, she celebrated her 20th birthday at a fanclub event titled Morning Musume '19 Kaga Kaede Birthday Event, featuring two shows at Mynavi BLITZ Akasaka.
On November 30, she released her first photobook, titled Kaede.[25]
On January 10, Kaga starred in a commercial for the Kaga Onsenkyo Night Bar.[26]
On July 12, she opened up an official Instagram account.
On October 29, she will release her second photobook, Iroha Kaede.[27]
Personal Life
Edit
Kaga's father is the vocalist of The King of Metal Slime, a metal band, under the stage name Deb.[28]
When Kaga joined Morning Musume in December 2016, she was a second year high school student. She graduated from high school in March 2018.[29]
The following list are notable friendships Kaga Kaede has acquired:
Kaga's given name, Kaede, means "maple" (楓). It was chosen because she was born in the fall.[30]
Kaedy (かえでぃー): Official nickname, given her since Hello Pro Kenshuusei. The nickname is also spelled as Kaedi (かえでぃ).
Name: Kaga Kaede (加賀楓)
Official Nickname: Kaedy (かえでぃー)
Birthplace: Chiba, Japan
Birthdate: November 30, 1999
Blood type: A
Height: 163cm
Western Zodiac: Sagittarius
Eastern Zodiac: Rabbit
Hello! Project Status:
UP-FRONT PROMOTION Status:
Years in Morning Musume: 2 Years
Morning Musume Member Color: Italian Red
Hello! Project Groups:
Shuffle Units:
Other Groups:
Hobbies: Karaoke, reading, listening to Hello! Project songs, watching anime
Specialties: Trumpet, shodan in kendo[7]
Favorite Music Genre: Rock and anime songs
Least Favorite Food: Anything spicy[32]
Favorite Subject: Cooking class[31]
Worst Subject: Social studies[31]
Favorite Color: Orange
Favorite Sports: Kendo, foot race, football, martial arts
Favorite School Lunch Item: Daikon miso soup[33]
Favorite Animal: Guinea pig[33]
Favorite Anime: Kyoukai no Kanata,[34] Haikyuu!!,[34] Shingeki no Kyojin[34]
Charm Point: Being an anime otaku
Motto: Nanigoto mo tsukiru made! (何事も尽きるまで!; Do everything until the end!)
Favorite Hello! Project Song: "One・Two・Three,"[31] "Tsumetai Kaze to Kataomoi," "Love take it all," "Onna ga Medatte Naze Ikenai", "Hana Moyou"[30]
Looks Up To: Sayashi Riho[31]
Publications
Edit
See also: List:Kaga Kaede Publications Featured In
Solo Photobooks
Edit
TV Programs
Edit
Magazines
Edit
[2017–2019] Reversible Radio (リバーシブルラジオ) (fanclub exclusive)
[2017–] Morning Musume '19 no Morning Diary (モーニング娘。'19のモーニングダイアリー)
[2018-] Morning Musume '19 no Morning Jogakuin ~Houkago Meeting~ (モーニング娘。'19のモーニング女学院〜放課後ミーティング〜)
She practices kendo (martial art sword fighting).
She thinks she won't lose to any member in her vocal quality.
In the March 2014 issue of Gekkan Entame, she was ranked 2nd best at physical activity in Hello Pro Kenshuusei.[35]
She wanted to join Hello Pro Kenshuusei after failing the Morning Musume 11th Generation ~Suppin Utahime~ Audition because she didn't want to give up on her dream.
For her, the best thing about Hello Pro Kenshuusei was when she got a solo part in their original song, whereas the hardest thing about Hello Pro Kenshuusei was when she failed the Morning Musume 12th Generation ~Mirai Shoujo~ Audition.
She sang "Maji Bomber!!" for the Hello Pro Kenshuusei Happyoukai 2013 ~Haru no Koukai Jitsuryoku Shindan Test~ event. After this performance, Tsunku told her that she needs to work on her confidence and expressions more and that he wants her to become "Lady Kaga".
She won runner-up for dancing at the Hello Pro Kenshuusei Happyoukai 2014 ~Haru no Koukai Jitsuryoku Shindan Test~, and the public vote at Hello Pro Kenshuusei Happyoukai 2015 ~Haru no Koukai Jitsuryoku Shindan Test~ after singing "Love take it all".
She wants to try singing "Kanashiki Heaven" by ℃-ute.
The Kenshuusei members had a surprise celebration for Kaga's 14th birthday during a lesson, as shown in her 2013 winter interview video uploaded on YouTube.[36]
Her first rival in Hello Pro Kenshuusei was Murota Mizuki because she considered her the most well-rounded overall at everything in the Kenshuusei, among the top at singing and dancing. After Murota made her debut, her new rival became Horie Kizuki.
She spent her time thinking of how she can stand out not just in Hello Pro Kenshuusei, but in Hello! Project as a whole.
Her dream was to join Morning Musume. She didn't think she could at her level, but she wanted to be able to pass the next audition by the time it came around. If she could get into Morning Musume, she wants to be the ace.
She also wanted to join a group like ℃-ute, where they focus on their singing and dancing. In an interview with Top Yell in July 2016, she said her future dream was to debut in Hello! Project and be someone who can sing, dance, and act.
Tsunku commented on Kaga as a Hello Pro Kenshuusei member in late 2013: "You've grown in both singing and dancing. Next will be your character. You can decide where you stand if you can make yourself improve more and more in your singing, dancing, and the fact that you're not super beautiful, as well as creating a character that other people get attached to. It should be a character that stands alone as 'Kaede Kaga!'"[37]
Besides Hello! Project, Kaga also listens to aiko, SPYAIR, and AAA. She especially likes The Super Ball and Walküre, who, including SPYAIR, she discovered from anime.[38]
If she could be reborn as someone else, she would be Niigaki Risa because she likes her somewhat husky voice.[30]
She believes she is the Hello! Project member who can not be beaten in extensiveness as an otaku. She likes anime, games, and manga and gathers news on them as a hobby.[30]
If she did not become an idol, she would have pursued her childhood dream of becoming a police officer. She had been told she has a strong sense of justice, like a police officer, around other kids. Since she was in a brass band in school, she also wanted to join the police brass band.[30]
Kyoukai no Kanata was the first anime series she watched. Before, Kaga was the type of kid who just played outside and did not watch anime at all. She became interested in her first year of middle school when her friends were talking excitedly about Kyoukai no Kanata and they recommended it to her. Even though she started in the middle of the show, she became addicted and rewatched the recordings about 10 times. After that she started looking for more series.[34]
Her favorite voice actress is Yuki Aoi for her role as Diane in Nanatsu no Taizai. She was so impressed that she started watching other anime Yuki was in.[34]
In the registration form for Hello Pro Kenshuusei, she confused "place of birth" with "place where she lives", and mistakenly wrote "Tokyo" as her place of birth. Kaga Kaede lives in Tokyo, but was actually born in Chiba Prefecture. [39]
References
Edit
External Links
Edit
Community content is available under
CC-BY-SA
unless otherwise noted.