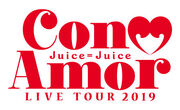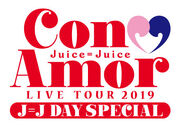 Juice=Juice LIVE TOUR 2019 ~Con Amor~ was Juice=Juice's fall 2019 live tour. It ran from September 8 to November 30, 2019.
A special show was held on October 10 at Mynavi BLITZ Akasaka, under the title Juice=Juice LIVE TOUR 2019 ~Con Amor J=J DAY SPECIAL~, to celebrate Juice=Juice no Hi (Juice=Juice Day).
This was the first tour to feature new members Kudo Yume and Matsunaga Riai.
Setlist
[
]
Dance Performance
MC
MC
Fiesta! Fiesta!
Encore
Performance Varies
MC
Performance Varies
Dance Performance
MC
MC
MC
Featured Members
[
]
Absentees
[
]
Miyamoto Karin will be absent from the October 19 shows due to poor health.[1]
Concert Schedule
[
]
Date
Venue
Prefecture
Doors Open
Concert Starts
9/8
Hiroshima CLUB QUATTRO
Hiroshima
12:45
13:30
16:15
17:00
9/11
Shinjuku ReNY
Tokyo
17:45
18:30
9/14
Aomori QUARTER
Aomori
13:00
13:30
16:00
16:30
9/15
Koriyama Hip Shot Japan
Fukushima
13:30
14:15
16:45
17:30
9/21
Kichijoji CLUB SEATA
Tokyo
14:00
14:30
17:00
17:30
9/23
Yokohama Bay Hall
Kanagawa
14:00
14:45
17:15
18:00
9/28
Saga GEILS
Saga
14:00
14:30
17:00
17:30
9/29
Fukuoka DRUM LOGOS
Fukuoka
13:30
14:15
16:45
17:30
10/5
Gifu club-G
Gifu
14:00
14:30
17:00
17:30
10/6
Nagoya ReNY limited
Aichi
14:00
14:45
17:15
18:00
10/10
Mynavi BLITZ Akasaka
Tokyo
17:30
18:30
10/19
Okayama CRAZYMAMA KINGDOM
Okayama
14:00
14:30
17:00
17:30
10/20
Kyoto FANJ
Kyoto
13:30
14:15
16:45
17:30
11/9
Music Town Oto-Ichiba
Okinawa
13:00
13:30
16:00
16:30
11/16
OSAKA MUSE
Osaka
14:00
14:30
17:00
17:30
11/17
Okayama CRAZYMAMA KINGDOM
Okayama
14:00
14:30
17:00
17:30
11/23
Tochi CARAVAN SARY
Tochi
13:00
13:30
16:00
16:30
11/24
Takamatsu MONSTER
Kagawa
12:00
13:00
15:30
16:00
11/30
Otaru GOLD STONE
Hokkaido
12:30
13:00
15:30
16:00
Trivia
[
]
Gallery
[
]
References
[
]
External Links
[
]
Juice=Juice
Members
Current Members

Former Members
Units & Other Groups
In-group Subunits
Associated Acts