Izutsu Himi (井筒日美) is a Japanese lyricist. She uses the name Uezono Ayune (上園彩結音) for her work in anime and video games.
Biography
[
]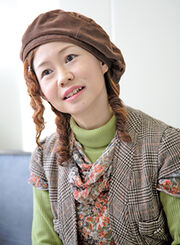 Izutsu Himi was born on February 16 of an undisclosed year.[1] Her grandfather was an Obaku monk, one of Japan's three Zen sects. Therefore she was encouraged by her grandparents to become familiar with classical Japanese writing and history from childhood.
At 5 years old, Izutsu learned to play the piano from her aunt, who was a music and piano teacher, and she continued taking lessons up until university. She also joined the choir club as a soprano in her first year of high school and sang in prefectural and national competitions.
She graduated from Ryukoku University Law School.[2]
In 2005, she made her debut as a songwriter with Shibasaki Ko's "Adokenai Nukumori". Since 2009, she has used the alias Uezono Ayune for the Hakuoki video game series and other anime and video game related music.
Profile
[
]
Birth Name: Izutsu Himi (井筒日美)
Aliases: Uezono Ayune (上園彩結音)
Birth Date: February 16[1]
Western Zodiac: Aquarius
Lyrics Credits
[
]
References
[
]
External Links
[
]