It's Up To You / HAPPY NAKED!! / BIG BANG is the 27th indies single by Up Up Girls (Kari), as well as their 6th triple a-side single. It will be released on December 10, 2019. Release events for the single began on November 30, 2019.
Tracklist
It's Up To You
HAPPY NAKED!!
BIG BANG
It's Up To You (Instrumental)
HAPPY NAKED!! (Instrumental)
BIG BANG (Instrumental)
Featured Members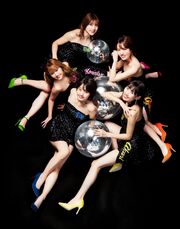 Single Information
It's Up To You
Lyrics: Ogura Asuka
Composition, Arrangement: Komine Takuma
HAPPY NAKED!!
Lyrics: NOBE
Composition: michitomo
Arrangement: michitomo, ENIXES(GOLDTAIL)
BIG BANG
Lyrics: Hiwatari Sutsuka
Composition, Arrangement: COMRIZED
Trivia
"HAPPY NAKED!!" was first performed on October 27, during a live performance at Shinjuku BLAZE. Furukawa Konatsu choreographed the dance for the song.[1]
Additional Videos
References
External Links