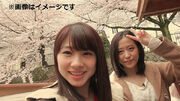 Ishida Ayumi & Oda Sakura (Morning Musume '16) no "Love-Love Date in Kyoto ~Sakura to Issho ni Sakura wo Mi ni Ikou!~" Kanzenhan (石田亜佑美&小田さくら(モーニング娘。'16)の「ラブラブデート in 京都 ~さくらと一緒にサクラを見に行こう!~」完全版; Ishida Ayumi & Oda Sakura (Morning Musume '16) in "Love-Love Date in Kyoto ~Let's Go See the Cherry Blossoms with Sakura!~" Complete Edition) is the first Girls Night Out DVD, featuring Morning Musume '16 members Ishida Ayumi and Oda Sakura from their Girls Hang Out segments shown in episodes #13 to #15. It was released on October 4, 2016 through the e-LineUP! web store.
The DVD includes audio commentary and unreleased footage.
Tracklist
Edit
Fuan'na Start! Opening (不安なスタート!オープニング; Uneasy Start! Opening)
Surechigau Futari Jishu Jinja (すれ違う2人 地主神社; A Disagreement Between the Two at Jishu Shrine)
Obanzai de Obanza~i! CHERiYA (おばんざいでおばんざ~い!CHIERiYA; A Banza~i! for Obanzai at CHERiYA)
Zeppin Kinako Ice Gion Kinana Honten (絶品きなこアイス 祇園きなな 本店; Exquisite Kinako Ice Cream from the Gion Kinana Main Store)
Sakura to Sakura Okazaki Sakura・Wakaba Kairou Jukkokubune Meguri (さくらとサクラ 岡崎さくら・わかば回廊 十石舟めぐり; Sakura and Cherry Blossoms, a Boat Ride Through a Canal of Okazaki Cherry Blossom Trees and Fresh Verdure)
Hajimete no Omatcha Murin-an (初めてのお抹茶 無鄰菴; First Time Drinking Matcha Tea at the Murin-an Garden)
Shougeki no Happening! Issen Yoshoku Honten (衝撃のハプニング!壹錢洋食 本店; Shock Happening! at the Issen Yoshoku Main Store)
Sakura Namiki wo Sanpo Gion Shirakawa (さくら並木を散歩 祇園白川; Walking Alongside the Cherry Blossom Trees of the Shirakawa Street in Gion)
Futari wa Couple? Kamogawa (2人はカップル? 鴨川; Are These Two a Couple? at Kamo River)
Kirei ni Dai Henshin!! Maiko Taiken Sho Gion AYA (綺麗に大変身!!舞妓体験処 ぎをん彩 -AYA-; A Beautiful Makeover!! Maiko Makeover Experience at Gion AYA)
Mikoukaishuu (未公開集; Unreleased Compilation)
Featured Members
Edit
External Links
Edit
Community content is available under
CC-BY-SA
unless otherwise noted.