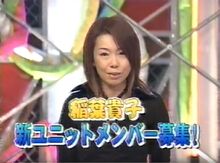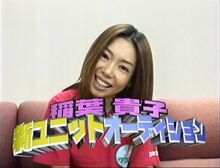 The Inaba Atsuko Shin Unit Audition (稲葉貴子新ユニットオーディション; Inaba Atsuko New Unit Audition) was an Hello! Project audition and one of several Hello! Project Auditions announced on Hello! Morning. The purpose of this audition was to find new members for a unit featuring Inaba Atsuko after T&C Bomber disbanded.
The audition was open to applicants from December 2000 to February 5, 2001. Requirements was girls between the ages 17-20 years. Those who passed would be notified by February 11, with the second screening being conducted on March 4th.
After the first announcement, a second announcement was made on Hello! Morning on March 18. 18 people went on to the second screening, but as no suitable applicants were selected in the first round, the audition was prolonged to a new deadline on May 14, with the second screening being conducted on June 3rd.
The second round also proved unsuccesfull, and the idea of a new unit was shelved.[1]
Screenshots
Edit
First announcement
Edit
Second announcement
Edit
Reference
Edit
Community content is available under
CC-BY-SA
unless otherwise noted.