Iikubo Haruna (飯窪春菜) is a Japanese pop singer, actress, and model. She is a former 10th generation member and sub-leader of Morning Musume under Hello! Project and a former member of the SATOYAMA movement unit DIY♡.[1] She is also a former girls' magazine model under the name Dan Hau (壇 はう).[2][3] She graduated from Morning Musume '18 and Hello! Project on December 16, 2018 to work as a multitalent.[4][5] At the same time as her graduation, she became the producer and voice of the virtual idol Ni-na (ニーナ).[6][7][8]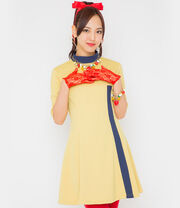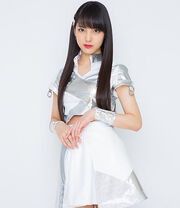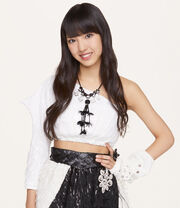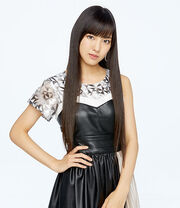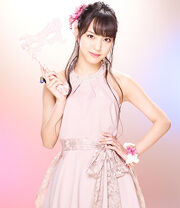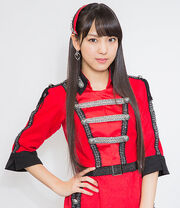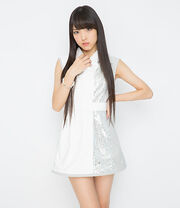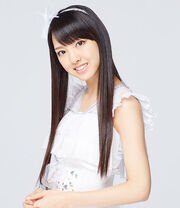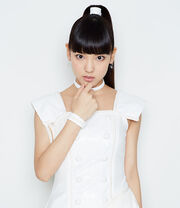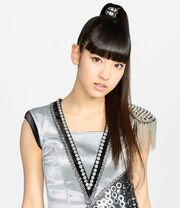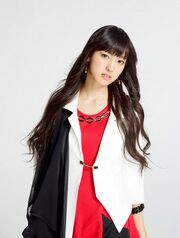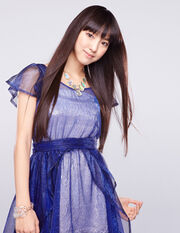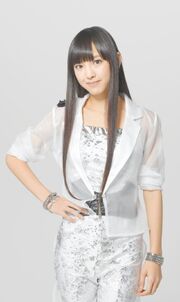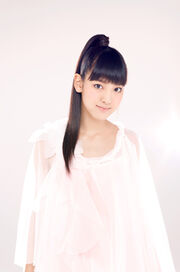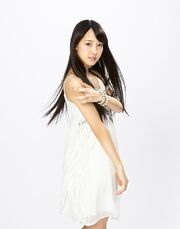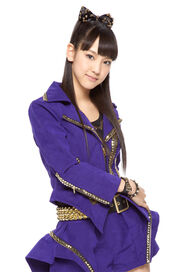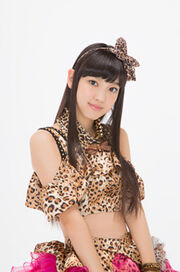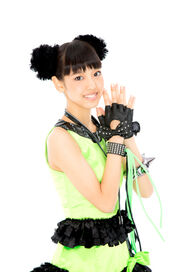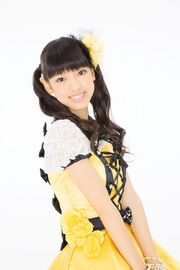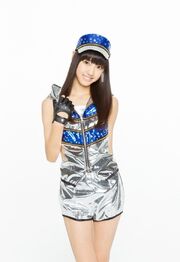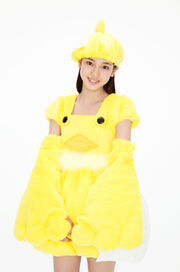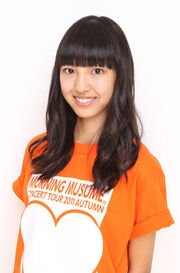 Iikubo Haruna was born on November 7, 1994 in Hachioji, Tokyo, Japan.[9]
In 2007, Iikubo became a talent under Hearts Agent.[10] She left the agency around the beginning of 2009.
In 2009, she won the special award in a model audition for girls' fashion magazine Love Berry, and afterwards signed with FOSTER, the agency who ran the audition, under the stage name Dan Hau.[2][3] She first appeared in the June 2009 issue of the magazine and "graduated" from Love Berry (left the project) in the February 2011 issue. 
On September 29, Iikubo was selected from the Morning Musume 10ki Member "Genki Jirushi" Audition to join as a 10th generation member of Morning Musume along with Ishida Ayumi, Sato Masaki and former Hello Pro Egg member Kudo Haruka.[11] They made their official introduction on the same day they were announced as new members at the Morning Musume Concert Tour 2011 Aki Ai BELIEVE ~Takahashi Ai Sotsugyou Kinen Special~ concert, and they participated in the performance of the songs "Tomo" and "Namidacchi".
On January 13, the Morning Musume 9th generation and 10th generation members began a web talk show exclusive to fanclub members, titled Honki DE Hichou!.[12] They also began a radio show on April 7, titled Morning Musume no Morning Jogakuin ~Houkago Meeting~, on Radio Nippon.[13]
On April 18, it was announced that Morning Musume's Tanaka Reina and the 9th and 10th generation members would participate in a new musical, titled Stacies Shoujo Saisatsu Kageki. The musical ran from June 6 through June 12.
On May 13, information was released about an event featuring Morning Musume's 9th and 10th generation and S/mileage's 2nd generation, titled Mosuma FC Event ~Gachi☆Kira~. The event would take place throughout June and at the beginning of July.
On July 20, it was announced that Iikubo, Yajima Maimi, Tokunaga Chinami, Natsuyaki Miyabi and Nakajima Saki were chosen to form the SATOYAMA movement unit DIY♡.[14] The unit released an indies single, titled "Forefore ~Forest For Rest~ / Boys be ambitious!" with GREEN FIELDS, on November 7, also Iikubo's 18th birthday.
On July 27, it was announced that Iikubo would change her Morning Musume color from Chocolate. Her new color, Honey, was revealed in a Ustream show on July 30.[15]
In April, Iikubo became a regular on the radio show Young Town Doyoubi, replacing Mitsui Aika.
On May 16, the Morning Musume 9th generation and 10th generation members' fanclub-exclusive web talk show Honki DE Hichou! ended with a total of 70 episodes.[16]
On May 21, at Tanaka Reina's graduation concert, she appointed Iikubo and Fukumura Mizuki as the new sub-leaders of Morning Musume.[1]
On November 7, Iikubo celebrated her 19th birthday. The special event was called Iikubo Haruna Birthday Event 2013, which included the participation of Ishida Ayumi and Oda Sakura. The event was held at TOKYO FM HALL and had two performances.
On July 31, Iikubo was a special guest on the Nico Live stream event for the game Zelda Musou (known as Hyrule Warriors outside of Japan). During the event, she talked about The Legend of Zelda series and played the demo.
On November 7, Iikubo celebrated her 20th birthday at a fanclub event called Morning Musume '14 ~Iikubo Haruna Birthday Event 2014~. It featured two performances at TOKYO FM HALL.
In addition to Morning Musume '15 providing the theme song "Ima Koko Kara" for the Pretty Cure All Stars Haru no Carnival♪ movie released in theaters on March 14, three exclusive characters were voiced by Iikubo, Ishida Ayumi, and Oda Sakura. Their appearances were based on illustrations by Iikubo, with her own character (also named Haruna) being honeybee-like.[17]
On March 16, Iikubo participated in the Digital Content of the Year '14 / The 20th AMD Award Ceremony as an assistant moderator.[18]
On November 9, Iikubo celebrated her 21st birthday at a special event called Morning Musume '15 Iikubo Haruna Birthday Event, featuring two performances at TOKYO FM HALL.
On November 14, Iikubo celebrated her 22nd birthday at a special event called Morning Musume '16 Iikubo Haruna Birthday Event, featuring two performances at TOKYO FM HALL.
On January 28, Iikubo released her first solo photobook Haruiro.[19]
On July 14, Iikubo released a digital song with Kanazawa Tomoko titled "Obaka Neko to Obaka Neko Baka no Uta".
On September 20, Iikubo became the longest serving sub-leader in the history of Morning Musume, beating Niigaki Risa's previous record of 4 years, 3 months, and 28 days.
On November 7, Iikubo celebrated her 23rd birthday at a fanclub event titled Morning Musume '17 Iikubo Haruna Birthday Event, which featured two shows at TOKYO FM HALL.
On November 8 and 9, the 10th generation members of Morning Musume '17 held a fanclub bus tour titled Morning Days Happy Holiday 10ki Member Iikubo Haruna・Ishida Ayumi・Sato Masaki・Kudo Haruka Fanclub Tour in Yamanashi.
On May 12, Iikubo released her first visual photobook and second overall photobook, titled female.[20]
On August 17, she announced her graduation from Morning Musume '18 and Hello! Project at the end of the Morning Musume '18 Concert Tour Aki ~GET SET, GO!~, after which she would continue working in the entertainment industry.[4][21]
I, Iikubo Haruna, with this year's autumn tour
will be graduating from Morning Musume。'18 and Hello!Project.
Last year in September, Morning Musume。 welcomed its 20th Anniversary, along with spending the 20th anniversary year,
I ended up thinking about not just Morning Musume。's future but my own future as well.
As a group, doing activities and concerts are the most fun,
Even saying 「concerts」, it's not just the song and dance, it's MC and song performing too
Everything is a performance, including concerts.
Other than singing and dancing,
I like plays too,
I like talking on the radio,
I like introducing manga,
I like fashion,
I like overseas,
I like connecting with people,
there's lots I want to do, dreams too, really there's lots.
I know it's greedy.
But, this, all of it, getting to know the things I like, it's because I had Morning Musume。.
Morning Musume。 for me, this world's infinite possibilities, hope, and love, I learned about it.
And time is finite too.
What is it that I want to challenge myself with most right now?
When I think about it there were lots I want to challenge myself with.
This year, I'm going to be 24.
So I can do the things I want to challenge myself with,
with this timing, going solo, I felt I want to challenge myself to many more things.
After graduating as 「Iikubo Haruna」, I feel I want to continue doing my best in the entertainment world.
I might not get satisfying results for all the challenges but,
for everyone supporting me, I'll do my best so I can make lots of announcements!
With my time left, with the members and all the fans, I want to treasure the time even more, I want to increase my memory album of 「Morning Musume。」.
And after graduating too I'll focus on getting your love so, please continue to support me forever!
Morning Musume。'18 Iikubo Haruna
On November 7, she celebrated her 24th birthday at a fanclub event titled Morning Musume '18 Iikubo Haruna Birthday Event at Katsushika Symphony Hills Mozart Hall.
On November 8, she became the main MC for the JFN radio program Min 5 Chara-Van (a pun on "Caravan") which introduces various local characters and mascots from across the country.[23]
On November 25, Iikubo announced on her blog that she sings the ending theme song "???" for the VR YouTube stream VER. (Version Dot) in collaboration with virtual YouTuber Midori Todo.[24] The song premiered at the end of the special Virtual Star Tanjou! VER. Jushoushiki ~Densetsu no Hajimari~ broadcast that day.[25]
On November 26 and 27, she held the Morning Days Happy Holiday Iikubo Haruna Fanclub Tour in Kinugawa.
On December 15, Iikubo announced she would produce and lend her voice to the virtual idol Ni-na under the VR corporation HIKKY.[6][7][8] Also, on that evening's broadcast of Young Town Doyoubi, it was announced that Iikubo would continue as a regular on the radio show.[26]
On December 16, she graduated from Hello! Project and Morning Musume '18 at Nippon Budokan.[27][28] The next day she joined Just Production in partnership with UP-FRONT PROMOTION, and opened a personal Ameba blog[29] and official Twitter and Instagram accounts.[30][31]
In the first post on her new blog, Iikubo announced that she had joined M-line club.[29]
In the beginning of January, Iikubo transferred from UP-FRONT PROMOTION to J.P ROOM as her primary agency.[32]
On March 23, Iikubo announced that she would make her first post-Hello! Project drama appearance in episode 8 of Hikari TV's Toubou Ryourinin Watanabe on May 10.[33][34]
On March 28, Iikubo, as the virtual idol Ni-na, uploaded her first cover video of the Vocaloid song "Charles" to YouTube.[35] The song is originally by Vocaloid producer balloon using the Vocaloid flower.
In April, she along with model Kondo Chihiro became regulars in the Wednesday "Oshare Sanpo" corner of CBC TV's Chant!,[36] the same corner which Takahashi Ai and Niigaki Risa had become regulars for a month before.[37]
On April 20, she was a guest model in the TGC KUMAMOTO 2019 by TOKYO GIRLS COLLECTION at Grandmesse Kumamoto.[38]
Iikubo starred in the MBS/TBS drama Toritsu Mizushou! ~Reiwa~, the second live adaptation of the novel Toritsu Mizushou! about a fictional high school that teaches water trade skills, which began airing on MBS on May 5 and TBS on May 7.[39][40] She was casted as a Nukui Nene, a gyaru-style student in the Cabaret Club Department.[41]
On May 18, she was a model in the Rakuten GirlsAward 2019 SPRING/SUMMER at Makuhari Messe.[42]
From June, Iikubo appeared as the fall 2019 poster model for the "Copywriter Academy Course" by Sendenkaigi, the leading publishing and communications company in Japan.[43][44][45]
On August 8, she announced a clothing collaboration with the brand KANGOL REWARD, which opened for orders on September 4.[46][47]
On September 19, she began a video series on Square Enix's official YouTube channel, titled "Iikubo Haruna to Kanta no Game Future!", in which she plays various games published by Square Enix.[48][49]
On October 9, it was announced that Iikubo would star in the short film Phantasm, which is part of the omnibus horror film Gekijouban Hontou ni Atta Kowai Hanashi 2019 ~Fuyu no Tokubetsu Hen~ that will release in theaters on November 16.[50]
Iikubo held her first M-line club event, titled Iikubo Haruna FC Event '19 ~Akabanebashi Kara Shibuya Made Harunan GO!~. Three shows took place on October 19 at Pacific Heaven, and two shows took place on November 7 at Shibuya SHIDAX Culture Hall in celebration of her 25th birthday.[51]
On March 5, it was announced that she would make an appearance in the television drama FAKE MOTION -Takyuu no Osho airing in April.[52]
On April 9, it was announced that she would appear as one of the two MCs in BEYOOOOONDS' variety show, KURAGAE ~Watashitachi no Koto, Oshite Kudasai!~, on April 15 and April 22.[53]
Some time before February, she pitched the idea for the Hello! Anison Bu (Hello! Project Anime Song Club) YouTube channel and became the channel MC and Club President. The channel was opened to the public on June 4.[54]
On October 12, she started a bi-weekly gaming show on Japanese live streaming service Mildom, titled "Harunan's ROOM".[55][56]
On October 21, she released another wave of collaboration T-shirts with the clothing brand KANGOL REWARD, which were made to order.[57]
On December 24, it was announced that Iikubo Haruna had tested positive for coronavirus after undergoing a test due to feeling unwell. She is currently receiving medical treatment and is complying with quarantine measures at the hospital.[58]
When Haruna was born, her parents were both 19 years old.[59] Her mother was a model for a couple of years. Her grandmother is a florist. She is the oldest of three daughters. She calls her first sister who was born in 1998[60] the "gyaru",[61] and her second sister who is about 9 years younger the "otaku".[62] On December 2, 2018, her first sister gave birth to a child[63] who she will raise as a single mother.[64] Iikubo's family has two males cats, a Maine Coon named Rai-kun (ライくん) and a Ragdoll named Silky (シルキー).[65] She also had a hamster named Rana-chan (ラナちゃん) who passed away in December 2016.[66]
When she auditioned for Morning Musume, Iikubo was a second year high school student. In April 2013, she graduated from high school.
Despite being born in November during the fall season, Iikubo's mother chose the Haruna (春, haru, meaning "spring") because it sounds cute.[71][72] Her mother also had trouble choosing between Haruna or Haruka because of the character Haruka in 1994 TV drama Tokyo Daigaku Monogatari who she thought was cute.[72] Since she was also a fan of Nakamori Akina at the time, her mother took the "na" (菜) from Akina (明菜) for it to become Haruna in the end.[72]
Here is a list of nicknames that was used to refer to Iikubo Haruna:
Harunan (はるなん): Official nickname, given her since joining Morning Musume. Used by members and fans.
Hautan (はうたん): Her nickname as a Love Berry model, which was based on her stage name Dan Hau at the time.[3]
Name: Iikubo Haruna (飯窪春菜)
Nickname: Harunan (はるなん), Hautan (はうたん)[3]
Birthdate: November 7, 1994
Blood Type: O
Western Zodiac: Scorpio
Eastern Zodiac: Dog
Hello! Project Status:

2011-09-29: Joined Morning Musume[11]
2018-12-16: Graduated from Morning Musume and Hello! Project

UP-FRONT GROUP Status:
Years in Morning Musume: 7 Years
Official Kaomoji: ノハ*゚ ゥ ゚)
Morning Musume Color:
DIY♡ color:

Pink (2012)
Honey (2012)

Audition Song: "Maji Desu ka Ska!" by Morning Musume
Hello! Project Groups:
Shuffle Units:
Concert Units:
Other Groups:
See also: Iikubo Haruna Pocket Morning Weekly Q&A
Hobbies: Shopping, reading
Special Skills: Flower arranging, staring contests.
Favorite English phrase: "I can fly!"
Favorite Foods: Ramen, chocolate, takoyaki, okonomiyaki.
Favorite Colors: Pink, black, red, orange and light blue.
Favorite Words: "Hard work will always be rewarded".
Favorite Manga: Jojo's Bizarre Adventure, Kimi ni Todoke, Ao Haru Ride
Motto: "Do 100 good deeds a day"
Favorite Morning Musume Songs: "Kare to Issho ni Omise ga Shitai!", "Happy Summer Wedding", "Ame no Furanai Hoshi dewa Aisenai Darou?",[67] "Shabadaba Doo~"[67]
Favorite Older Songs: "Dango 3 Kyoudai" by Hayami Kentarou and Shigemori Ayumi (with Hidamari Kids and Dango Chorus), "Only Human" by K, "Tabidachi no Uta" by Mr.Children
Looks Up To: Michishige Sayumi,[67] Tsugunaga Momoko
[2013.01.22] Iikubo Haruna Alo-Hello! Morning Musume 2012|Alo-Hello! Morning Musume 2012 (アロハロ!モーニング娘。2012)
[2013.03.26] Iikubo Haruna Alo-Hello! Morning Musume Tenki Gumi|Alo-Hello! Morning Musume Tenki Gumi (アロハロ!モーニング娘。天気組)
[2011] Inu to Anata no Monogatari: Inu no Eiga (犬とあなたの物語 いぬのえいが)
[2019] Gekijouban Hontou ni Atta Kowai Hanashi 2019 ~Fuyu no Tokubetsu Hen~ (劇場版ほんとうにあった怖い話2019~冬の特別篇~) (Phantasm segment)

[2010] Glass no Kiba (ガラスの牙) (as Kumi Toda)
[2012] Suugaku♥Joshi Gakuen (数学♥女子学園)
[2019] Toubou Ryourinin Watanabe (逃亡料理人ワタナベ)
[2019] Toritsu Mizushou! ~Reiwa~ (都立水商!〜令和〜) (as Nukui Nene)
[2015] Pretty Cure All Stars Haru no Carnival♪ (映画プリキュアオールスターズ 春のカーニバル♪) (voice of Haruna)
[2012–2013] Morning Musume 9ki・10ki Member WEB Talk Maji DE Pyoko! (モーニング娘。9・10期メンバー WEBトーク 本気DE飛跳!) (fanclub exclusive)
[2012-2018] Morning Musume no Morning Jogakuin ~Houkago Meeting~ (モーニング娘。のモーニング女学院~放課後ミーティング~)
[2013-] Young Town Doyoubi (ヤングタウン土曜日)
[2018-] Min 5 Chara-Van (みん5キャラバン)
[2009] Love Digi Moving Photo Camera (ラブデジ ムービングフォト)
[2010] Love-Digi Furifuri Photo Frame (ラブデジ ふりふりフォトフレーム)
[2010] Love-Digi Pri-Seal Stick (ラブデジ プリシールスティック)
[2010] Kanpoo Senka (カンポウ専科) 
She said that when she was in elementary school, she always drew pictures of Michishige Sayumi, Niigaki Risa, and herself.
Her Morning Musume audition number was 287.
Kudo Haruka accidentally called her "Meshi" due to Kudo forgetting her nickname and misreading the first kanji of Iikubo (飯; ii) written on her concert shirt.[74]
Tsunku said he hoped Iikubo could make Morning Musume even more cute and stylish.
She said she wrote Morning Musume as a high school career choice.
When she had chocolate as a member color, she became annoyed when her color was called "brown" and not "chocolate".
She said that she's in love with Kujo Jotaro from Jojo's Bizarre Adventure.
When asked what aspect of her makeup she is most particular about, she said "cheeks and lipstick are a must."
She was the second Morning Musume member to change her member color in 2012. The first was Ikuta Erina.
Iikubo was raised in a household where her parents both liked manga, which got her into it at a young age. She likes reading shounen ("manly") manga, such as Jojo's Bizarre Adventure, but she also likes shoujo manga, which include Kimi ni Todoke and Ao Haru Ride. 
She considered Fukumura Mizuki her biggest rival.
If she could hypnotize anyone, she would hypnotize Michishige Sayumi by putting her to sleep and taking a picture of her sleeping face.
Tsunku commented about her: "She keeps growing! With talking and even as a celebrity, she keeps growing. She tries hard in singing and dancing as well, and if she just keeps this up even more, she'll surely look different soon, too. The more leveling up she does, the more stable her place in showbiz will be, as well."[75]
Her mom gave her a bottle of champagne with gold flakes as a gift for her 20th birthday. Haruna later said that she drank it with her mom, and that it tasted bitter.
She said Kudo Haruka will always be a super cute sister for her.
Her favorite voice actors are Ono Daisuke (Jotaro from Jojo's Bizarre Adventure), Kobayashi Sanae (Allen Walker from D.Gray-Man), and Minagawa Junko (Echizen Ryoma from The Prince of Tennis). Iikubo also finds Aoi Shouta's characteristic voice natural sounding, and she really likes the voices of San from Princess Mononoke and Nausicaä from Nausicaä of the Valley of the Wind.[76]
If she could be reborn as someone else, she would be Fujimoto Miki because she seems to have an easy-going life, she is popular, her looks are more than just cute, and she has a great singing voice.[67]
She thinks she is the biggest manga otaku in Hello! Project. Although 13th generation member Kaga Kaede's hobbies are also manga, anime, and video games, Iikubo believes she won't lose to her because she has been reading over 100 ongoing series.[67]
If she did not become an idol, she believes she would have become a NEET, then eventually an otaku NEET living as a hikikomori. Iikubo says she is relieved her parents allowed her to audition for Morning Musume.[67]
Iikubo, Kudo Haruka, and Ogata Haruna gave themselves the unit name "Triple A" (spelled トリプルエー or AAA) as a joke about their breast sizes.[77][78]
After changing her official member color to a yellow she calls "honey" in 2012, Iikubo created a bee character she often draws on official goods named "Honeyna" (or "Haniina", ハニーナ; a portmanteau of "Honey" and "Haruna")[79] and began the "sweet sweet honey time" corner that occasionally appears in behind-the-scenes DVDs.[80] Iikubo decided that August 2 would be the unofficial Honey Day (8 = ハ, ha; 2 = ニ, ni),[81] and she would start calling her fans "honey".[82] In 2018, Honeyna became the motif and naming origin of the virtual idol Ni-na produced by Iikubo.[8]
She is a fan of K-Pop group SEVENTEEN, and her favorite member is Joshua.
Community content is available under
CC-BY-SA
unless otherwise noted.