Iida Kaori (飯田圭織) is a Japanese pop singer, actress, and talent under UP-FRONT CREATE. She is best known as a founding member of the Hello! Project pop group Morning Musume, which she also became the second-ever leader of the group. She was also a member of the Morning Musume sub-group Tanpopo, as well as Dream Morning Musume.
Biography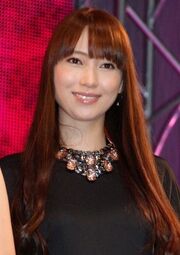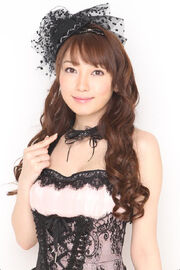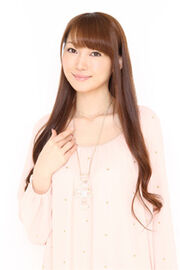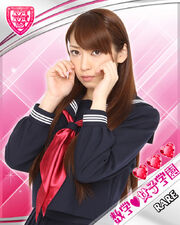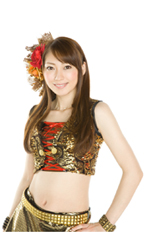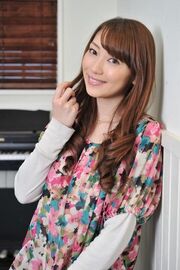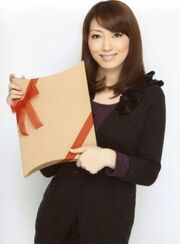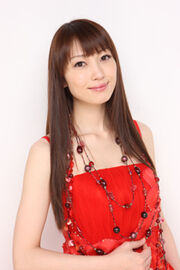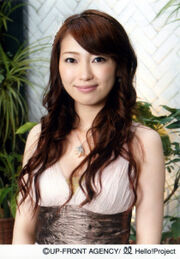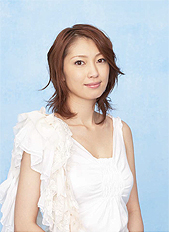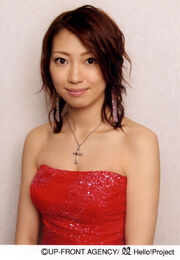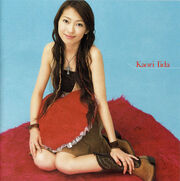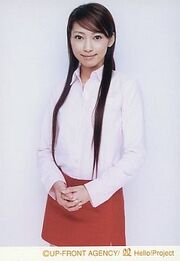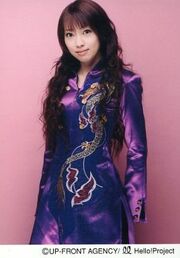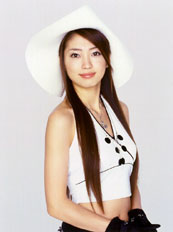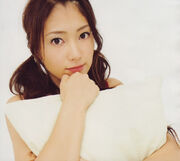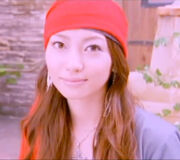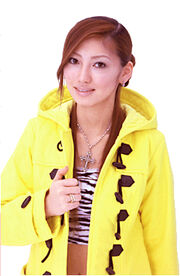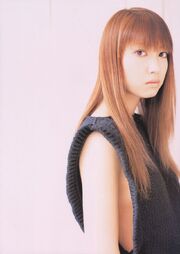 Early Life
Iida Kaori was born on August 8, 1981 in Muroran, Hokkaido Prefecture.
1997
In 1997, Iida was one of 10 runners-up in a talent contest for a new female vocalist for the rock band Sharam Q, which was fronted by Tsunku. After the contest, Tsunku offered Iida and four of the other runners-up (Abe Natsumi, Nakazawa Yuko, Ishiguro Aya, and Fukuda Asuka) the chance to be taken under his wing on one condition: They sell 50,000 CDs of their song "Ai no Tane" within 5 days. The quintet accomplished that task in 4 days and formed Morning Musume.[1][2]
1999-2001
In 1999, Tsunku placed Iida into sub-group Tanpopo with Ishiguro Aya and 2nd generation Morning Musume member Yaguchi Mari. They specialized in singing slower, more mature songs. Together they made four singles and one album. After Ishiguro graduated from Morning Musume and Tanpopo in January 2000, Iida and Yaguchi performed Tanpopo songs as a duet until Tsunku placed 4th generation Morning Musume members Kago Ai and Ishikawa Rika into the sub-group. Tanpopo's style was also given a revamping, with songs being more upbeat and pop-ish, but nonetheless still slower than Morning Musume. In this formation, Tanpopo released 3 more singles, a compilation album, and a compilation DVD.
In 2000, Hello! Project's first shuffle units were created in March and Iida was made a member of the punk-rock themed group, Aoiro 7.
In 2000, there were several Hello! Project related TV-shows led by Morning Musume. One of them was the show Idol wo Sagase, which was a show to promote new artists added to the H!P rooster. Around this time, Iida had said that her dream was to be a manager. On an episode of Idol wo Sagase, she became the manager of famous enka artist Itsuki Hiroshi, and she was able to make it a success. Following this management, it was suggested she would be the manager of Maeda Yuki. To make Maeda a TV regular, Iida Kaori arranged for her to attend another H!P show, Hello! Morning. And thanks to Iida, from April 2000, Maeda became a new member of H!P as a soloist.
After Morning Musume's then-leader, Nakazawa Yuko, graduated in the spring 2001, Iida took on the role as the group's leader.
In July 2001, Hello! Project's annual shuffle units debuted and Iida was made a member of 10nin Matsuri.
In 2001 and 2002, Iida released one photobook (Kaori KAORI Kaori) and two essay books; "Kokoro no Sketch Book" and "Lion no Marujan".
2002
In July, Tanpopo, along with other Morning Musume sub-groups Petitmoni and Minimoni, experienced changes in their membership; partly due to graduating Morning Musume members and partly to showcase the newer members. As a result, Iida graduated from Tanpopo along with Yaguchi Mari and Kago Ai.
Hello! Project's 2002 shuffle units debuted in July and Iida was made a member of Odoru♡11.
Hello! Project released a series of albums entitled "Doyou Pops." They are albums in which selected members of Hello! Project sing famous childrens' songs as well as new ones. Iida drew the CD cover of all the releases. She has also drwan the cover of her first two album releases, and the artwork of Maeda Yuki's Sarasara no Kawa.
2003
Hello! Project's 2003 shuffle units debuted in July and Iida was made a member of 11WATER
This year, Iida began pursuing a solo career. She released two albums outside of Hello! Project in which she sang covers of French, Greek, and Italian songs (in their respective languages). She also had two singles in Japanese, released in advance of her impending graduation from Morning Musume—though still set in a Mediterranean-esque style; many Western fans of Morning Musume and Hello! Project have described the style of Iida's solo material as "Euro-enka". In Morning Musume, Iida mostly sang harmony with a few solo lines. Her signature song in Morning Musume is "Yume no Naka", from the group's first album.
In September, Morning Musume was "split" into 2 sub-groups, and Iida was made leader of Morning Musume Otome Gumi.
2004
Iida started 2004 by releasing a photobook and a DVD in collaboration with Wink's Aida Shoko, called "Aegekai". These releases was followed by her debut single, which hit the shelves in February. She also released a second single in July. As opposed to her first albums which were sung in French, Greek or Italian, these singles were sung in Japanese
In May, it was announced that Iida would be graduating from Morning Musume. She would be graduating during the 2005 spring tour.[3]
There was only one annual shuffle unit formed in December 2004, the H.P. All Stars, and it was comprised of all the then-current talents of Hello! Project. Iida was the only member of Hello! Project to have participated in all shuffle units since the tradition started.
On December 29, Iida released her third album, Avenir ~Mirai~, this time within Hello! Project and in Japanese.
2005
In 2005, Iida started hosting her own radio show. It was called Chichuukai Sound Stroll.
On January 30, Iida graduated from Morning Musume to further pursue her solo career. Yaguchi Mari took over her role as Morning Musume's leader upon Iida's graduation. At the time, her tenure of over 7 years was the longest of any Morning Musume member.
In June, Iida Kaori was made a member of the shuffle unit Puripuri Pink.
On December 21, Iida released Plein d'Amour ~Ai ga Ippai~, her fourth album. This album featured songs in Japanese and many European cover songs in their original languages. This was her first album to be released since she graduated from Morning Musume.
2006
2006 was a quiet year for Iida, where she mostly performed at H!P concerts and at fan club events. One of the most promoted events was "Otona no Nouryousai Fan club tour 2006″, a collaboration fan club tour with Maeda Yuki, which was released on the DVD Hello! Days 7.
2007
In early 2007, Iida was chosen alongside Abe Natsumi, Goto Maki, Niigaki Risa and Kusumi Koharu to be a member of Morning Musume Tanjou 10nen Kinentai, a unit created to celebrate Morning Musume's 10th anniversary. Their first single, "Bokura ga Ikiru MY ASIA", was released on January 24.
2008
Iida had announced she was pregnant and getting married to Kenji. He used to be in the group 7HOUSE, a band which was managed by Tsunku. Iida started her maternity leave, and gave birth to a baby boy on January 22nd, 2008. In late November, ida announced through her fan club that her son had died on July 27, 2008 from renal failure.
2009
After the tragic death of her first son, she stated that in his memory, she would continue her career. She returned to the concert stage at the Hello! Project 2009 Winter Elder Club Kouen ~Thank you for your LOVE!~ tour, her first performance in one year and four months. She also performed at the Hello! Project 2009 Winter Kettei! Hello☆Pro Award '09 ~Elder Club Sotsugyou Kinen Special~ concert on February 1, in which she commemorated her graduation from Hello! Project along with 21 other Elder Club members.[4]
Beginning in April, she joined M-line club.[5]
2010
In September, an event for Morning Musume's 1st generation members was announced to take place on January 13 and November 20. The members were set to give a small performance and give fans a chance to interact with them at a small venue and listen to them sing many of the songs they sang when they first joined Morning Musume.[6]
Also in September, she joined the new unit Afternoon Musume with seven other OG members to promote Georgia coffee drinks.[7]
On December 23, Iida held a Christmas special live, titled Kaori Iida Christmas Live 2010 Ce Soir,tu es mon Pére Noël à moi ~Konya wa Anata ga Santa Claus~.[8]
2011
On January 27, Iida announced on her blog that she would be holding two small live events in February. She said that she would be performing love songs at Vinoteca Stage and they will be love themed for Valentine's Day. The event dates would be held on February 8 and on February 14.
On January 28, it was announced that Iida was part of the OG member group Dream Morning Musume and that they would be releasing the groups first album, called Dorimusu ①, on April 20.
2013-2017
On October 1, 2013, she was transferred to UP-FRONT CREATE.
On July 20, 2016, Iida released her fifth solo album and her first release since 2005, titled ONDAS.
In 2017, the unit Morning Musume 20th was formed to celebrate Morning Musume's 20th anniversary. The unit was formed by the five original members, including Iida, and the fourteen members of Morning Musume '17.[9]
Personal Life
Profile
Discography
Discography Participated In
Works
DVDs
Concerts
Movies
[2011] Koisuru Bentou Danshi
TV Shows
TV Dramas

Anime
[2011] Pink no Bulldog ~Utau WAN WAN~ (as Kororo)
Commercials
[2000] Glico Mousse Pocky
Radio
[2003-03] Iida Kaori - Konya mo Koushin Chuu! (飯田圭織・今夜も交信中!)
[2005-04-02] Chichuukai Sound Stroll (地中海 Sound Stroll)
Theatre
[2011.03.15-21] SAMURAI Banka ~Boushuu Bakumastuhen~ (SAMURAI挽歌~房州幕末編~)
[2011.08.31-09.11] Torimakashi produce "Shimokita hakoniwa HERATs" (トリマカシproduce「下北箱庭HERATs」)
Publications
Photobooks
Solo
Group
Essay Books
[1999-05-??/2001-06-??] Paranoia Diary (パラノイアダイアリー)
[2001] Sketchbook of Heart (心のスケッチブック。; Kokoro no Sketchbook)
[2002] Lion's Margin (ライオンのマルジャン,; Lion no Marujan) (with Kamata Toshi)
Magazines

Trivia
As a member of Morning Musume, Iida had the most singles under her belt with a grand total of 26 (including "Ai no Tane") until 5th Generation members Takahashi Ai and Niigaki Risa surpassed this in 2009.
Iida is an experienced acoustic guitar player.
Her nickname, "Johnson," comes from the hosts of Utaban constantly referring to her as such. The origin comes from the February 16, 1999 episode where Ishibashi Takaaki decided to associate each member with a baseball player (so he could remember them easier), and Iida supposedly resembled Davey Johnson. Iida's nickname is the only one that stuck.
She is the only member of Hello! Project to have been in a shuffle unit each year, and each year she has been in the largest group, with the exception of 2005, in which she was in Puripuri Pink which tied Elegies for largest, both with four members.
She attended Hokkaido Sapporo Tousei High School and later transferred to Tokyo Municipal Yoyogi High School, where she attended alongside SPEED member Uehara Takako.
She loves to draw and has published a few children's books.
Her long hair was a trademark of her image, but she cut it short not long after her graduation from Morning Musume. Since then, she has grown it out long again.
Fans and members have remarked that she must be "communicating with aliens," due to her frequent blank and spacey expressions.
She, Yasuda Kei, and Ishikawa Rika appeared in the TV Drama Suugaku♥Joshi Gakuen.
She is the one who came up with the nickname "Ayaya" for Matsuura Aya.
She helped Maeda Yuki join Hello! Project.
Prior to joining Morning Musume, she appeared in a battery commercial back in Sapporo. She was even a finalist in Komuro Tetsuya's auditions held by ASAYAN at the same time.
She once said in an interview that her dream was to be a happy mother.
She considers herself her rival.
She was the last one to leave Morning Musume in her generation.
She was the youngest member to become leader of Morning Musume until 9th leader Fukumura Mizuki.
At the Dream Morning Musume Concert Tour 2011 Haru no Mai, she was the only one to change her hairstyle during the concert, appearing at the encore with a welded tail on her left shoulder, while she had her hair down her back for the entire concert up until that point.
She is the sixth former Morning Musume member to only graduate from Morning Musume and not Hello! Project. The first being Nakazawa Yuko, the second being Goto Maki, the third being Yasuda Kei, the fourth being Abe Natsumi, and the fifth being Tsuji Nozomi and Kago Ai.
She and Junjun are the tallest members of Morning Musume.
She and Abe Natsumi were born in the same hospital 2 days apart from each other.
She is known for keeping her hair long throughout her Morning Musume career and also for "spacing out" frequently.
See Also
Honorary Titles
Family Tree
Nakagawa Kenji
(b.1979)
Iida Kaori
(b.1981)
First Son
(2008†)
Second Son
(b.2013)
First Daughter
(b.2017)
References
External Links
Community content is available under
CC-BY-SA
unless otherwise noted.