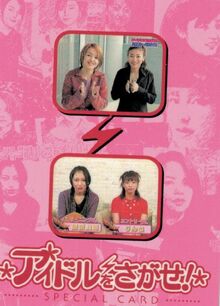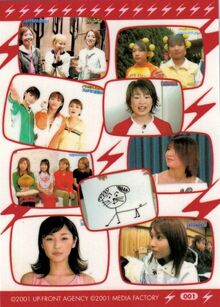 Idol wo Sagase! Koushiki BOOK (アイドルをさがせ!公式BOOK; A Search For Idols! Official Book) is a guidebook for the TV program Idol wo Sagase!. A special trading card is included. The book was released on July 19, 2001 (eight months before the show ended).
Page 004: Hajime ni
Page 007: Kanzen Report! Seisaku Tadashi-ba ni Mitchaku
Page 013: Exclusive MC Interview
Page 020: Omoide Taidan Nakazawa Yuko x Heike Michiyo

Page 022: Best 20 Meibamen

Page 044: Omoide Taidan Iida Kaori x Rinne

Page 046: Best 20 Meibamen

Page 067: Bangumi Mi Housou Scene Dai Koukai
Page 093: SPECIAL GRAVURE ~Genkei MV Sougou Produce~

Page 094: Nakazawa Yuko
Page 096: Inaba Atsuko

Page 099: Zen Housou Naiyou Data Base
Page 110: Hello! Project Tsuushin Aisaga Koushiki Book-gou Fan Ccub Kaiin Dai Boshuu-chuu
Page 111: Hokkaido Hanabatake Bokujou Report
Page 112: i-Mode & Koushiki Home Page de Hello! Project Jouhou wo Catch!
Page 113: Hello! Project Official Shop Jouhou
Page 114: Presents
Page 18, 42 66, 76, 90: Column
The Unreleased scenes in the book are:

Petitmoni jacket shooting for Seishun Jidai 1.2.3!
Iida and Rinne at the Konbini before the Editorial Challenge
Yaguchi Mari showing off in the middle of recording Pinch Runner
Heike in a submarine when visiting Guam
Country Musume Suikawari
Iida and Rinne reading fan letters at their final MC
Heike complaining to staff after recording (Heike won a punishment game and is upset the loser isn't punished)
Asami drooling
Unreleased talk scene between Heike and Nakazawa (there is tension and apologies)
Tension/awkwardness between Nakazawa and Rinne makes Rinne cry since she is nervous
External Links
Edit
Community content is available under
CC-BY-SA
unless otherwise noted.