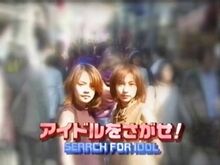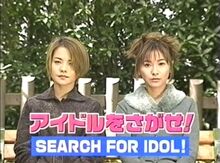 Featured MembersEdit
January 5, 1999-December 28, 1999
January 11, 2000-March 27, 2001
April 2001-March 26, 2002
Show contentsEdit
Guest talk
PV shooting coverage
Audition tracking
Drama
Challenges

Manager Challenge (Iida Kaori)
Internet Challenge
Sushi Chef Challenge
Magazine Editor Challenge
Karaoke Challenge
Takoyakiya Challenge
Newscaster Challenge
Boxing Trainer Challenge
Dog Sled Race Challenge

Other major projects

Hello Pro Okiri Tournament!
Iida Kaori's birth as a drawer/painter
Hokkaido gourmet confrontation
Nakazawa Yuko Nise matchmaking plan
Final SP in Ishigakijima
Episode ListEdit
Main article: Idol wo Sagase! Episodes
[1999.01.05] #001 Idol Talk (Showing rare photos of Heike and Nakazawa) Ending theme: Odaiba Moonlight Serenade
[1999.01.12] #002 TBA
[1999.01.19] #003 TBA
[1999.01.26] #004 TBA
[1999.02.02] #005 TBA
[1999.02.09] #006 TBA
[1999.02.16] #007 TBA
[1999.02.23] #008 TBA
[1999.03.02] #009 Making and eating ramen, first announcement of Country Musume Audition.
[1999.03.09] #010 Make-up tutorials
[1999.03.16] #011 Fragrance showdown
[1999.03.23] #012 Learning the basics of MCing
[1999.03.30] #013 Learning about making bread, Heike Michiyo & Morning Musume Imouto-bun Audition progress
[1999.04.06] #014 Heike's 20th birthday
[1999.04.13] #015 TBA
[1999.04.20] #016 Heike and Nakazawa taking acting classes
[1999.04.27] #017 TBA
[1999.05.04] #018 Learning self-defense
[1999.05.11] #019 TBA
[1999.05.25] #021 Nakazawa is called into a meeting with Horiuchi Takao
[1999.06.01] to [1999.06.22] (one of the dates within this time span is omitted. I don't know which one.)
[1999.06.29] #025 Visiting Tokyo Tower
[1999.07.06] #026 TBA
[1999.07.13] #027 Talk with the first generation of Country Musume
[1999.07.20] #028 TBA
[1999.07.27] #029 Memories of Yanagihara Hiromi
[1999.08.03] #030 TBA
[1999.08.10] #031 Country Musume's first time on stage
[1999.08.17] #032 Miyoshi Chinatsu's debut event
[1999.08.24] #033 TBA
[1999.08.31] #034 TBA
[1999.09.07] #035 TBA
[1999.09.14] #036 Nakazawa vs. Heike arcade game duels
[1999.09.21] #037 Nakazawa tries to overcome her fear of flying
[1999.09.28] #038 "Which is the luckiest?" 5-game matches
[1999.10.05] #039 Docchi ga Suteki na Josei ka wo Kimeyou (Competition between Nakazawa and Heike)
[1999.10.12] #040 Marriage meeting matches
[1999.10.19] #041 Arcade game matches part II
[1999.10.26] #042 TBA
[1999.11.12] #043 Hokkaido Gourmet Showdown
[1999.11.09] #044 Matches in Nanja Town en'nichi
[1999.11.16] #045 Bowling matches
[1999.11.23] #046 Visiting Yokohama Hakkeijima Sea Paradise
[1999.11.30] #047 Let's decorate a Christmas tree
[1999.12.07] #048 Idol wo Sagase In Guam part I
[1999.12.14] #049 Idol wo Sagase In Guam part II
[1999.12.21] #050 TBA
[2000.01.11] #052 New MCs, talking about their dreams and compability (they have different bloodtypes, oh no!)
TBA
[2000.01.25] #054 Working in a kindergarten as a kindergarten teacher
[2000.02.01] #055 Working at Inutama Dog Park
[2000.02.08] #056 Hair Cutting Challenge
TBA
[2000.02.22] #058 Sushi Chef Challenge
TBA
[2000.03.07] #060 Learning horse back riding
TBA
[2000.03.21] #062 Takoyaki Restaurant Challenge
[2000.03.28] #063 Manager Challenge
[2000.04.04] #064 Manager Iida marketing newcomer Maeda Yuki
TBA
TBA
TBA
TBA
TBA
[2000.05.16] #070 Boxing training with Rinne
TBA
TBA
TBA
TBA
TBA
TBA
[2000.07.11] #077 Magazine Editor Challenge
TBA
TBA
TBA
TBA
TBA
TBA
[2000.08.29] #084 Nagoya Gourmet Tour
TBA
TBA
TBA
[2000.10.03] #088 Visiting a product exhibition (igniting Iida as a painter)
[2000.12.05]
[2000.12.12]
[2000.12.19]
[2000.12.26]
[2001.01.23] #103 Yaminabe Competition
[2001.01.30] #104 Meeting Zobekka at Nakano Sun Plaza
[2001.02.06] #105 Rinne's 20th birthday
[2001.02.13] #106 MC Soudatsu Battle Stanze: Iida & Rinne vs. Zobekka
TBA
TBA
[2001.03.06] #109 Country Musume dog sled race competition
TBA
[2001.03.20] #111 Omoikiri Kaita Sakuhin to wa? (Iida walking the streets asking people what they think she drew) + Suenaga Mami meeting Sheki-Dol for the first time
[2001.03.27] #112 Iida and Rinne are signing off as MCs and introducing Nakazawa and Inaba as their replacements
TBA
TBA
TBA
TBA
TBA
TBA
TBA
TBA
TBA
TBA
TBA
TBA
The abbreviation for the name of the show was AiSaga (あいさが/アイさが).
As of July 2001, it aired in Kanto on TV Tokyo Nakahara, in Chukyo on TV Aiwa, in Kyushu on TXN Kyushu, in Hokkaido on TV Hokkaido, in Okayama on TV Setouchi, and in Mie on Mie TV.
Two of the theme songs are by groups outside of Hello! Project: The first is "Custard" by Chére. She was a singer signed to zetima. The second is "Baku Baku Kiss" is by Kiss no Sekai which was a group produced by Tsunku, releasing two singles from 200-2001.
In episode #16 Nakazawa takes acting lessons and has to do a cat impression, which she finds utterly embarassing as she has to act cute.
In epsiode #29, the memory episode aired after the death of Yanagihara Hiromi, they said they only talked with Yanagihara Hiromi once or twice, but Nakazawa was noticeably shaken by the news. She kept reading what she had to say and was kind of "not there"
In episode #39 Heike loses 0-8 to Nakazawa.
PublicationsEdit
BroadcastingEdit
Area
Station
Series
Date & Time
Kanto
TV Tokyo
TV Tokyo Affiliate
Tuesday 00:45 AM - 01:15 AM (1999.01.05 - 199903.30)
Tuesday 01:15 AM - 01:45 AM (1999.04.06 - 2002.03.26)
Hokkaido
TV Hokkaido
Saturday 01:50 - 02:20 (2000.10.28 - 2002.03.23)
Thursday 02:00 - 02:30 (2002.04.18)
Aichi Prefecture
TV Aichi
Tuesday 00:45 - 01:15 (1999.04.13 - 1999.09.21)
Saturday 02:05 - 02:35 (1999.10.02 - 2000.03.25)
Wednesday 01:45 - 02:15 (2000.04.05 - 2000.06.28)
Tuesday 01:15 - 01:45 (2000.07.04 - 2001.03.27)
Tuesday 00:45 - 01:15 (2001.04.03 - 2002.03.26)
Tuesday 00:55 - 01:25 (2002.04.02)
Osaka Prefecture
TV Osaka
Wednesday 00:35 - 01:05 (2000-2001)
Okayama and Kagawa Prefectures
TV Setouchi
Wednesday 00:40 - 01:10 (2001.01 - 2002.03.27)
Sunday 00:50 - 01:20 (2002.04.07)
Fukuoka Prefecture
TVQ Kyushu Broadcasting
Wednesday 00:40 - 01:10 (2001)
Tuesday 01:10 - 01:40 (2001)
ReferencesEdit
External LinksEdit