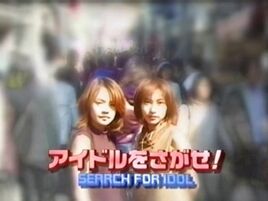 Idol wo Sagase! (アイドルをさがせ!; A Search for Idols) was a Hello! Project variety show broadcasted by TV Tokyo. It aired from January 5, 1999 to March 26, 2002.
Featured Members
Edit
January 5, 1999-December 28, 1999
January 11, 2000-March 27, 2001
April 2001-March 26, 2002
Show contents
Edit
Guest talk
PV shooting coverage
Audition tracking
Drama
Challenge planning

Challenge manager
Challenge the Internet
Challenge the sushi chef
Challenge the editors of magazines
Challenge to karaoke
Challenge to Takoyakiya
Challenge the Newscaster
Challenge the boxing trainer
Challenge the dog sled race

Other major projects

Hello Pro Okiri Tournament!
Birth image of Iida Kaori
Hokkaido gourmet confrontation
Yuko Nakazawa Nise matchmaking plan
Final SP in Ishigakijima
Episode List
Edit
[1999.07.13] #27 Talk with the first Country Musume
[1999.07.27] #29 Memories of Yanagihara Hiromi
[1999.08.17] #32 Miyoshi Chinatsu's debut event
[1999.09.21] #37 Yuuko tries to overcome her fear of flying
[1999.09.28] #38 "Which is the luckiest?" 5-game matches
[1999.10.05] #39 "Which is a nice lady?" interviews
[1999.10.12] #40 Marriage meeting matches
[1999.10.19] #41 Arcade game matches part II
[1999.11.09] #44 Matches in Nanja Town en'nichi
[1999.11.16] #45 Bowling matches
[1999.11.30] #47 Let's decorate a Christmas tree
[1999.12.07] #48 Idol wo Sagase In Guam part I
[1999.12.14] #49 Idol wo Sagase In Guam part two
[1999.12.28] #51 New MCs introduction
TBA
TBA
TBA
The abbreviation for the name of the show was AiSaga (あいさが/アイさが).
A book and several DVDs or VHS' were released for the show.
Publications
Edit
References
Edit
External Links
Edit
Community content is available under
CC-BY-SA
unless otherwise noted.