Ichii Sayaka (市井紗耶香) is a Japanese talent and former idol. She was a 2nd generation member of Morning Musume under Hello! Project, where she was also a member of the sub-group Petitmoni and the shuffle group Aoiro 7.
After her graduation from Morning Musume and Hello! Project in 2000, she formed the band Ichii Sayaka in CUBIC-CROSS a year later and also participated in the first album and concert of the Folk Songs series.
Ichii decided to retire from the entertainment industry in 2003, but made a return as a talent in 2009.
Biography
[
]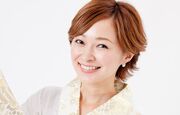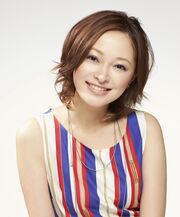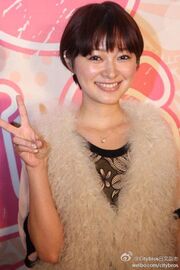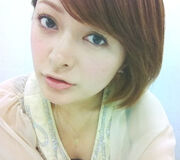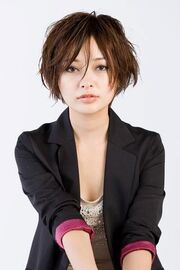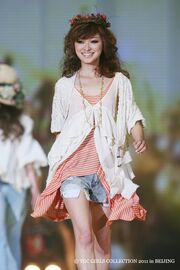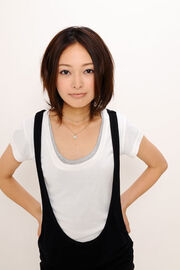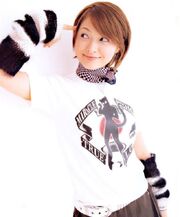 1998
[
]
Ichii Sayaka joined Morning Musume in May with fellow second generation members Yasuda Kei and Yaguchi Mari.
2000
[
]
On May 7, Ichii announced on an episode of ASAYAN she was going to graduade from Morning Musume and Hello! Project on May 21. She wanted to become a singer-songwriter and start solo activities.[1]
2001
[
]
On November 29, Ichii released the album "FOLK SONGS" with Nakazawa Yuko followed by a concert called "FOLK DAYS Ichii Sayaka with Nakazawa Yuko". Ichii also held a mini-live in December. With the announcement of the album release, it was also announced it was Ichii's pre-debut and that she would make her debut the in spring.[2]
2002
[
]
In April, Ichii rejoined the music business as the vocalist of the band Ichii Sayaka in CUBIC-CROSS with guitarist Yoshizawa Naoki and Sharam Q keyboardist Taisei, who was also the producer of the group. Ichii also wrote lyrics for many of the band's songs.
2003
[
]
In September, she started her solo debut with the release of the single "4U ~Hitasura~".
In November, Ichii retired from the music business.
2004
[
]
In May, Ichii married her former bandmate Yoshizawa Naoki, and gave birth to her first child, a girl, in August.[3]
In 2007, Ichii gave birth to her second daughter.
2009
[
]
In February, she joined Ranves Management agency.
On August 24, it was announced she would return to show business the next day, on which her official blog opened and an interview with FLASH magazine was published.[3]
On August 30, she returned to TV in a TBS show called Sunday Japan.
On September 5, she appeared as a model in Tokyo Girls Collection at Yoyogi Stadium. Her agency stated, "She's returning as a talent with a bright and cheerful character, cultivated by her time in Morning Musume, that anybody would love. In the future, she'll be an actor with special and rare talents." The FLASH interview revealed that her husband and her two children have supported her in her comeback decision. She's realized she can't be an idol anymore, and doesn't want to be a mama-dol either, and that she hasn't been in contact with Morning Musume members, but she would like to appear on TV shows with them.
2011
[
]
On May 18, Ichii Sayaka was in a movie titled Ashita ni Kakeru Ai. Ichii commented, "I think it will be a heartwarming work that portrays love across generations." One of the themes of the film is encouraging the relief efforts of the 2011 Tohoku earthquake. Filming began on April 28 and the movie was released in China and Japan in the spring of 2012.
On June 14, it was announced that Ichii divorced her husband on May 23. Sayaka was dissatisfied with her husband's uncooperative attitude in raising their two daughters. She was also said to be frustrated with Yoshizawa when he quit being a guitarist and settled into a period where he had no work.
2012
[
]
In March, Ichii starred in the leading role in the movie "Asu ni Kakeru Ai" (明日に架ける愛). It is a production which is commemorating the 40th anniversary of the Japan-China friendship. It got a special screening at the 24th Tokyo International Film Festival.
On August 25, she revealed she was married to a hairdresser, aged 37. The couple had registered their marriage on July 24. She also revealed she was in the early stages of her third pregnancy.
2013
[
]
On March 2, Ichii gave birth to a baby boy.[4]
2014
[
]
In April, Ichii revealed that she had submitted an application to the "Otona AKB48 Audition," an audition searching for limited time members over 30.[5] On April 14, she blogged that she had failed the audition.
On May 6, Ichii joined the idol group OFR48 (not related to AKB48). OFR48's full name is "Ofuro48," and was formed in 2011 with the concept of the members being bath house workers that you can go meet. She graduated from the group on August 31.[6]
2016
[
]
In February, Ichii opened an official site.[7]
On November 10, Ichii announced that she was pregnant with her fourth child, due in spring 2017.[8][9]
2017
[
]
In April, Ichii gave birth to a daughter.[10]
2018
[
]
On June 15, it was announced that Ichii would make an appearance at the Hello! Project 20th Anniversary!! Hello! Project 2018 SUMMER concerts on August 4 and August 5 as part of a guest list featuring former Hello! Project members.[11] This was her first UP-FRONT GROUP-related activity in over 14 years. Unfortunately, her appearances were cut from the DVD and Blu-ray releases due to the arrest of Yoshizawa Hitomi, who Ichii had her only appearances with.[12]
2019
[
]
Ichii once again performed as a guest in the Hello! Project 20th Anniversary!! Hello! Project 2019 WINTER ~YOU & I~ concert on January 12 with Yaguchi Mari and Yasuda Kei.[13] Their appearance was included as bonus footage in DVD and Blu-ray releases of the tour, likely to make up for her and Yasuda both being cut from the releases for the Hello! Project 20th Anniversary!! Hello! Project 2018 SUMMER tour.
On June 24, she announced that she would run as proportional representation candidate for the Constitutional Democratic Party in the 2019 House of Councillors election that would be held in July. Ichii, who is a mother of four children between ages 2 to 14, told reporters that she wants to deliver the voice of young mothers of a child-rearing generation.[14] Her election campaign called for the expansion of child care support in urban areas and more financial assistance for families with young children.[15][16]
Ichii failed to win a proportional representation seat in the House of Councillors election on July 21.[15] She received 50,415 votes, coming ninth in the Constitutional Democratic Party behind the eight members who won seats.[16][17][18] She acknowledged her loss and thanked her supporters on social media.[19][20][21] She told the press that she has not discussed future political activities at this time; however, as the runner-up in her party, there is the possibility she could win a seat during the term if there is a vacancy.[16]
2020
[
]
In January, Ichii announced she had teamed up with Mayumi Muroya for an event on March 14, where they would talk about a pleasant organic life as well as offering a vegan lunch. Ichii presents herself in the ad as a woman who lives under the themes of beauty, food, and environment, while raising four children.[22]
Ichii announced the same month she had opened an online salon you could access using a QR code. It is intended as a place where people could share ideas and act. They are also planning a meeting room to think with everyone. The themes are food education, beauty, music, work, life counseling, environmental meetings, and so on.[23]
On February 14, it was announced that Ichii will be the producer of a new idol unit. The unit will be selected through an audition called Sayaka Ichii Talent Idol Group Audition. The audition screenings and training camps for the new unit will be shown in the mysta app.[24] Simultaneously, Ichii released her first single in 17 years; Hajimari no Countdown. The winner will be announced in July.
In June, it was announced that Ichii would produce an idol group called L・I・E・P (Lucky Girl Idol Excavation Project). The aim is to create an idol group that will help each and every person's life. They will pre-debut June 23.[25] This group has nothing to do with the "Sayaka Ichii Talent Idol Group Audition".
On October 16, Ichii opened a fan club called Ichii Sayaka FC (市井紗耶香FC) at Fanicon.
2021
[
]
On January 23, the results of Ichii's audition Sayaka Ichii Talent Idol Group Audition was unveiled, 15 members were selected and the group name is PATI PATI CANDY...☆.
One of Sayaka Ichii's idol groups, L.I.E.P, have kept a low profile since their launch last June. Until this month they had only chatted on a few YouTube vids, but recently their song, "Kimi no Rhythm", had a low-key launch.
In April, Ichii rleased her official YouTube Channel. [26]
On August 10, Ichii announced that she will again run for the House of Councillors in the fall 2022 election, representing the Constitutional Democratic Party. She plans to focus on political canvassing to design a campaign that fully represents the voting population.[27]
On November 30, Ichii participated in the Constitutional Democratic Party leader election on November 30 for the first time. The 37-year-old is expected to be a candidate for the House of Councillors in the Japanese elections next year.[28]
Profile
[
]
Birth Name: Ichii Sayaka (市井紗耶香)
Nickname: Sayarin (さやりん), Kaasan, Mother
Birthdate: December 31, 1983
Blood Type: A
Height: 158 cm (5 ft 2.2 in)

?

Western Zodiac: Capricorn
Eastern Zodiac: Pig (Boar in Japan)
Hello! Project Status:

1998-05-03: Member
2000-05-21: Graduated

UP-FRONT GROUP Status:
Years in Morning Musume: 2 Years
Groups:
Subgroups:
Shuffle Groups:
Discography
[
]
Main article: Ichii Sayaka/Discography
Publications
[
]
Solo Photobooks
[
]

[2002.10.02] self
Books
[
]
[2013.12.20] Shisei Sayaka LOVE BASIC (市井紗耶香 LOVE BASIC) (Style book)
Works
[
]
Movies
[
]
[1998] Morning Cop ~Daite HOLD ON ME!~ (抱いてHOLD ON ME!)
[2000] Pinch Runner (ピンチランナー)
[2010] Nagoya MEN'S monogatari KNIGHTS & NOODLE (名古屋MEN'S物語 KNIGHTS&NOODLE)
[2012] Asu ni Kakeru Ai (明日に架ける愛)
[2012] Daburu sukai (ダブルスカイ)
TV Shows
[
]
TV Dramas
[
]
[2000.01.04-2000.03.29] Morning Musume no Koimonogatari
[2009] Sunday Japan
[2011] Pachinko Queen (パチンコクイーン・七瀬)
[2012] Kamijo reiko no jiken suiri 10 (上条麗子の事件推理10)
Commercials
[
]
[2003] Monster Farm 4 (モンスターファーム4)
[2010] POND'S Black Clean (POND'S ブラッククリーン)
Radio
[
]
[1999-2000] Pucchimoni Driver (プッチモニダイバー)
[2002-2003] Sayaka Ichii RADIO DELUXIAN (市井紗耶香 RADIO DELUXIAN)
[2002-2003] SUPER STAR QR
Trivia
[
]
She got her nickname 'Kaa-san' from Utaban due to her motherly nature in taking care of the members and her personality.
She is the third former Morning Musume member to graduate from both Morning Musume and Hello! Project. The first being Fukuda Asuka and the second being Ishiguro Aya.
She is the first former Morning Musume member to have divorced. The second former member to have divorced is Yaguchi Mari, who is from the same generation.
She is the third former Up-Front member to audition for an AKB48 group, the others being Kawashima Miyuki and Nakayama Nana (known as Yamada Nana, a former member of NMB48.)
She is the first former Morning Musume member to audition for an AKB48 group.
The main reason why she auditioned for Otona AKB48 is that she wanted to shine again. She wanted to challenge herself to shine on the stage again. She missed dancing and singing.
She and Tsuji Nozomi have the most children of any former Morning Musume members: four.
Honorary Titles
[
]
References
[
]
External Links
[
]
Morning Musume
Members
Current Members
Former Members
Discography
Singles

Indies
Major
Digital
Collab

Albums
Sub-Units
Concerts
Concerts

Spring Tours
Summer Tours
Fall Tours
Naruchika
Overseas

2008
2009
2010
2014
2016
2017
2018

Dinner Shows
One-Day
Units & Other Acts
In-group Sub-units
Associated Acts
Petitmoni
Members
1999

Ichii Sayaka
2000
2002
Petitmoni V
Discography
Singles
Albums
Collab
DVDs
Units & Other Acts
Associated Acts