Honda Ruru
(本多ルル), also known by her stage name
RuRu
, is a Chinese singer. She was a member of the Japanese girl group
Taiyou to Ciscomoon
and was also part of the
Hello! Project
shuffle unit
Kiiro 5
.
Outside of Hello! Project, she was a solo artist and model. She released her first solo album, "Měilì Xīnqíng", in February 2001 under Virgin Records.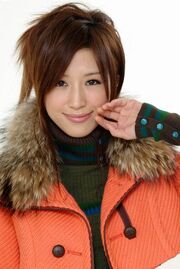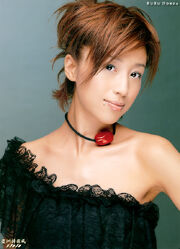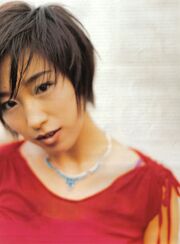 Biography
RuRu studied at a private music school in which her mom was a teacher. Here RuRu participated in singing events and was in charge of the school's music festival(s).
1992-1995
In 1992, at the age of 16, RuRu went to Japan with her mother, but didn't start working in the music industry right away. She had a part-time job that had nothing to do with music (she did the dishes at a ramen shop and also worked as a server at a cafe[1]) She said in an interview she used to go to karaoke as a hobby, but nothing serious.
In January, 1995, she landed the grand-prix (first place) in a singing contest called, "Zainichi Chugokujin Nihongo Kayou Conkuru" (在日中国人日本語歌謡コンクール; Singing Contest in Japanese for Chinese People).[2]
In February she signed a contract with Chugei and started her entertainment activities.[3] She appeared at NTV's "Super TV" (スーパテレビ) and was featured as a gravure model in Tokyo Newspaper's "SPA!", "Weekly Bunshun" and "Chinese Dragon".[4]
1998-2003
RuRu was watching ASAYAN's application process, and has said she was very impressed by Tsunku's comments about the new girl group he was looking for members for. She signed up for the audition, and was the last girl to pass the audition on February 14th, 1999. The group disbanded only 1,5 years later.
She then went back to China and started a solo career releasing three albums. She also started an acting career, starring in the doramas: "Sunshine Jelly", "Fly Me to the Moon – Yue Guang Sen Lin", and "Zhan Shen". A soundtrack from "Fly Me to the Moon" was released. It features RuRu on the cover, but not any songs of hers.
2004-2008
After the release of her best-of album in 2004 (and a single release in 2005), she was out of the spotlight for a few years.
In 2007, she released a cover album under Avex Trax in Japan, but not too long after the release of the album she went back to China again.
In 2008, Taiyou to Ciscomoon released a best of-album to commemorate their 10th Anniversary. RuRu said in the booklet notes that "The albums I released in Taiwan were all in Taiwanese, which was very different from the mainland Chinese in terms of pronunciation, so I made lots of mistakes and had difficulty getting used to it at the beginning. That experience reminded me of when I had similar difficulty singing in Japanese when I was in Taiyou to Ciscomoon. It sounds like my life has been filled with difficult times, lol." She also said she still works as a musician in Taiwan.
Profile
Japanese Name: Honda Ruru (本多ルル)
Stage Name: RuRu (ルル)
Birth Name: Guō Jiālù (郭嘉露)
Birthdate: March 18, 1976
Birthplace: Shenyang, Liáoníng, China
Blood type: O
Height: 163cm
Western Zodiac: Pisces
Eastern Zodiac: Dragon
Hello! Project Groups:
Discography
[2001] Jingcai Jiepai (精彩节拍) (#2 Měilì Xīnqíng)
[2002] E Shidai Danghong Bu Rang (e世代 当红不让) (#13 Měilì Xīnqíng)
[2004] Bi Shang Yanjing Qu Luxing 3 (Travel Light 3) (閉上眼睛去旅行 3 (Travel Light 3)) (#2-10 Gen Wo Shuo)
[2003] 極樂175 (Ultimate Dance 175) (#11 You Shi Hou Mei Shi Hou)
Discography Featured In
Taiyou to Ciscomoon
Kiiro 5
Taiyou to Ciscomoon
Kiiro 5
Photobooks

Trivia
Originally from China, she became a citizen of Japan in August 1999. This was also when she started using her Japanese name, Honda Ruru (本多ルル).
Tsunku gave her the name RuRu, the same way he named Morning Musume's exchange students: Junjun and Linlin.
References
External Links
Community content is available under
CC-BY-SA
unless otherwise noted.