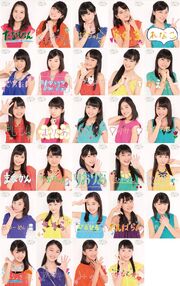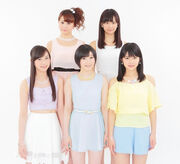 Hello Pro Kenshuusei Happyoukai 2014 ~6gatsu no Nama Tamago Show!~ (ハロプロ研修生 発表会 2014 ~6月の生タマゴShow!~) is Hello Pro Kenshuusei's June 2014 concert.
Setlist
[
]
Unless otherwise noted, songs are performed by all members. (Hello Pro Kenshuusei + Juice=Juice)
Egao YES Nude - Yoshihashi Kurumi, Ogawa Rena, Nomura Minami, Ichioka Reina, Wada Sakurako, Inoue Hikaru, Yamaki Risa, Niinuma Kisora, Dambara Ruru
Tabidachi no Haru ga Kita - Taguchi Natsumi, Nomura Minami, Kishimoto Yumeno, Inaba Manaka, Tanaka Karen, Mikame Kana
Performance Varies:
Performance Varies:
Performance Varies:
Performance Varies:
Choto Mate Kudasai! - Aikawa Maho, Saito Kana (DANCE PERFORMANCE)
Performance Varies:
Golden Chinatown - Takagi Sayuki, Kanazawa Tomoko, Yoshihashi Kurumi, Ichioka Reina, Tanaka Karen, Inoue Hikaru, Niinuma Kisora
Kare to Issho ni Omise ga Shitai! - Miyazaki Yuka, Miyamoto Karin, Uemura Akari, Taguchi Natsumi, Mikame Kana, Yamaki Risa, Dambara Ruru, Funaki Musubu
Featured Members
[
]
Trivia
[
]
It was announced on April 7, 2014.
A rehearsal blog was opened for the event, however it is only viewable by fanclub members.
Hamaura Ayano, Murota Mizuki, Yamagishi Riko, Makino Maria and Fujii Rio didn't participate in the Nagoya and Tokyo concert due to the ℃-ute Concert Tour 2014 Haru ~C-ute no Honne~.
Tanabe Nanami, Kaga Kaede and Sasaki Rikako will not participate in the Tokyo and Osaka concert due to LILIUM -Lilium Shoujo Junketsu Kageki-.
Saito Kana will not be participating in the Osaka concert.
Oura Hirona was originally going to participate, but her name was removed from the participating list a few days before the first concert. Despite not participating, her photos were still sold at the event.
Takemura Miu didn't participate due to illness.
Juice=Juice announced their fourth major single, Black Butterfly / Kaze ni Fukarete, during the Nagoya concert. They performed Kaze ni Fukarete.
Concert Schedule
[
]
Date
Venue
Prefecture
Doors Open
Concert Starts
06/01
Zepp Nagoya
Aichi
14:30
15:30
17:30
18:30
06/07
Differ Ariake
Tokyo
14:30

15:30

17:30
18:30
06/14
Zepp Namba
Osaka
14:30

15:30

17:30
18:30
Gallery
[
]
External Links
[
]
Hello Pro Kenshuusei
Members
Current Members
Former Members
Concerts & Events
Shinjin Kouen Concerts
Happyoukai Concerts

2011
2012
2013
2014
2015
2016
2017
2018
2019
2020
2021
2022
Test Events

Other
Units & Other Acts
Sub-Units & Groups
Debuted Acts
Associated Acts
Related Acts
Juice=Juice
Members
Current Members

Former Members
Units & Other Groups
In-group Subunits
Associated Acts