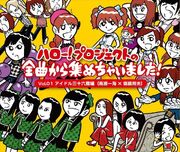 Hello! Project no Zenkyoku kara Atsumechaimashita! Vol. 1 (ハロー!プロジェクトの全曲から集めちゃいました! Vol.1 アイドル三十六房編(南波一海×嶺脇育夫)) is a special Hello! Project best album in a two part series with relations to the Hello! Project All Single Book release event. It is set to be released on January 1, 2014 and is exclusively being sold at TOWER RECORDS.
Tracklist
Egao YES Nude (Album Mix) (笑顔YESヌード(ALBUM MIX)) - Morning Musume
Sentimental Minamimuki (センチメンタル南向き) - Yaguchi Mari (Tanpopo)
TBA
Aisaretai Aisaretai (愛されたい 愛されたい) - Ongaku Gatas
Popcorn Love! (ポップコーンラブ!) - Morning Musume
Aki Urara (秋麗) - Morning Musume
Himitsu no U•ta•hi•me (秘密のウ・タ・ヒ・メ) - Berryz Koubou
Nebou desu. Date na no ni... (寝坊です。デートなのに・・・) - Morning Musume
Debut! ~Koisuru Kado ni wa Fuku Kitaru~ (デビュー!~恋する角には福来る~) - Ice Creamusume
Uchuu de La Ta Ta (宇宙でLa ta ta) - Taiyou to Ciscomoon
Let's Do Daihakken! (Let's Do 大発見!) - Fujimoto Miki
Kokuhaku Kinenbi (告白記念日) - Melon Kinenbi
Romance no Tochuu (ロマンスの途中) - Juice=Juice
The Matenrou Show (Type 0) (The 摩天楼ショー(TYPE 0))- Morning Musume
Featured Members
Trivia
Community content is available under
CC-BY-SA
unless otherwise noted.