Welcome to the Hello! Project Wiki!

Random Members



Iikubo Haruna (飯窪春菜) is a Japanese pop singer, actress, and model. She is a former 10th generation member and sub-leader of Morning Musume under Hello! Project and a former member of the SATOYAMA movement unit DIY♡. She is also a former fashion model under the name Dan Hau (壇 はう). She graduated from Morning Musume '18 and Hello! Project on December 16, 2018. At the same time as her graduation, she became the producer and voice of the virtual idol Ni-na (ニーナ).
---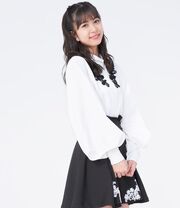 April 1, 2020 - Inoue Rei joins Juice=Juice as a new member and will officially begin activities after Miyamoto Karin's graduation

On April 1, during Juice=Juice's live stream of "Pop Music / Suki tte Itte yo" release mini live event on YouTube, leader Kanazawa Tomoko announced that former Kobushi Factory member Inoue Rei will be joining Juice=Juice.
In a letter read by Kanazawa, Inoue commented that she still has to learn and work hard on some things that she needs to improve more on, and hoped that her dreams will come true as a member of Juice=Juice.
Inoue will start full-fledged activities in the group following Miyamoto Karin's graduation on June 3.
Source: Hello! Project, YouTube, ORICON MUSIC
---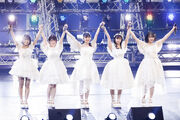 March 30, 2020 - Kobushi Factory disbands

On March 30, Kobushi Factory Live 2020 ~The Final Ring!~ took place at Tokyo Dome City Hall, where Hirose Ayaka, Nomura Minami, Hamaura Ayano and Wada Sakurako have graduated from Hello! Project in order to persue another paths in their lives, while Inoue Rei is the only one to remain within.
Kobushi Factory started their activities as 8 member group in January 2015, and had been active for 5 years. After losing three members in 2017, they focused more on harmonising and performing at least one a cappella song during their concerts.
---

March 27, 2020 - Further updates on Concert & Events cancellation due to the coronavirus

On March 27, it was announced that the April 4 and 5 shows from Tsubaki Factory's and BEYOOOOONDS' live tours would be cancelled. It was also announced that several concerts from Morning Musume '20, ANGERME, Juice=Juice, Tsubaki Factory and BEYOOOOONDS' live tours that got cancelled were rescheduled for around May to August.
March 30 UPDATE: On March 30, it was announced via UP-FC that fanclub birthday events of Kishimoto Yumeno and Takagi Sayuki would be cancelled with plans to be rescheduled in the future.
Source: Hello! Project (3/27 - cancellation, rescheduling), UP-FC
Singles

None

Albums

None

DVDs/Blu-rays

Country Girls Live 2019 ~Itooshikutte Gomen ne~ - April 8, 2020
Juice=Juice CONCERT 2019 ~octopic!~ - April 15, 2020
Morning Musume '19 Concert Tour Aki ~KOKORO&KARADA~ FINAL - April 22, 2020
LIVE BEYOOOOOND1St - April 29, 2020
Hello! Project COUNTDOWN PARTY 2019 ~GOOD BYE & HELLO!~ - May 20, 2020

Publications

Oda Sakura - SAKURA COLOR - April 20, 2020
Funaki Musubu - KESSYO - May 1, 2020
Yamagishi Riko - R-21 - May 13, 2020
Singles

Juice=Juice - Pop Music / Suki tte Itte yo - April 1, 2020
Kobushi Factory - Seishun no Hana / Start Line - March 4, 2020

Albums

None

DVDs/Blu-rays

Miyamoto Karin LIVE TOUR ~Karing~ - March 25, 2020
Kobushi Ongaku Eizou Shuu - March 25, 2020
The Girls Live Vol.65 - March 11, 2020
Country Girls Kessei 5 Shuunen Kinen Event ~Go for the future!!!!~ - March 11, 2020

Publications

Haga Akane - Akane - March 7, 2020

Current

Juice=Juice LIVE TOUR 2020 ~NEW SENSATION~ (February 3 - May 10)
ANGERME Live Tour 2020 Fuyu Haru ROCK ON! LOCK ON! (February 9 - May 17)
Tsubaki Factory Live Tour 2020 Haru Tsubaki (February 22 - June 6)
Upcoming
Gen
Username
Groups
Total Edits
Official Color
Favorite Idol
N/A
(2008)
Neospaceblue
founder, bureaucrat, sysop
368
N/A
N/A
N/A
(2009)
JinKyong
sysop
281
N/A
N/A
N/A
(2011)
SpookyVampy
sysop
1,156
N/A
N/A
N/A
(2011)
SweetS30
sysop
9,974
N/A
N/A
N/A
(2013)
Nina22
sysop
8,712
N/A
N/A
1st
(2013)
WonderBuono!
bureaucrat, sysop
23,984

    


Red
N/A
2nd
(2013)
ElpisGalaxy
rollback, sysop
6,941

    


Emerald Green
N/A
3rd
(2014)
Maopyon
rollback, sysop
47,979

    


Yellow-Green
Erina
Release Date: April 1, 2020
Release Date: March 4, 2020

April 6, Coming Soon

Heike Michiyo (41st)
Katsuta Rina (22nd)

April 11, Coming Soon

Mano Erina (29th)
Note: All birthdays are based on JST Time.
Favourite YouTube channel related to Hello! Project:
RESULTS - Favourite Kobushi Factory single:
Kore Kara da! / Ashita Tenki ni Naare (30 votes)
Kitto Watashi wa / Naseba Naru (19 votes)
Oh No Ounou / Haru Urara (15 votes)
Seishun no Hana / Start Line (11 votes)

This is an open Wiki that anyone can edit. To write a new article, just enter the article title in the box below.
For more information please visit the Helping out and Guidelines pages.
Community content is available under
CC-BY-SA
unless otherwise noted.