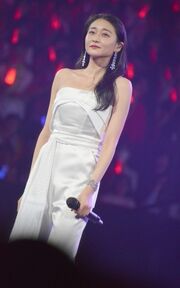 June 18, 2019 - Wada Ayaka graduates from ANGERME and Hello! Project

On June 18, leader Wada Ayaka graduated from ANGERME and Hello! Project in the Hello Pro Premium ANGERME Concert Tour 2019 Haru Final Wada Ayaka Sotsugyou Special Rinnetenshou ~Aru Toki Umareta Ai no Teishou~ held at Nippon Budokan.
Wada first joined Hello! Project in 2004 as one of the founding members of Hello Pro Egg. In 2009, Tsunku formed the group named S/mileage (later renamed ANGERME at the end of 2014) with her and three other Hello Pro Egg members. Wada became the group's leader, and she eventually became the leader of Hello! Project in 2017.
When Wada first announced her decision to graduate, she said that she wants to change people's perceptions of idols and continue performing as an idol into her thirties. In addition to her entertainment career, she has been studying art and is currently attending graduate school. After the concert, Wada stated in an interview that she will take a short break from stage in order to finish writing her master's thesis.
Source: Pop'n'Roll, ORICON NEWS, Nikkan Sports
---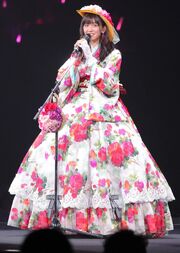 June 17, 2019 - Miyazaki Yuka graduates from Juice=Juice and Hello! Project

On June 17, the Hello Pro Premium Juice=Juice CONCERT TOUR 2019 ~JuiceFull!!!!!!!~ FINAL Miyazaki Yuka Sotsugyou Special was held at Nippon Budokan, where leader Miyazaki Yuka graduated from Juice=Juice and Hello! Project.
Miyazaki joined UP-FRONT GROUP after winning the Promotional Award / Samantha Thavasa Award at the Dai 2kai Forest Award NEW FACE Audition held by UP-FRONT WORKS in March 2012. In October later that year, she became a member of the SATOYAMA movement trio GREEN FIELDS, who she performed with at Hello! Project concerts. She became an official Hello! Project member at the end of the Hello! Project Tanjou 15 Shuunen Kinen Live 2013 Fuyu tour, when Tsunku announced that five Hello Pro Kenshuusei and Miyazaki would form a new group, which was later named Juice=Juice. In June 2013, Miyazaki was appointed as Juice=Juice's leader when their major debut was announced.
Following her graduation, Miyazaki will continue working in entertainment. At the beginning of 2019, she joined the local TV Kanazawa show Tonari no Telekin-chan as a semi-regular personality.
Source: Pop'n'Roll, ORICON NEWS
---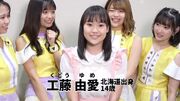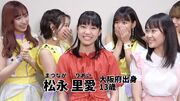 June 14, 2019 - Kudo Yume and Matsunaga Riai join Juice=Juice

As it was announced on Hello! Project Station earlier in the week, a video revealing the new Juice=Juice members was uploaded onto the group's official YouTube channel on June 14.
The first new member to join is Hello Pro Kenshuusei Hokkaido's Kudo Yume, who became a trainee in 2016. At the annual Hello! Project Kenshuusei Happyoukai 2019 ~Haru no Koukai Jitsuryoku Shindan Test~ in May, she won the judge's dance award and was the runner-up for best performer.
The second new member is Hello Pro Kenshuusei's Matsunaga Riai, who became a trainee in 2017. At the annual Hello Pro Kenshuusei test event, she beat Kudo for best performance award with 419 votes.
---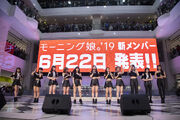 June 11, 2019 - Morning Musume 15th generation to be announced on June 22

On June 11, Morning Musume '19 held a release event for their 67th single "Jinsei Blues / Seishun Night" at Ikebukuro Sunshine City Fountain Square. During the event, the group revealed that the new 15th generation, who have won the Morning Musume '19 LOVE Audition, would be announced in a YouTube live stream held on the group's official channel on June 22 at 5:00 PM JST.
The group members commented that at this time they have not been told any information about the results such as how many would join or how old they are.
Source: Sponichi Annex, Pop'n'Roll
Community content is available under
CC-BY-SA
unless otherwise noted.